Newspaper Calls GOP Senator Hawley's Call for Biden's Resignation 'Pure Theatrics'
The editorial board of the Kansas City Star blasted Missouri Republican Senator Josh Hawley on Thursday after he called for President Joe Biden to resign in the wake of the U.S. withdrawal from Afghanistan.
In a speech on Tuesday, Hawley criticized Biden's evacuation from Afghanistan and mentioned the 13 U.S. military service members who died during an attack in Kabul in August and the "hundreds of American civilians left behind enemy lines."
"Who can forget this president saying that the mission was, and I quote 'Extraordinarily successful'," Hawley said.
"This president is a disgrace. His behavior is disgraceful. He has dishonored this country with his shameful leadership in this crisis. And it is time for him to resign. And if he had the responsibility of leadership, he would resign," Hawley stated.
Responding to the speech in its Thursday editorial, the Kansas City Star, called Hawley's call for Biden's resignation "pure theatrics."
"Missouri's best-known insurrectionist, Sen. Josh Hawley, is still trying to accomplish what he could not pull off with his power-to-the-rioters raised fist on Jan. 6," the newspaper wrote.
"It's a difficult speech to watch, shamelessly exploiting as it does the deaths of U.S. servicemen and servicewomen for political gain," the editorial continued.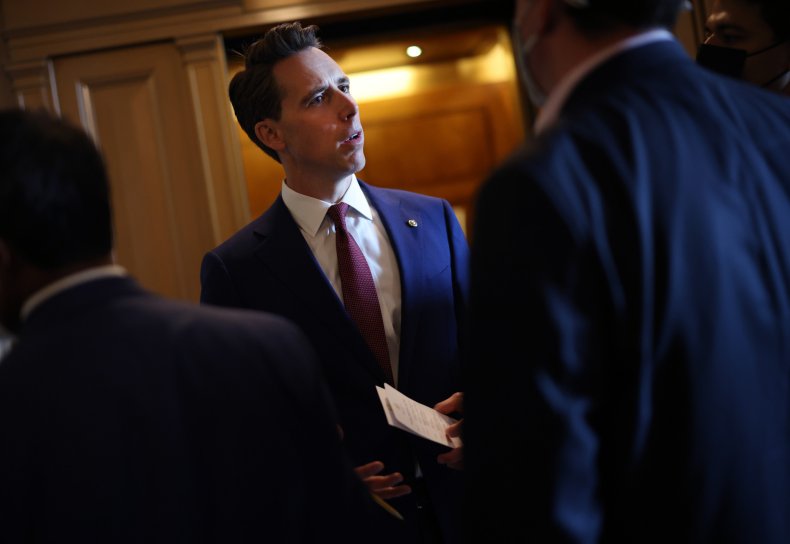 "But despite its contradictions, hyperbole and misreading of history, we must watch, because Hawley's threat to our republic is real and ongoing. The senator's desire to overthrow the people's choice for president has not abated," the editorial board said.
The newspaper pointed out that Hawley called for an end to the Afghanistan war earlier this year. In a tweet on April 13, Hawley said that Biden "should withdraw troops in Afghanistan by May 1, as the Trump administration planned, but better late than never."
"It's time for this forever war to end," Hawley said at the time.
"Does Josh Hawley, or anyone, think a withdrawal on May 1 would have been more successful or orderly than the one in August? No," the Kansas City Star's editorial board wrote. "Would Trump have done better? The idea is laughable."
"Hawley's speech was a classic exercise in second-guessing, by a man who sided with treasonous rioters two weeks before Biden's inauguration. It's the way all cowards operate: Sound brave, from a distance, then head for the bunker when trouble erupts. That's what Hawley did on Jan. 6, and again Sept. 14, on the Senate floor," it added.
Responding to Thursday's editorial, Abigail Marone, a spokesperson for Hawley, said: "The Kansas City Star, which isn't even based in Kansas City, is a joke."
Update 9/16/2021 11:50 AM - This story has been updated with comments from Hawley's office.