Newspaper Delivery Man Saves Family, Dogs From Home Explosion Captured on Video
A Michigan woman credited a newspaper delivery man on Monday for saving her family after an early morning home fire gave way to an explosion.
"This man, he's an angel, he saved my life," the homeowner, Toni Jolman, told NBC affiliate WOOD-TV in Grand Rapids, Michigan.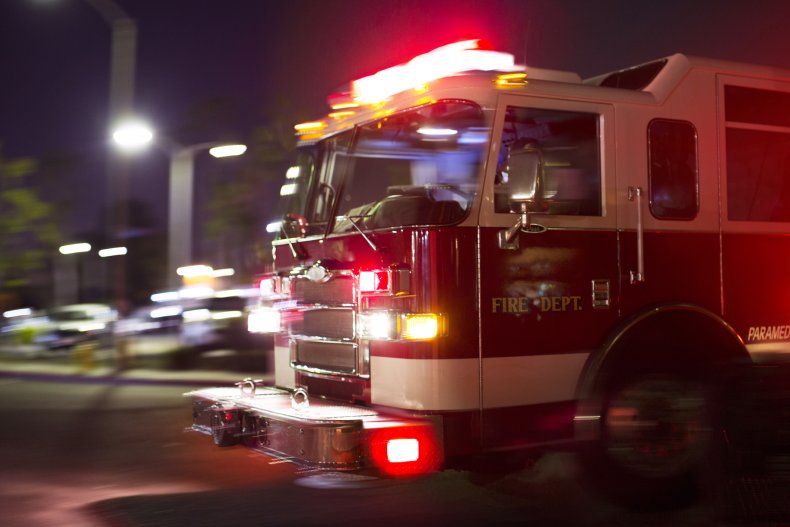 When the fire first broke out, Jolman was in her home in Comstock Park, a census-designated community in Plainfield Township, Michigan. The fire soon gave way to a dramatic blast.
Pat DuVall, District Chief of the Plainfield Fire Department, shared video of the dramatic explosion on YouTube Monday.
The video DuVall posted was taken from a nearby camera. It shows a firefighter walking toward the burning garage of the house when suddenly a large flash of explosion ignites.
No one was injured during the fire and explosion.
Jolman said she and six other people were asleep when the fire broke out. She said she was woken up by her dogs and someone knocking on her door at around 4:30 a.m. on the morning of July 4.
"(I) let them [her dogs] in my room, heard a banging on the door, it was an older guy," Jolman said. "I kind of got scared, being a female answering the door at that time. He screamed that my garage was on fire."
The banging from was from a man delivering newspapers, who had seen what he believed was a bonfire coming from the home, according to Jolman.
"He was concerned it might hit trees. And (the) closer he drove, he noticed it was my house on fire," Jolman told WOOD-TV. "Between him and my dogs, we're here today because of this man."
Jolman immediately got her family and dogs out of the house. Just as the fire department responders arrived, a propane tank—in addition to some fireworks—exploded in the garage. The blast engulfed her house in flames, leaving her husband's work van charred beyond use.
"We did have working fire alarms," Jolman told the local news station. "Definitely a priority of mine. My mom had experienced a tragic house fire when she was 16 and lost family members. Something that I grew up with, like (the) worst nightmare I ever thought about having."
Jolman reported that all of the family's material possessions were lost in the fire. She said she is currently staying at her father's home while she waits to hear back from her insurance company.
Meanwhile, neighbors have set up a collection box near her home to help. A GoFundMe account has also been established for the family. Jolman told WOOD-TV, "The community outpouring has been humbling and such a blessing."
The Plainfield Township Fire Department is currently investigating the initial cause of the fire.
Newsweek contacted the Plainfield Township Fire Department for further details but did not hear back in time for publication.