Newspaper Editorial Board in Josh Hawley's Home State Says He Has 'Blood on His Hands'
The editorial board of The Kansas City Star, a newspaper in Republican Senator Josh Hawley's home state of Missouri, has published an editorial entitled, "Assault on democracy: Sen. Josh Hawley has blood on his hands in Capitol coup attempt."
"Hawley's actions in the last week had such impact that he deserves an impressive share of the blame for the blood that's been shed," the editorial stated, before mentioning that Hawley was the first Republican senator who pledged to oppose the January 6 congressional certification of President-elect Joe Biden's Electoral College win.
"Hawley, [Republican Kansas Senator Roger] Marshall and other Republicans who upheld [President Donald] Trump's con about widespread fraud knew all along that his claims were bogus. Now that they've seen exactly where those lies have landed us," the editorial continues.
While the article concluded by saying that the decent thing to do would be for the aforementioned senators to "prevent further violence by making clear that Joe Biden did not win by cheating," the board also said it would be surprised if they actually did that.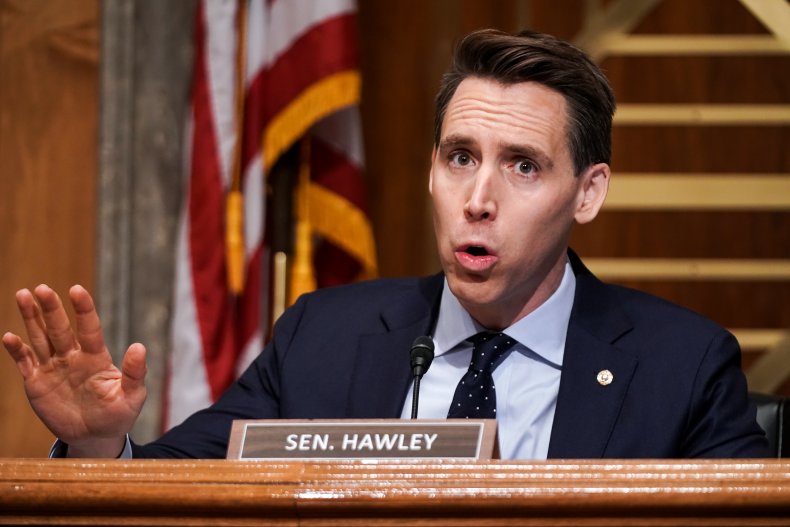 Usually, the congressional certification of the Electoral College vote is a procedural formality that passes with little ado. However, this year, Trump invited protesters and supporters to the nation's capital to demonstrate in support of his cause.
At a rally earlier today, Trump told the demonstrators, "You'll never take back our country with weakness. You have to show strength and you have to be strong... We're going to the Capitol, ... and we're going to try [to] give our Republicans... the kind of pride and boldness that they need to take back our country."
As Congress began the process of certifying the presidential election results, rioters outside eventually downed barricades and overpowered police to break into the building. Police officers had to draw their guns inside the House chamber and all congresspeople were evacuated until the building was secure.
So far, one woman has been left dead from a shooting inside the congressional halls.
When Hawley pledged to object to the electoral college count, he said he wanted to force a congressional vote so he would have an opportunity to highlight that "some states, particularly Pennsylvania, failed to follow their own state election laws."
Hawley has been one of numerous Republicans who have pushed claims that state election laws, some of which were revised to accommodate voters who didn't wish to vote in-person during the ongoing COVID-19 pandemic, violated the U.S. Constitution because the changes were often created by election boards or governors' executive orders rather than the legislatures.
Newsweek contacted Hawley's office for comment.