Newspapers From Elizabeth Warren's State Endorse Andrew Yang for President
Two local newspapers from Massachusetts have endorsed entrepreneur Andrew Yang for the Democratic party's presidential nomination, despite one of their state's senators, Elizabeth Warren, remaining a strong contender in the race.
The Lowell Sun and the Sentinel & Enterprise, which are both owned by MediaNews Group, published a joint endorsement of Yang on Monday, praising him for his willingness to reach out to all voters. The Massachusetts newspapers, which are published in Lowell and Fitchburg respectively, argued that Yang, similar to Trump, would disrupt "the political status quo" but would do so like "a nimble tech startup and not a wrecking ball."
"He is committed to the idea that politics should work in the service of people, or 'Humanity First' as his campaign slogan puts it. He believes that the government needs to address the hollowing out of industrial jobs for the working and middle classes that has been accelerating in recent years and has hit some communities especially hard," the newspapers wrote in their editorial endorsement of the presidential hopeful.
While the editorial board noted that they did not see eye to eye with all of Yang's political positions, even questioning his signature proposal for a universal basic income, they also noted that his ideas are "bold."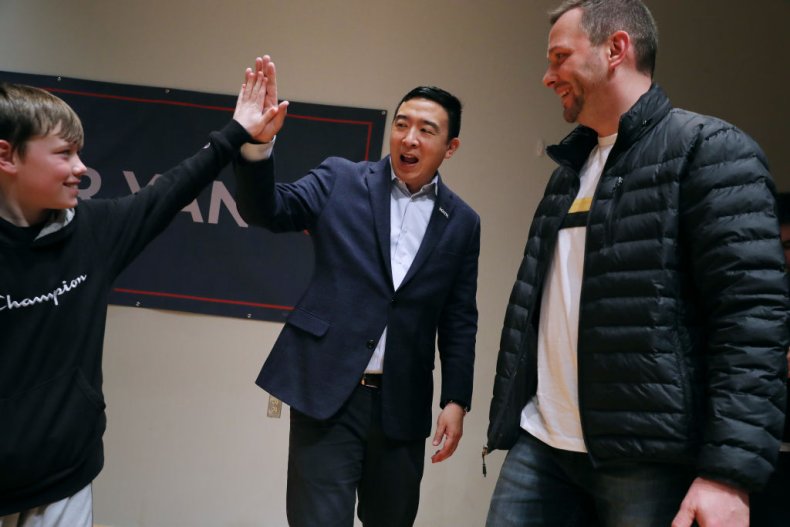 "More importantly, at least in 2020, Yang brings a youthful energy and fresh approach to the race. He represents the best in America: thoughtfulness and optimism," the article said.
The newspapers praised Yang for talking to the media from across the political spectrum, while lamenting that other candidates had joined the "cancel culture."
"He believes that Trump supporters are people worth listening to, people with real concerns who have been ignored and derided by the political establishment, and he is proposing new and innovative policy solutions to their problems," the editorial said.
Newsweek has reached out to Yang's press team for comment on the newspapers' endorsement.
As the newspaper noted, Yang has made an effort to reach out to voters of all political affiliations. In an interview with Fox News Sunday this weekend, Yang criticized the Democratic Party for refusing to host a debate on Fox News.
"It came up at an event here in Iowa and someone asked how we're going to bring the country together and I thought well if you're going to bring the country together you have to start by talking to all Americans," the candidate said. "I used the example of the DNC deciding not to have any presidential debates on Fox, which I think is a mistake."
Notably, Warren announced early on in her campaign that she would refuse to hold a Town Hall with Fox News. Warren, similarly to the DNC, accused the popular right-leaning network for promoting racism and spreading misinformation.
Yang, a political outsider who has become a dynamic force within the Democratic primary, failed to qualify for the most recent January debate, but officially made the cut for the February debate stage after a new poll was released this weekend. The businessman, who worked in the private sector until launching his longshot campaign last year, has built significant momentum through social media, while talking to voters about the implications of automation on the workforce.
A recent Emerson College/ 7 News national poll shows Yang in fourth place, although significantly behind the Democratic frontrunners. He polls at 8 percent, while former Vice President Joe Biden leads with 30 percent, followed by Sanders at 27 percent and Warren at 13 percent. However, a Real Clear Politics average of recent national polls shows Yang in 6th place, with just 4.7 percent. In that aggregate, Yang trails Biden, Sanders, Warren, former New York City Mayor Michael Bloomberg and former South Bend, Indiana Mayor Pete Buttigieg, respectively.