Newsweek Staffers Remember the 1966 Cover Story on Teens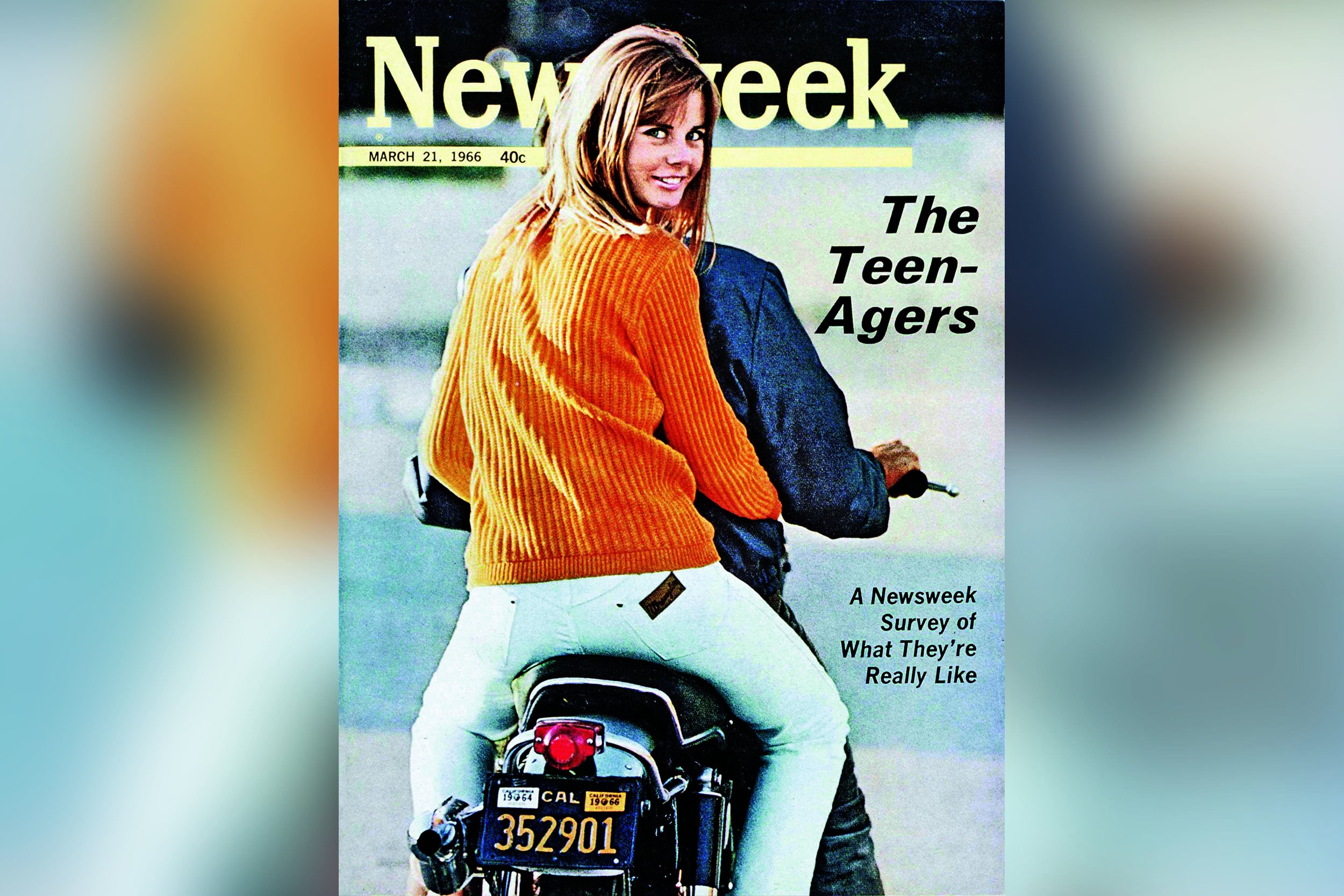 These days, journalists generally write their cover stories solo, but in 1966 a team of writers and reporters from across the country contributed to Newsweek's cover on American teenagers. It's hard to know exactly how many, since the magazine didn't have bylines then, but the introduction to the article explains that "Newsweek bureaus and correspondents interviewed hundreds of other adolescents as well as their parents, principals, coaches, psychologists, judges and counselors." Six staffers are named, and I tracked down four of them. Here's what they remember from that groundbreaking story.
Photographer Julian Wasser, who snapped the cover image of California girl Jan Smithers sitting on the back of a motorcycle, has photographed everyone from Joan Didion and Marcel Duchamp to the Fondas, the Beatles and the Jacksons. He photographed Robert F. Kennedy just minutes before he was assassinated in Los Angeles.
Do you remember photographing Jan Smithers?
How can I forget? I was walking on the beach looking for someone, and there was this incredibly beautiful girl. She was nobody then, just a high school kid. She thought [the article] was a big fake. She was a typical California raving beauty who didn't know it.
Why did she stand out?
She was so good-looking. Blond hair, blue eyes—the cliché. She was like a beacon on a foggy night.
What did you want to convey in the cover image?
The essence of the California stereotype. I never got over being in California. The whole Beach Boys image. I never got over that.… The French copied [the cover]! They got a French-looking girl. It didn't work.… They did exactly the same shot with some French girl, who did not have that lovely freshness.
What should Newsweek put on the cover of its 2016 teens issue?
The same blond, blue-eyed Aryan queen. Let's face it, when people think of California throughout the world, they think of a blond, blue-eyed teutonic queen. They're not thinking about Miss Mexico. They're not thinking diversity. They're thinking stereotypical images.
No one wants reality. They want the stereotypes. The reason there's no diversity in the film business is nobody wants it.
I have no idea how I would handle a 2016 version of the teen cover. I recently did a book on L.A. in the '70s, when life was affordable, there was no AIDS and it was still Beach Boys land. Now things are a bit too real for it to be fun anymore.
David Moberg interviewed Smithers and contributed other reporting to the 1966 teen cover story. Today, he is a senior editor at In These Times—where he's worked since the magazine's inception in 1976—with a focus on the labor movement, economic policy and politics.
How did Newsweek find Jan Smithers?
I didn't find her. [I think] that was my bureau chief, Carl Fleming, who was an amazing mentor and had covered civil rights in the South and had come out to be the bureau chief in Los Angeles.
What do you remember about her?
She saw her life as in some ways ending by the time she was 25. That she'd probably get married around then, and then everything would fall into some pattern, and it was sort of like a life and death contrast.
Do you remember where you interviewed her?
I went to some weekend parties with her and spent time just driving around. I'd take her places. We went to a museum [to see a Matisse exhibit].
What about the interview itself?
She seemed shy and reserved and reticent, which is not too surprising for a kid doing an interview with some well-known magazine. I sort of started out on easy day-to-day stuff. Some of the questions were a bit challenging for her, provoked her to think about things.… She may have even [said later] that she was surprised at what she was saying about herself, which often happens in interviews. I found her, at first, someone who seemed not very reflective, and who became much more so in the time I was with her.
Richard Thomas, who wrote the section on the teen market, was Newsweek's chief economics correspondent for over 30 years. He was with the magazine from 1962 to 2006.
What was the reaction to the cover story?
The reaction [was] mixed. The younger generation celebrated the nifty new world of enriched and empowered teenagers we were describing. Many in the older generations deplored the explosion of teenage sex and the flaunting of established norms.
Underlying this transformation were new antibiotics and the birth control pill. Antibiotics made sexually transmitted diseases completely treatable for the first time. The pill made contraception a virtual certainty. The fear of disease from premarital and casual sex declined, and so did the fear of pregnancy. The biological basis for sexual morality had evaporated.
I think our cover made this point, didn't it? Teens and young adults could do what they wanted. If it feels good, do it. And they now had the money to do a lot more than any generation in the past.
Rereading the 1966 cover story after all this time, what strikes you most?
How cautious, even prudish we were in describing the revolution in teen habits and lifestyles that was going on. It's also true that that brave new teen world still looks quaint compared with the nude selfies, from both sexes, that are being exchanged by teens today. A decade later, we were worried about the targeting of children by advertisers on the Saturday morning children's cartoons and TV kids shows. Somehow our civilization is surviving—or is it? There's no doubt that our media, the political culture and entertainment world have grown much coarser and more lurid. I sound like a church lady saying that, don't I?
What should Newsweek put on the cover of its 2016 teens issue?
I have really no idea. Maybe a classy techie who's now writing code for a company—there are such precocious girls. Or a teen entrepreneur who has already launched her business but still wants to have it all. Put her not on a motorbike, but in a Google auto-driving car, working her laptop or iPhone 10 on the way to meet her boyfriend.
Joe Morgenstern, who worked for Newsweek from 1966 to 1972, distilled all the research—gathered from the Louis Harris poll and reporters at Newsweek 's many bureaus—into the teens cover story. Today, he is the movie critic for The Wall Street Journal, which he joined in 1995. He won a Pulitzer Prize in 2005 in the criticism category.
What do you remember about writing that story?
I went through this couple of days thinking, My god, what have I gotten myself into?! Those were the days of far-flung bureaus with reporting just pouring in, and much of it very good and vivid. I remember long days and nights and, gosh, I think it was three weeks it took us to turn that thing out. My wife didn't see much of me, and I was pretty much stuck in [the Newsweek office at] 444 Madison like a mad professor coping with this rising tide of reporting material.
You reread your cover story recently. What struck you?
The first thing I thought of was, It's almost impossible now to think of teenagers without social networks. [In 1966], the social networks were called friends. Then I thought, it's almost impossible to think we did that kind of data-intensive, information-dense journalism without the Internet and without computers.
What was the writing process like?
At first, I found it intimidating to the point where there were moments when I thought, I can't do this. I don't know what I'm doing here or where to begin.
But the reporting was so varied and rich that it pointed its own way.
What did you learn from writing about teenagers in '66?
It was like a portal opening for me to the real world. I remember thinking when I wrote about Jan Smithers, what a rube and a hayseed I was—how little I knew about the California life. What did I know about the Sunset Strip? I was a New Yorker.
How was the article perceived?
I remember a feeling of enormous exhaustion and pride. We'd done something pretty damn good.
What did you think about the 1966 cover image?
You used beautiful women, young or not so young, to sell magazines. It seemed a clear choice at the time. It looks crass now, but the plain old truth is nobody thought about it. There was a cute girl on the back of the magazine. So why not? It also hinted at the sexuality that was on the minds and in the bodies of every kid we wrote about in that piece. And it shamelessly and I guess predictably used the California ethic. Of course, California! That was the dream.
What should we put on the 2016 cover?
I'd look for some sort of graphic or design solution and not use the reductionism of a generation into a cute little face and a cute little behind.