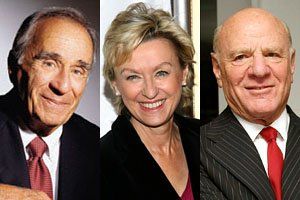 NEW YORK – Newsweek magazine and The Daily Beast, an operating company of IAC [NASDAQ: IACI], announced today they have agreed to merge their operations in a joint venture to be owned equally by Sidney Harman and IAC.
The new entity will be called The Newsweek Daily Beast Company. The directors of the joint venture will include Dr. Harman as Executive Chairman, IAC Chairman Barry Diller, and one director each to be appointed from either side.
Dr. Harman, who acquired Newsweek magazine from the Washington Post Co. over the summer, said: "In an admittedly challenging time, this merger provides the ideal combination of established journalism authority and bright, bristling website savvy. I like partnering with Barry Diller and I look forward to building our company with Tina Brown and Stephen Colvin."
Sidney Harman is Founder and Chairman Emeritus of Harman International, the worldwide audio manufacturer. He served as U.S. Deputy Secretary of Commerce, founded the Program on Technology, Public Policy and Human Development at Harvard University and holds a Presidential Chair at the University of Southern California where he is Professor of Polymathy. He is a trustee of the California Institute of Technology. He is the founder of the Harman Center for the Arts and of Sidney Harman Hall in Washington, D.C.
Tina Brown, a founding partner and Editor-in-Chief of The Daily Beast, will be Editor-in-Chief of both Newsweek magazine and The Daily Beast. The President of The Daily Beast, Stephen Colvin, will serve as CEO of the combined venture.
"I see Newsweek and the Beast as a marriage between Newsweek's journalistic depth and the vibrant versatility The Daily Beast has realized on the web," said Ms. Brown. "The metabolism of The Daily Beast will help power the resurgence of Newsweek and Newsweek amplifies the range of talent and audience The Daily Beast can reach. The two entities together offer writers, photographers and marketers a powerful dual platform."
"I am really excited we were able to (finally) put this together," said Mr. Diller. "In The Daily Beast, Tina and her truly great team have in Internet-time created an hourly, daily newsmagazine and now will have the ability to revive the weekly venerable Newsweek with all the tools and sensibility they've perfected in the Beast. I'm so pleased to join with Dr. Harman in our new Company. He's such a compelling force and I'm sure he will stimulate this undertaking every day."
Created by Tina Brown and IAC in October of 2008, The Daily Beast is a website dedicated to news and commentary, culture and entertainment that has quickly become one of the most recognized national news brands. The two-year old business has swiftly reached an audience of nearly 5 million monthly unique visitors and has just been rated by TIME magazine this year as one of the five best news sites in the country. Prior to launching The Daily Beast, Ms. Brown made a career rejuvenating storied magazines including Tatler in the UK, Vanity Fair and the New Yorker.
Newsweek Magazine is an award-winning, weekly news magazine that provides comprehensive coverage of national and international affairs, business, science and technology and arts and entertainment. It has three English-language editions overseas and six weekly local-language editions.
Since his appointment in 2009 as President of the Daily Beast, Mr. Colvin has had a significant impact in all areas of the business, including securing numerous 2010 marketing partnerships that have translated into more than 60 advertising campaigns on The Daily Beast. Previously Mr. Colvin was CEO of Dennis Publishing US where he oversaw the launch of many media properties including The Week magazine and Maxim. Before joining The Daily Beast he was Executive Vice President of CBS Interactive.
"Consumers and advertisers value media distributed across multiple platforms," said Mr. Colvin. "The merger of The Daily Beast and Newsweek audiences creates a powerful global media property for the digital age."
Guggenheim Securities, LLC advised Dr. Harman on the transaction. Skadden, Arps, Slate, Meagher & Flom LLP served as lead counsel for IAC, and Williams & Connolly LLP represented Dr. Harman.
About Newsweek
Founded in 1933, Newsweek provides comprehensive coverage of national and international affairs, business, society, science and technology, and arts and entertainment. Headquartered in New York, Newsweek has bureaus located in the U.S. and around the globe. In addition to its U.S. edition, Newsweek publishes three English-language editions overseas and is the only news magazine with six weekly local-language editions—in Japan, Korea, Poland, Turkey, Pakistan and Latin America. Newsweek has global circulation of more than 2.4 million and a total readership of more than 19 million. The magazine appears in more than 190 countries.
About IAC
IAC operates more than 50 leading and diversified Internet businesses across 30 countries... our mission is to harness the power of interactivity to make daily life easier and more productive for people all over the world. To view a full list of the companies of IAC please visit our website at www.iac.com.
About The Daily Beast
The Daily Beast is a website dedicated to news and commentary, culture and entertainment. Created by Tina Brown and IAC, The Daily Beast curates the web's best content and offers fresh works from its own talented roster of contributors.