Being Hunted for Holding Hands With Another Man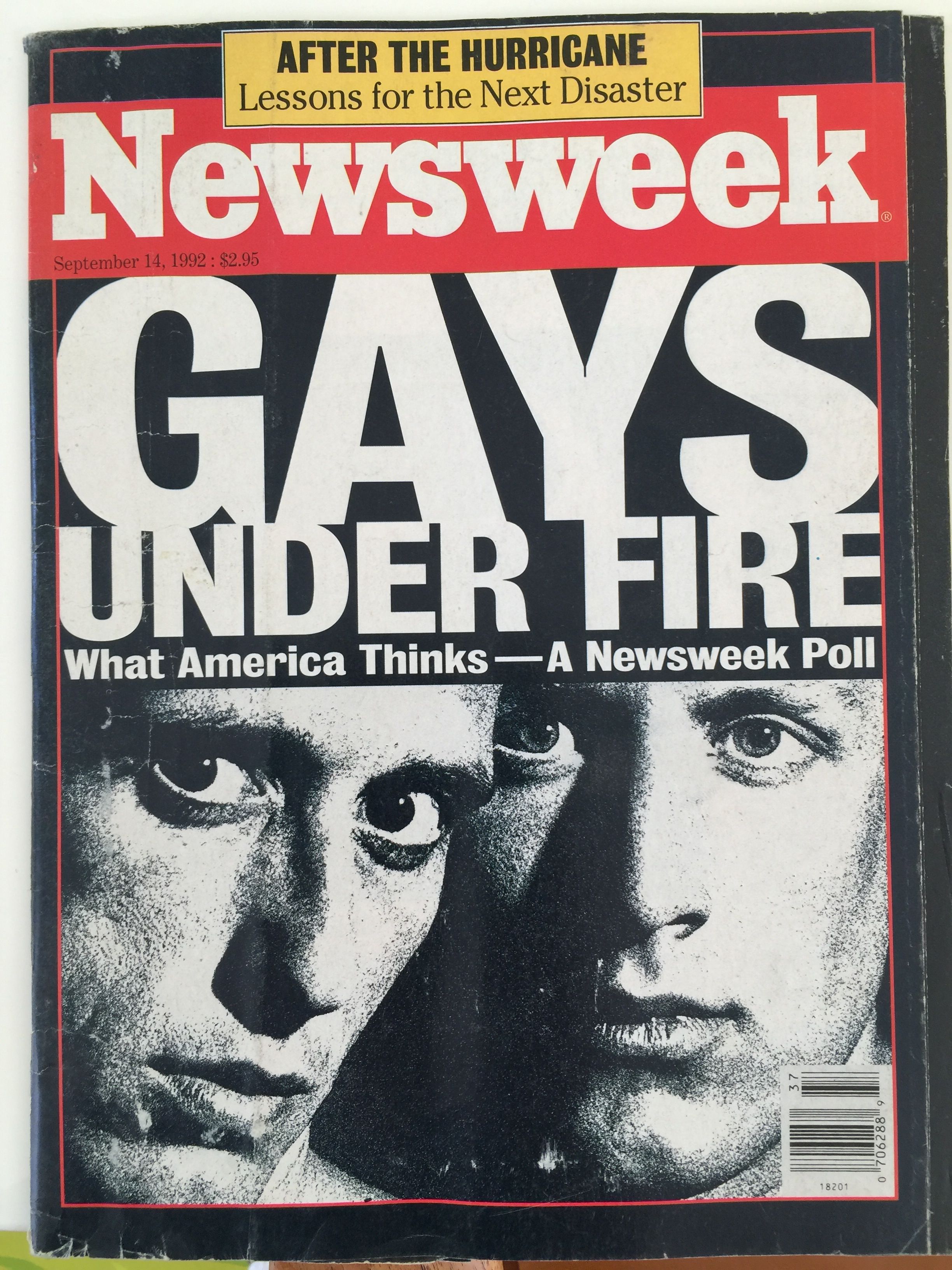 Shortly before the three-month mark had passed since the deadliest mass shooting in modern U.S. history, at the Pulse gay nightclub in Orlando, Florida, Brad Lamm wrote a first-person account of his experiences since appearing on Newsweek's landmark cover, "Gays Under Fire." The 1992 cover story was accompanied by a poll that revealed limited public support for extending legal rights to LGBT persons in everyday circumstances ranging from workplace equality to same-sex marriage. In one of the poll's findings, less than half (45 percent) of respondents said "yes" when asked if "gay rights was a threat to the American family and its values."
Lamm's original Facebook post has been expanded and shared, below, nearly 24 years to the day after he appeared on this magazine's cover on September 13, 1992.
Yes yes, 'tis true.
That's me and Gary on the cover of Newsweek's issue "Gays Under Fire," published in September 1992. It was a different world, another time. The word for a gay's partner then was "lover." Reduced to an act, not fact. Seriously, another time. What a difference twenty-four years has made. The day that caused a ruckus for us two (and landed us on the cover as I recall) had seen us meander through Central Park, before the gym in midtown Manhattan. After working out, we wandered by a van from which a chorus of yells came our way. The words broke through the busy Manhattan stroll as a chorus, menacing and direct.
"FAGGOTS!" they screamed. The van and the occupants followed us for a bit, yelling out the windows, before we cut through a mid-block atrium to escape the rig, and the humans inside.
Thinking we'd evaded them, we walked on into the afternoon. The attack came out of nowhere; yelling "faggots!" and swinging at us, hands like bats. They were five in all. They had tracked us, pulled over and spilled out, before attacking us. Gary and I were beaten in broad daylight on Broadway and 51st Street in New York City, a couple of blocks from where they had first spotted us. They would later tell a detective they had driven around looking for us again to "get those faggots and teach them a lesson."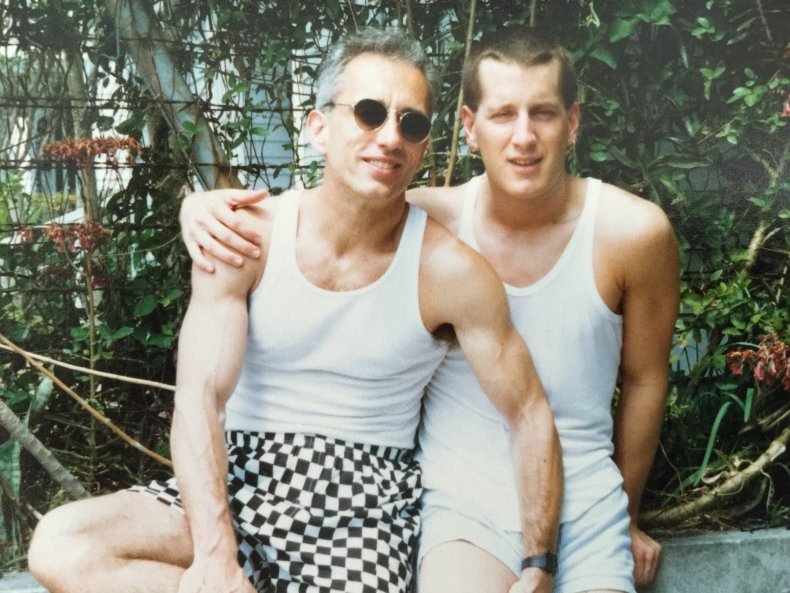 Our crime: holding hands. Gary was nearly killed. We were prey that day. I was knocked down and out with the first blow. I remember coming to, and standing up, in the crosswalk, looking around and not seeing Gary. My ears wouldn't work. I heard nothing. Everything moved in half-time. No sounds, just ringing, ringing, ringing. I looked out into the street, and traffic was stopped. I looked down, and there Gary was, collapsed in a heap.
Blood from his head was all over the street. They had kicked him in the body and head to such a degree after he had fallen that he looked utterly without life. I saw a woman in bright high heels standing over him, hands to head, screaming and red-faced. I didn't hear her. I remember seeing her scream but not the sound as I stumbled out into the crosswalk towards his body. I sat cross-legged on the asphalt, and put Gary's head in my lap, and remember, so clearly, just the slow-motion disbelief of What is happening here!? How has this occurred? I thought he was dead.
Gary's face was a bloody mess. One eye was totally closed and already swollen up like a baboon's rump. There was all too much blood. No way is he alive, I thought. It's not possible that this man I love, had lived through this. I felt for a pulse, then saw bloody bubbles coming out of his mouth finally, then a cough. The guys who beat us piled back in the van and headed south. A bystander called 911. The van had Canadian plates, and was pulled over before entering the Lincoln Tunnel. The attackers, all but one, were teenagers, and all were apprehended. I was asked to go with a detective to identify them as Gary was put in an ambulance to St. Clare's Hospital and I thought to myself, I will not see him again alive.
In 1992 I was in my early 20s, and Gary in his mid 30s. Standing there looking at them in a different setting, awaiting my nod that these were the ones who had done this awful thing, they stood. I would later find out their names and little more: Jesus Torres (17 years old), Manuel Ortiz (17 years old), Alex Figueroa (18 years old), Anthony Maya (19 years old) and Michael Hannah, the sole mercenary not a teenager, then 22.

Back then, there was no such thing as a Hate Crime Law in New York State. It wouldn't become law for another eight more years, when in 2000 the Hate Crimes Act dramatically increased the type of justice available to deal with those who chose victims based on certain traits. Like when hunting gays.
As first time offenders, and with no Hate Crime Law on the books, our teenaged attackers were facing probation only. We waited to see if his right eye would recover, and finally since he didn't lose an eye, or been permanently maimed or killed, the outcome allowed remarkably little. A trial was set for September that year and weeks before it, all but Michael Hannah, the 22 year old attacker, took plea deals. Down to the wire, and considering what taking the stand might be like, Michael took a plea too. He alone spent time behind bars, sentenced to one year.
The NYPD as a whole, was great. One of the detectives told me he was a closeted gay man, and would "make sure the best outcome from this attack would happen." That detective helped coordinate the input of Dr. Marjorie Hill, then Mayor Dinkins LGBT Liaison, to work with the teenaged attackers. Hill crafted some positive possibility rather than straight probation and community service hours - like picking up garbage on the highway while wearing an orange vest. The four given probation were mandated to 100 hours each in Dr. Hill's office; a vibrant and diverse staff of largely gay and lesbian people of color.
While dumbfounded that existing laws supported such a minimal sentence, I was grateful for the outcome Dr. Hill and the detective helped craft. More good - less bad. Gary and I signed off on the deals. I wonder if good came from the plea deals for those young men. What had that day cost them, spiritually and emotionally? I wonder if any of them were closeted gays themselves, as is so often the case with those who commit hate crimes against LGBTQ folk. Until last week, until a question from a friend if that was me on the cover as she had been told, I had never even looked up their names to see what became of them. I had walked on, as folks often do following complex trauma. I had folded myself up like a fan, and walked on.
The days after the attack, my friend Larry Kramer suggested I buy a gun and arm myself. He was like an uncle to me back then. At UCLA, my coming out "project" was reading Larry's seminal book Faggots in a modern fiction class, then send an author critique. Upon landing in NYC a couple years later, I met up with Larry in person for the first time. He had by then founded GMHC and then, ACT-UP (AIDS Coalition to Unleash Power) and was loved or loathed in his own tribe depending on whom you asked. Faggots spoke of a tribe living and loving beyond a bath house or nightclub. As most gays were closeted then, Larry's dream was a higher calling for real and, one that resonated with me. For millennia the only times many closeted gays felt free being themselves was when they snuck away for a night here or there, seeking their place amongst their people.
The youngest of four boys to an evangelical minister father and perfectly poised pastor's wife mother, my turning out gay was much more than disappointment. The teenager-everyone-loved was suddenly an item on the prayer chain. My coming out hit mom the hardest. The cost to her was despair, self-doubt, and a challenge to her very own notion of secrets. By the time I was settling into my own new tribe in New York City, six green payment booklets arrived by mail. "If you pay even $50 a month you'll make a dent before you know it," my mom Nancy raged. Mom was billing back all of me.
That is, all they had spent on me. The gay one, now cast out. Whittier Christian High School fees? Included. Summer sports as a teen in Eugene, OR and church camp? Included. Cost of braces for my teeth along with every co-pay from DR visits over the years? Included. As the accountant of this clan, Mom reviewed checkbook ledgers from years past, and made this final accounting. I declined repayment. A dark period descended.
Mom, as a wounded, ultra-religious human being, was trying to make sense of the unimaginable: a gay child. It was dark and long the valley dividing us; in perpetual storm scape. The ensuing rage between us flew like fists, with words and yells, and worst of all for long periods, silence. My sister in law, Pris told the family I had forced myself on her at a family vacation. "He french kissed her, and emotionally raped her," her husband (my oldest brother Keith) told my brothers and parents though not me. A darker period descended, deepening what had come before.
Keith and Pris had small kids, and made up a story that as a gay man during the plague years, I must have been infected with HIV, and would soon die. Pris was petrified of something passing from me to the kids. Pris, an ultra-religious woman in her own right, was trying to make sense of the unimaginable: an "infectious gay" brother-in-law in her midst, as she imagined. She made a final accounting in her own way.
The costs to our family were enormous and devastating. So it was this version of me walking hand in hand with Gary that day, that glorious Manhattan day. After the attack I sunk into two decades of numbing self-harm and addiction in spite of thriving in other areas of life. I don't blame those young men any more than I blame Mom or Keith or Pris for the emotional beatings they gave. Yes, their hurt, hurt… but I think I was genetically predisposed to addiction. Once I started using nicotine, cocaine, alcohol, an eating disorder and finally meth to get through life, and numb out, I was unlikely to stop unless interrupted by outside forces or intervention.
We've all got hurts, cracks and trauma. Life happens.
We get beaten down. Some of us will get hunted. The costs add up and are unimaginable in the pain and blame and guilt they birth. I am who I am, and grateful to have lived through it all. Yes, even the rough stuff. I nearly didn't make it, but I got better and have thrived in life's third chapter. I consider Mom and Pris, and wonder how they have coped and lived and loved in their own way; in their own family systems. How have their tribes responded to them over the years? Did they even know what they were doing, I wonder, in the moment? Every last one of them. Mom, Pris, Michael, Alex, Anthony, Manuel and Jesus? Or were they simply high jacked by their own "flight or fight" system in that moment of attack? Were they the very people I grew up learning about on Sunday mornings who Christ implored for me to "Forgive them Father, for they know not what they do."
As I've learned more and more on the impact of complex trauma on the brain, and its relationship to how we behave in moments of stress, I honestly wonder. I'm no softy. I have for more than a decade, worked as an interventionist with some of the planet's sickest people. Yet I remain curious on this note. It's no surprise then that I went on found one of the nation's leading trauma programs for those living with addiction and eating disorders.
Mom's own secrets and lies came to light and redefined her life in ways, late in life. Her own mother Enid was not dead as the family had been told while growing up, but locked up in the Oregon State Mental Hospital for a seeming millennia. Mom knew and held this secret solid, safe, tucked deep down and away from her all but my father. Mom did not come from great wealth in Portland, Oregon as she had made Lamm legend, but instead shared a room with her daddy in a Portland rooming house from ages 8 to 13. The bathroom down the hall was shared by other second floor boarders. The woman mom described as their "maid" growing up, was actually the lady who ran the house. I never learned if she owned the place or not. It matters little now, right? We're all working out our story in real time. Acts and facts often get confused as we work to sort out things.
I wonder on why hurt people, hurt people. I know the answer. Today I connect little with my mom because she deeply wounded me, and one way I take care of myself as a man in long-term recovery is I own my part of it and avoid those who hurt me - including those five young men from so long ago. As a rule to live and thrive by, I take caution when allowing people to get close today. I avoid predators when possible, and hunters as I am able. I love my Mom, and try to remember her as a young woman trying to figure life out; how to make things work under the guidance of a five-time married father who couldn't get things straight himself. I financially support her today, and step up as I am able. All these years later in my heart, even considering walking into her nursing home room, hurts. Each trip is a crap shoot. Sometimes I visit. Often I do not.
I will consider my internal condition in a moment, on that day, and decide what will support my life as a recovered man today. I have recovered love, and life and connectedness. I love the men who attacked me in ways. I love the boys they were, before they became the ones who would savage another. I have recovered compassion in my journey. I have recovered a place of meaning and value in a tribe that has survived. In an effort to support the life I have, I must decide what to pick up, and then, what to leave behind.
I have little connection with my sister-in-law Pris. I see her rarely. She is not on the internal list of those I choose to have in my life. In spite of saying she was sorry years ago, I find her presence (and even the very thought of her) spiritually wounding. I tend to avoid those who have wounded me today, on the street and in my heart. I consider arming myself with compassion and forgiveness and yes, context, of where the other person might have come from to be invaluable. I have become a contextualist.
As much as I wanted to have some grand resolution to attacks from all sides, I don't think a gun will ever be my solution. A gun in my pocket would never have been useful for me to recover life. I did put pen to paper, and fingers to the piano soon after the attacks from foes and family (I was in a band back then) to write out the rage I felt and the fear that plagued me. Out came the song "Up the River" in one sitting. The theme: justice. It ends with the sound of a single gunshot. Better in a song than on the streets.
Seems so so long ago just now, this moment gays under fire, snapped in time.
To the friend who asked if that was me on the Newsweek cover, I'll say YES. That's a version of me. A pre-THIS version. The plague panic was relentless, and yes AIDS was everywhere I looked. All around, my NYC family, were getting thin and red-faced for those early experimental HIV-drugs. A traumatized herd emerged as a virus hunted us wholesale. In that time, Kevin W had died. Kevin C was sick and dying. Jim M was dying then too. Kevin B was sick and on death's door that year. Will L, was sick sick, but wouldn't die for another decade.
Full of fear, terror really, between family and life and AIDS and loss and well, there was just so much fear then that it was just so so so much, and too much really, and well, we weren't going to make it out alive anyway. That was an overriding thought then. None of us will find joy or thrive, just more death and agony.
That's how I thought, at my core. A hopeless spot in a terrible time. We weren't going to make it anyway. Then things changed. And I don't die and, a miracle, I get better and life changes and hearts change and whooooosh, I'm 50 and married for the better part of a decade now to my amazing husband Scott, and it's legal, and… hope and joy and marriage fills the space of misery and pain and despair.
A lifetime ago. Another chapter for sure. In me, as in all creatures I believe, is a beautiful spark of spirit advocating for good and love and life and, in that place I am grateful to swim. My finding from this grand half-century adventure is this:
May we love and be loved.
Might we forgive and be forgiven.
And always, ALWAYS remember, how forgiveness need never equal permission to swim together again.
Her question takes me back. Yes, that's me on the right. That was me, there on the right—a long, long time ago.
Brad Lamm is an interventionist, author, founder of Breathe Life Healing Centers in Los Angeles, and has recently acquired and relaunched Intervention.com to continue to transform the way addiction is treated in the U.S.