Newsweek College Football Rankings, Heisman and CFP Predictions—Week 7
The early college games on Saturday probably had many fans reaching for paper bags to catch their breaths. Or for some, starting their Saturday night way earlier than expected.
Here are four early games that had people's head spinning last Saturday:
Oklahoma 53, Texas 45 (4 OT)
Oklahoma led, 31-17, late in the game, but Texas quarterback Sam Ehlinger willed his Longhorns to an overtime. Each overtime period had high drama, including the final two. In the third overtime, Texas had its field goal attempt blocked. OU then relied on its trusty kicker (Gabe Brkic), but his field goal attempt went wide left. OU scored a touchdown and two-point conversion in the fourth overtime, and Ehlinger had a pass picked off in the end zone. This was the highest-scoring game ever in the Red River Showdown.
Texas A&M 41, Florida 38
Florida took a 38-31 lead with 6:14 remaining, but the Aggies pulled off a remarkable touchdown on a 51-yard pass from Kellen Mond to Caleb Chapman. Texas A&M got the ball back and worked it down field to set up a game-winning, 26-yard field goal by Seth Small to give the Aggies their first win against a top 5 team in the Jimbo Fisher era.
Missouri 45, LSU 41
LSU led, or was tied, in this game for nearly 55 minutes, but Missouri's Connor Bazelak tossed a 5-yard pass to Niko Hea with 5:18 remaining in the game to take a 45-41 lead. LSU marched the field and had the ball first-and-goal inside the 1-yard line. The Missouri Tigers stuffed the LSU Tigers in four-consecutive plays, and Missouri got its first win of the season by knocking off the defending national champions. This game was scheduled to be played in Baton Rouge, but it was moved to Columbia, Missouri with the threat of Hurricane Delta in the Gulf last week.
North Carolina 56, Virginia Tech 45
Teams scored in bunches during this game between undefeated teams. UNC took a 21-0 lead in the first quarter, only to see the Hokies answer with a pair of touchdowns. Carolina extended its lead to 42-17, only to have Virginia Tech score 20-straight points to make it 42-37. UNC scored two more touchdowns for a 56-37 lead, and then Virginia Tech tacked on a score with five minutes left in the game, but that would be the end of all scoring, and Mack Brown's Tar Heels are now 3-0 and in the top 5 in the country.
Newsweek Top 20
Some teams are playing right now, and others won't start until late October and early November. Here are the rankings after games from the Oct. 8-10 weekend. When other leagues begin play, they will be inserted into the rankings, accordingly. Included in these rankings is the next opponent.
| | | | |
| --- | --- | --- | --- |
| 1 | Clemson | 4-0 | (Sat.) at Georgia Tech |
| 2 | Alabama | 3-0 | (Sat.) vs #3 Georgia |
| 3 | Georgia | 3-0 | (Sat.) at #2 Alabama |
| 4 | Notre Dame | 3-0 | (Sat.) vs Louisville |
| 5 | North Carolina | 3-0 | (Sat.) at Florida State |
| 6 | Cincinnati | 3-0 | (Sat.) at Tulsa |
| 7 | Oklahoma State | 3-0 | (Sat.) at Baylor |
| 8 | Miami (Fla.) | 3-1 | (Sat.) vs Pittsburgh |
| 9 | Iowa State | 3-1 | (Oct. 24) at #7 Oklahoma State |
| 10 | Texas A&M | 2-1 | (Sat.) at Mississippi State |
| 11 | Florida | 2-1 | (Sat.) vs LSU |
| 12 | Kansas State | 3-1 | (Oct. 24) vs Kansas |
| 13 | SMU | 4-0 | (Fri.) at Tulane |
| 14 | BYU | 4-0 | (Fri.) at Houston |
| 15 | Tennessee | 2-1 | (Sat.) vs Kentucky |
| 16 | Louisiana | 3-0 | (Wed.) vs #20 Coastal Carolina |
| 17 | Virginia Tech | 2-1 | (Sat.) vs Boston College |
| 18 | Auburn | 2-1 | (Sat.) at South Carolina |
| 19 | Army | 4-1 | (Sat.) at UTSA |
| 20 | Coastal Carolina | 3-0 | (Wed.) at #16 Louisiana |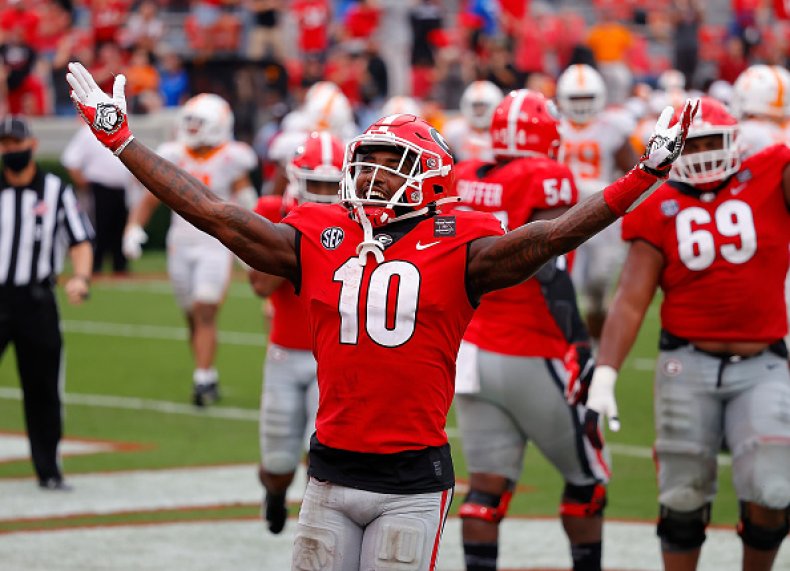 SEC officials bungle a fumble
The Arkansas Razorbacks made headlines last week after snapping a 20-game SEC losing streak. They probably should have won a second-consecutive SEC game on Saturday at Auburn, but a weird play led to a miscue by the referees, and an eventual Auburn win. Arkansas took a 28-27 lead, and Auburn drove the ball downfield to set up a chipshot field goal. On a third-and-1 at the Arkansas 19, Auburn quarterback Bo Nix fumbled the snap, gathered the ball and spiked the ball behind him. The referees blew the whistle to end the play, not accounting for a backwards pass, which meant a live ball. Arkansas appeared to recover the ball, but replay gave the ball to Auburn, which booted a field goal with 7 seconds remaining to give the Tigers a 30-28 win.
Where is College GameDay this week?
ESPN's popular GameDay road show will be in Tuscaloosa, Alabama this Saturday for the season's first top-5 matchup as the No. 3 Georgia Bulldogs travel to face the No. 2 Alabama Crimson Tide. These are the two remaining undefeated teams in the SEC, and the winner will be favored to run the table and win the SEC, possibly earning a College Football Playoff berth. The game will kickoff Saturday night at 8 p.m. ET on CBS.
Heisman Frontrunners
Here are the Newsweek Heisman rankings after Week 6 of the season, which was the third week for the SEC. When other conferences like the Big Ten and Pac-12 join the season, their players will then be considered.
Trevor Lawrence, QB, Clemson
Mac Jones, QB, Alabama
Zach Wilson, QB, BYU
Kyle Trask, QB, Florida
Terrace Marshall Jr., WR, LSU
Updated College Football Playoff (Only conferences currently playing games are considered—it could adjust at a later date)
Clemson
Alabama
Notre Dame
Cincinnati
Games to Watch This Week (Times ET)
Wednesday, October 14
7:30 p.m. Coastal Carolina at Louisiana, ESPN
Friday, October 16
6 p.m. SMU at Tulane, ESPN
9:30 p.m. BYU at Houston, ESPN
Saturday, October 17
12 p.m. Clemson at Georgia Tech, ABC
12 p.m. Cincinnati at Tulsa, ESPN2
12 p.m. Pittsburgh at Miami, ACC Network
12 p.m. Auburn at South Carolina, ESPN
12 p.m. Kentucky at Tennessee, SEC Network
2:30 p.m. Louisville at Notre Dame, NBC
3:30 p.m. LSU at Florida, ESPN
3:30 p.m. UCF at Memphis, ABC
3:30 p.m. Ole Miss at Arkansas, ESPN
3:30 p.m. Texas A&M at Mississippi State, SEC Network
7 p.m. North Carolina at Florida State, ESPN
7:30 p.m. Oklahoma State at Baylor, ABC
8 p.m. Georgia at Alabama, CBS