Newsweek College Football Rankings, SEC's Power Shift and Big 12 Chaos
One week after Mississippi State went into Baton Rouge and upset the defending national champs, the Bulldogs went home to Starkville and came back to Earth with a thud. Mississippi State lost to Arkansas, as the Razorbacks snapped a 20-game losing streak in SEC play.
That's a microcosm of college football this weekend.
Texas looked to be the frontrunner in the Big 12, but the Longhorns lost at home to TCU. The Oklahoma Sooners lost at Iowa State for the first time since 1960. The Sooners are 0-2 in the Big 12 and tied for last place with Kansas and Texas Tech.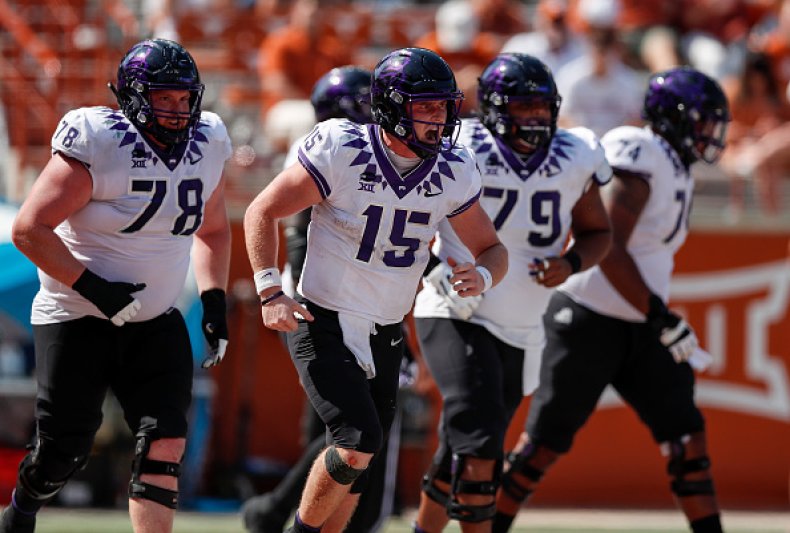 Tennessee surprisingly has the nation's longest winning streak at eight games, which is tied with Notre Dame.
With the way 2020 has happened, it's no surprise that this has already been a wacky college football season so far. There seems to be a shift in power in the SEC from the West to the East, the Big 12 is a total mess right now and Notre Dame and Miami are emerging in the ACC. North Carolina and Virginia Tech are also undefeated in the ACC, and they will square off this Saturday in North Carolina for a rematch of last year's six-overtime game—which the Hokies won.
And how about this upcoming game on Saturday: Coastal Carolina (3-0) at Louisiana (3-0).
One thing that has remained constant, though, is that Clemson and Alabama are still clearly the best teams in college football, and every other team is trying to catch up with them.
Chaos in the Big 12
The Oklahoma State Cowboys are the highest-rated team in the Big 12, and the only one with an overall undefeated record at 3-0. They are tied for first in the Big 12 with Iowa State and Kansas State (yes, you read that correctly). All of a sudden, the Kansas State game at TCU this upcoming weekend seems more intriguing than the Red River Rivalry between Texas and Oklahoma.
SEC Power Shifting East?
The SEC standings look downright peculiar this week. In the West Division, Alabama stands alone at 2-0 after thrashing Texas A&M on Saturday. The six other teams are tied at 1-1 after Arkansas snapped a 20-game losing streak, Ole Miss won in overtime and LSU got back on the winning track at Vanderbilt.
In the East Division, there are three unbeaten teams and four winless teams. Two of those undefeated teams—Georgia and Tennessee—play each other this Saturday in Athens, Georgia while the other unbeaten team (Florida) travels to College Station to play Texas A&M.
Where is 'College GameDay' this week?
ESPN's popular 'College GameDay' road show will be in Clemson, South Carolina this Saturday for the season's second top-10 matchup as the Miami Hurricanes travel to face the Clemson Tigers. This is a colossal early-season game that will determine ACC supremacy, and if Miami is a legitimate contender. The game will kickoff Saturday night at 7:30 p.m. ET on ESPN.
Heisman Frontrunners
Here are the Newsweek Heisman Trophy rankings after Week 5 of the season, which was the second week of SEC competition. When other conferences like the Big Ten and Pac-12 join the season, their players will then be considered.
Trevor Lawrence, QB, Clemson
Kyle Trask, QB, Florida
Mac Jones, QB, Alabama
D'Eriq King, QB, Miami
Jaylen Waddle, WR, Alabama
Updated College Football Playoff prediction (Only conferences currently playing games are considered—it could adjust at a later date)
Alabama
Clemson
Florida
Cincinnati
Games to Watch This Week
Saturday, October 20, 2020 (Times ET)
Florida at Texas A&M, noon, ESPN
Texas vs. Oklahoma, noon, FOX
Virginia Tech at North Carolina, noon, ABC
Coastal Carolina at Louisiana, noon, ESPN2
Tennessee at Georgia, 3:30 p.m., CBS
Arkansas at Auburn, 4 p.m., SEC Network
Kansas State at TCU, 4 p.m., FOX
Alabama at Ole Miss, 6 p.m., ESPN
Florida State at Notre Dame, 7 p.m., NBC
Miami at Clemson, 7:30 p.m., ESPN
Missouri at LSU, 9 p.m., ESPN
Newsweek Top 20
Some teams are playing right now, and others won't start until late October and early November. Here are the rankings after games from the Oct. 2-3 weekend. When other leagues begin play, they will be inserted into the rankings, accordingly.
| | | | |
| --- | --- | --- | --- |
| 1 | Alabama | 2-0 | (Sat.) at Ole Miss |
| 2 | Clemson | 3-0 | (Sat.) vs #3 Miami |
| 3 | Miami (Fla.) | 3-0 | (Sat.) at #2 Clemson |
| 4 | Florida | 2-0 | (Sat.) at Texas A&M |
| 5 | Georgia | 2-0 | (Sat.) vs #9 Tennessee |
| 6 | Notre Dame | 2-0 | (Sat.) vs Florida State |
| 7 | Cincinnati | 3-0 | (Oct. 17) at Tulsa |
| 8 | North Carolina | 2-0 | (Sat.) vs #15 Virginia Tech |
| 9 | Tennessee | 2-0 | (Sat.) at #5 Georgia |
| 10 | Oklahoma State | 3-0 | (Oct. 17) at Baylor |
| 11 | SMU | 4-0 | (Oct. 16) at Tulane |
| 12 | Kansas State | 2-1 | (Sat.) at TCU |
| 13 | BYU | 3-0 | (Sat.) vs UTSA |
| 14 | Iowa State | 2-1 | (Sat.) vs Texas Tech |
| 15 | Virginia Tech | 2-0 | (Sat.) at #8 North Carolina |
| 16 | Auburn | 1-1 | (Sat.) vs Arkansas |
| 17 | Louisiana | 3-0 | (Sat.) vs #20 Coastal Carolina |
| 18 | LSU | 1-1 | (Sat.) vs Missouri |
| 19 | Army | 3-1 | (Sat.) vs The Citadel |
| 20 | Coastal Carolina | 3-0 | (Sat.) at #17 Louisiana |