Newsweek College Football Rankings, and Two Teams That Can Beat Clemson in the ACC
The Southeastern Conference (SEC) returned to action on Saturday, and the best league in the country lived up to the hype—but not quite what was expected. Alabama looked unstoppable, LSU looked lost, Georgia looked lethargic early on, and the Mississippi schools were flashy.
The Mississippi State offense looked better than a video game, with quarterback K.J. Costello passing for an SEC-record 623 yards, to go along with five touchdowns, in Mike Leach's air-raid offense. LSU had trouble stopping the Mississippi State offense, and the Bulldogs went to Baton Rouge and pulled out a 44-34 road win over the defending national champions.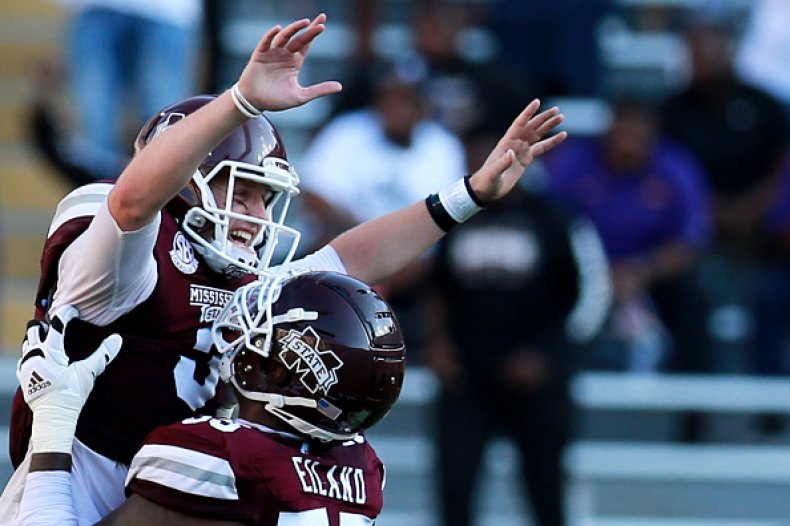 The Florida Gators showed they can score lots of points in their 51-35 win at Ole Miss, but the Gators showed they can also give up a lot of points. Ole Miss, in coach Lane Kiffin's debut, looked rather good against a Florida defense that was considered to be a strong point going into the season.
Georgia looked like it slept walk through the first half of its 37-10 victory over Arkansas. The Razorbacks took a 7-5 lead into halftime. Georgia got it going in the second half, but it looks like a combination of a new offense, new quarterback and no spring football had an effect on them.
Auburn won, 29-13, at home over previously-ranked Kentucky, but the game was 15-13 going into the fourth quarter. Auburn, ranked No. 6 in the Newsweek top 20 (rankings below), travels to face No. 8 Georgia this Saturday night.
Two ACC teams who can beat Clemson
Clemson is No. 1 in most national polls, and the Tigers have looked like a clear-cut favorite to win the Atlantic Coast Conference again and make another run to the national title game. However, there are two teams that could push the Tigers, and perhaps even beat them outright.
Miami moved to 3-0 on the season after obliterating rival Florida State, 52-10, on Saturday in Miami Gardens. This comes one week after the Hurricanes went to Louisville to win a ranked matchup. The Hurricanes have looked strong on both sides of the ball, and the swagger might be back. D'Eriq King, Miami's transfer quarterback from Houston, looks extremely confident in the offense. Miami has a week off before traveling to Clemson for what could be an epic game.
Notre Dame, which is playing in the ACC this season, is also undefeated. Their game against Wake Forest was postponed last weekend because of COVID-19 issues. The Irish do not have a scheduled game this week, and they host Florida State on Oct. 10. The Irish have looked strong in their first two games, and they could be unbeaten when Clemson rolls into South Bend on Nov. 7.
Big 12 Bungle
Oklahoma blew a big lead and lost to Kansas State, 38-35, and Texas won a wild overtime game, 63-56, at Texas Tech. The Texas Longhorns have become the frontrunner in the Big 12, with Oklahoma State nipping their heels. Texas could possibly run the table and get into the College Football Playoff this year, but they might have to go unscathed. A big plus on the Forty Acres is veteran quarterback Sam Ehlinger, who has the arm, legs and leadership to lead this team in coach Tom Herman's third year.
Where is College 'GameDay' this week?
ESPN's popular 'GameDay' road show will be in Athens, Georgia this Saturday for the season's first top-10 matchup as Auburn travels to face Georgia. They are natural rivals in the SEC's divisional crossover games, meaning they face each other every season. These two teams typically meet late in the season, but altered schedules this season have them meeting in the second game. The game will kickoff Saturday night at 7:30 p.m. ET on ESPN.
Heisman Frontrunners
Here are the Newsweek Heisman rankings after Week 4 of the season, which was the first week for the SEC. When other conferences like the Big Ten and Pac-12 join the season, their players will then be considered.
K.J. Costello, QB, Mississippi State
Trevor Lawrence, QB, Clemson
Sam Ehlinger, QB, Texas
Jaylen Waddle, WR, Alabama
D'Eriq King, QB, Miami
Updated College Football Playoff (Only conferences currently playing games are considered—it could adjust at a later date)
Alabama
Clemson
Texas
Cincinnati
Newsweek Top 20 in 2020 — Week 5
Some teams are playing right now, and others won't start until late October and early November. Here are the rankings after the SEC's entry into play. When other leagues begin play, they will be inserted into the rankings, accordingly.
| | | | |
| --- | --- | --- | --- |
| 1 | Alabama | 1-0 | (Sat.) vs. #10 Texas A&M |
| 2 | Clemson | 2-0 | (Sat.) vs. Virginia |
| 3 | Miami (Fla.) | 3-0 | Oct. 10 at #2 Clemson |
| 4 | Florida | 1-0 | (Sat.) vs. South Carolina |
| 5 | Notre Dame | 2-0 | Oct. 10 vs. Florida State |
| 6 | Auburn | 1-0 | (Sat.) at #8 Georgia |
| 7 | Texas | 2-0 | (Sat.) vs. TCU |
| 8 | Georgia | 1-0 | (Sat.) vs. #6 Auburn |
| 9 | Mississippi St | 1-0 | (Sat.) vs. Arkansas |
| 10 | Texas A&M | 1-0 | (Sat.) at #1 Alabama |
| 11 | Cincinnati | 2-0 | (Sat.) vs. South Florida |
| 12 | UCF | 3-0 | (Sat.) vs. Tulsa |
| 13 | North Carolina | 1-0 | (Sat.) at Boston College |
| 14 | Oklahoma State | 2-0 | (Sat.) at Kansas |
| 15 | Tennessee | 1-0 | (Sat.) vs. Missouri |
| 16 | Louisiana | 3-0 | Oct. 7 at Appalachian State |
| 17 | Memphis | 1-0 | (Sat.)at SMU |
| 18 | Kansas State | 1-1 | (Sat.) vs. Texas tech |
| 19 | BYU | 2-0 | (Friday) vs. Louisiana Tech |
| 20 | Pittsburgh | 3-0 | (Sat.) vs. N.C. State |