Newsweek College Football Top 20 Rankings, Games to Watch For Week 3
College football had plenty of surprises last weekend, with the biggest shocker happening in Columbus, Ohio. The Oregon Ducks probably aren't surprised they traveled across the country and beat the Ohio State Buckeyes, though.
Oregon played without five starters, including defensive end Kayvon Thibodeaux, who could be the first overall pick in next spring's NFL Draft.
The weekly Newsweek top 20 saw as much shuffling this week as it did after the first full weekend of games. Alabama remains at No. 1, followed by Georgia at No. 2.
Ohio State plummeted from the third spot all the way to No. 15 because, well, they lost at home to a team without five of its starters, and the Buckeyes didn't look like a top 10 team. Oregon won the game, 35-28, and it was only a one-score game because Ohio State got a late touchdown. Oregon held Ohio State scoreless in the first quarter, and allowed just seven points in the second quarter, and seven more in the third.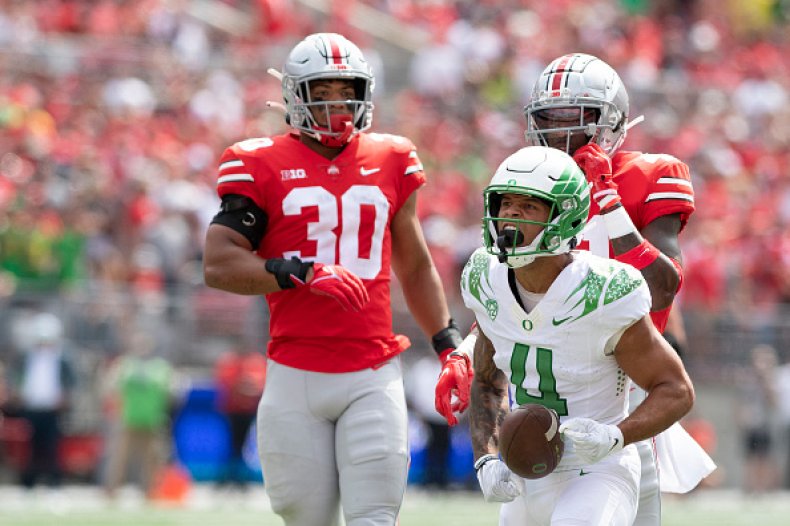 Oregon zooms up to the fifth spot, and the Ducks follow No. 3 Oklahoma and No. 4 Cincinnati, which each climbed one spot after convincing Week 2 wins.
The Iowa Hawkeyes soared 10 spots after knocking off in-state rival Iowa State, 27-17. The top 10 is rounded out with Clemson, UCLA, Texas A&M and Penn State.
Texas A&M needed a come-from-behind effort to take down Colorado, 10-7, in Denver. The Aggies lost quarterback Haynes King on the second drive of the game, and he never returned.
Florida moved up three spots to No. 11, and the Gators will have a tough task as the No. 1 Crimson Tide travel to Gainesville this Saturday.
Michigan State is No. 12, followed by Coastal Carolina, which moved up four spots. The Spartans travel to South Florida this week to play the Miami Hurricanes.
Ole Miss enters the rankings at No. 14, just one spot ahead of Ohio State.
Auburn enters the rankings at No. 16, and they have a tough road trip this week at Penn State.
Notre Dame slipped four spots to No. 17 after a close win over Toledo. UCF, Virginia Tech and BYU round out the top 20.
USC, which was previously ranked No. 11, fell from the rankings after a loss to Stanford. Then the Texas Longhorns, ranked No. 18 last week, dropped from the rankings after a loss at Arkansas.
Here are the rankings for for Week 3 — September 12, 2021:
| | | | | |
| --- | --- | --- | --- | --- |
| Rank | Team | Record | Previous | Next Game (All times Eastern) |
| 1 | Alabama | 2-0 | 1 | Sat. at Florida, 3:30 p.m. |
| 2 | Georgia | 2-0 | 2 | Sat. vs South Carolina, 7 p.m. |
| 3 | Oklahoma | 2-0 | 4 | Sat. vs Nebraska, noon |
| 4 | Cincinnati | 2-0 | 5 | Sat. at Indiana, noon |
| 5 | Oregon | 2-0 | 9 | Sat. vs Stony Brook, 7:30 p.m. |
| 6 | Iowa | 2-0 | 15 | Sat. vs Kent State, 3:30 p.m. |
| 7 | Clemson | 1-1 | 7 | Sat. vs Georgia Tech, 3:30 p.m. |
| 8 | UCLA | 2-0 | 16 | Sat. vs Fresno State, 10:45 p.m. |
| 9 | Texas A&M | 2-0 | 6 | Sat. vs New Mexico, noon |
| 10 | Penn State | 2-0 | 10 | Sat. vs Auburn, 7:30 p.m. |
| 11 | Florida | 2-0 | 14 | Sat. vs Alabama, 3:30 p.m. |
| 12 | Michigan State | 2-0 | 12 | Sat. at Miami (Fla.), noon |
| 13 | Coastal Carolina | 2-0 | 17 | Sat. at Buffalo, noon |
| 14 | Ole Miss | 2-0 | NR | Sat. vs Tulane, 8 p.m. |
| 15 | Ohio State | 1-1 | 3 | Sat. vs Tulsa, 3:30 p.m. |
| 16 | Auburn | 2-0 | NR | Sat. at Penn State, 7:30 p.m. |
| 17 | Notre Dame | 2-0 | 13 | Sat. vs Purdue, 2:30 p.m. |
| 18 | UCF | 1-0 | 19 | Fri. at Louisville, 7:30 p.m. |
| 19 | Virginia Tech | 2-0 | 20 | Sat. at West Virginia, noon |
| 20 | BYU | 2-0 | NR | Sat. vs Arizona State, 10:15 p.m. |
Dropped Out: No. 8 Iowa State; No. 11 USC; No. 18 Texas
Here are the games to watch this week:
Alabama at Florida
Auburn at Penn State
Cincinnati at Indiana
Michigan State at Miami (Fla.)
Purdue at Notre Dame
Virginia Tech a West Virginia
BYU at Arizona State