Newsweek College Football Top 20 Rankings, Games to Watch For Week 5
The Arkansas Razorbacks look to be the real deal in the 2021 football season after knocking off Texas A&M in Arlington. The Razorbacks looked razor sharp in the first half, and its defense was stout enough to drop eight men into coverage while rushing just three.
Arkansas looked good in all facets of their 20-10 win over the Aggies, and Arkansas soars 10 spots into the No. 6 spot of this latest Newsweek college football top 20.
Texas A&M fell 15 spots to No. 20.
Arkansas will have another tough task this week with a trip to face Georgia at noon in Athens. Georgia remains at No. 2 after a 62-0 drubbing of Vanderbilt.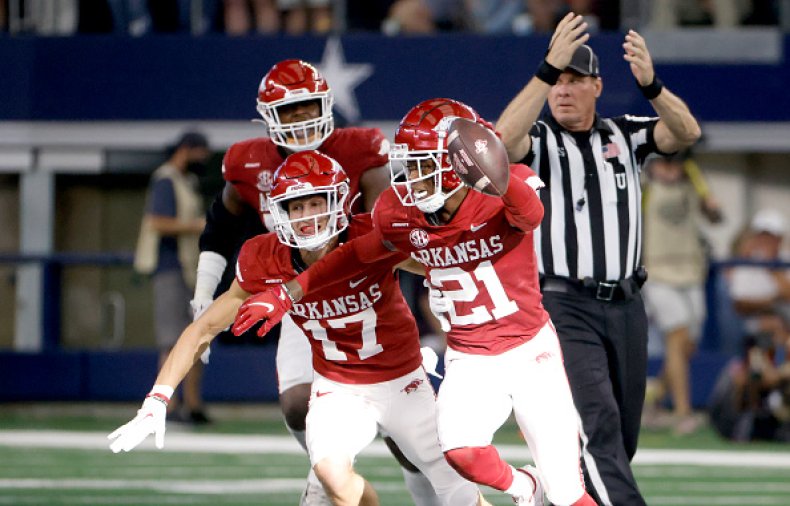 Alabama holds the top spot again after its 63-14 win over Southern Miss. Oregon remains at No. 3, followed by Iowa and Penn State, who also improved to 4-0.
After Arkansas, Oklahoma holds the No. 7 spot, followed by Cincinnati, Notre Dame and Florida.
Ole Miss was idle last week, but they moved up one spot to No. 11 this week—thanks to Michigan State dropping (despite a win) and Clemson falling completely out of the rankings after its second loss. Ole Miss travels to play No. 1 Alabama this week in a highly-anticipated showdown.
N.C. State enters the rankings this week after knocking off Clemson, 27-21, in double overtime.
Teams that just missed out on the rankings are Baylor, Texas, North Carolina and Boston College.
Here are the rankings for for Week 5 — September 26, 2021
| | | | | |
| --- | --- | --- | --- | --- |
| Rank | Team | Record | Previous | Next Game (All times Eastern) |
| 1 | Alabama | 4-0 | 1 | Sat. vs Ole Miss, 3:30 p.m. |
| 2 | Georgia | 4-0 | 2 | Sat. vs Arkansas, Noon |
| 3 | Oregon | 4-0 | 3 | Sat. at Stanford, 3:30 p.m. |
| 4 | Iowa | 4-0 | 4 | Fri. at Maryland, 8 p.m. |
| 5 | Penn State | 4-0 | 6 | Sat. vs Indiana, 7:30 p.m. |
| 6 | Arkansas | 4-0 | 16 | Sat. at Georgia, Noon |
| 7 | Oklahoma | 4-0 | 7 | Sat. at Kansas State, 3:30 p.m. |
| 8 | Cincinnati | 3-0 | 9 | Sat. at Notre Dame, 2:30 p.m. |
| 9 | Notre Dame | 4-0 | 14 | Sat. vs Cincinnati, 2:30 p.m. |
| 10 | Florida | 3-1 | 11 | Sat. at Kentucky, 6 p.m. |
| 11 | Ole Miss | 3-0 | 12 | Sat. at Alabama, 3:30 p.m. |
| 12 | Michigan State | 4-0 | 8 | Sat. vs Western Kentucky, 7:30 p.m. |
| 13 | Coastal Carolina | 4-0 | 13 | Sat. vs UL-Monroe, 2:30 p.m. |
| 14 | Ohio State | 3-1 | 15 | Sat. at Rutgers, 3:30 p.m. |
| 15 | Michigan | 4-0 | 17 | Sat. at Wisconsin, Noon |
| 16 | BYU | 4-0 | 18 | Fri. at Utah State, 9 p.m. |
| 17 | N.C. State | 3-1 | NR | Sat. vs Louisiana Tech, 6 p.m. |
| 18 | Auburn | 3-1 | 19 | Sat. at LSU, 9 p.m. |
| 19 | Fresno State | 4-1 | 20 | Sat. at Hawai'i, 11 p.m. |
| 20 | Texas A&M | 3-1 | 5 | Sat. vs Mississippi State, 7 p.m. |
Dropped Out: No. 10 Clemson
Here are the top games to watch this week:
Virginia at Miami (Thursday)
Iowa at Maryland (Friday)
Arkansas at Georgia
Cincinnati at Notre Dame
Texas at TCU
Oklahoma at Kansas State
Oregon at Stanford
Ole Miss at Alabama
Indiana at Penn State
Boston College at Clemson
Auburn at LSU
Arizona State at UCLA
Fresno State at Hawai'i