The fifth weekend of college football let the country know that the top two teams are separating themselves from the rest of the pack. Pretenders are no longer contenders and the Heisman frontrunners aren't who they used to be.
Several top teams lost, and there were some surprises—like Florida losing to Kentucky and Oregon losing to Stanford.
Alabama and Georgia hold the top two spots in Newsweek's Top 20 after both winning at home in convincing fashion over top SEC teams. Oregon fell from No. 3 after an overtime loss at Stanford. Iowa and Penn State moved to 3 and 4, respectively, and will face each other this week in Iowa City.
Cincinnati is No. 5 after going on the road to beat Notre Dame and remain undefeated. Oklahoma is still undefeated at No. 6, and the remaining teams in the top 10—Michigan State, Michigan, BYU and Coastal Carolina— are also undefeated.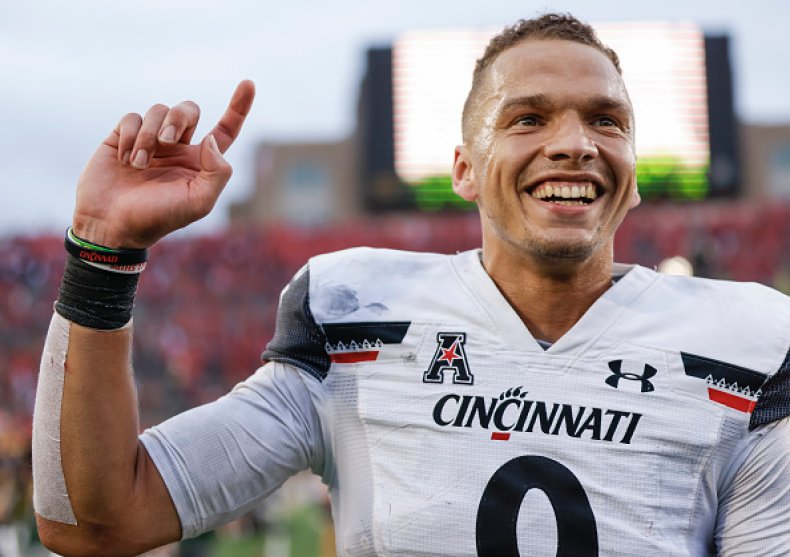 Alabama whipped Ole Miss, 42-21, on Saturday in Tuscaloosa. The score was 28-0 at half, and the Crimson Tide took a 35-0 lead before pedalling the brakes in the second half. The same can be said for Georgia, which took a 21-0 lead in the first quarter over Arkansas, which was in everyone's top 10 after previous victories over Texas and Texas A&M by the Razorbacks.
Oregon looked lost early against Stanford, but the No. 3 Ducks came from behind to take a 24-17 lead. Stanford tied the game at the end of regulation, and then beat Oregon in overtime.
Cincinnati looked impressive in its road win at Notre Dame, and the Bearcats look to be a real contender for this year's College Football Playoff should they remain undefeated.
Michigan and Michigan State both won to remain undefeated, BYU is still unblemished and Coastal Carolina cracks the Newsweek top 10.
The Big Ten conference has four teams in the Newsweek top 10 heading into this week.
Oklahoma State scurries up to No. 11 after a win over Baylor, which suffered its first loss of the season Saturday in Stillwater
Auburn beat LSU for its first win in Baton Rouge since 1999, and War Eagle moves to No. 15 in the ranking, just one spot ahead of undefeated Wake Forest, which debuts at No. 16 with a 5-0 record after its 37-34 win over Louisville. Fresno State fell from the rankings after a late-night loss at Hawai'i
Here are the rankings for for Week 6 — October 3, 2021
| | | | | |
| --- | --- | --- | --- | --- |
| Rank | Team | Record | Previous | Next Game |
| 1 | Alabama | 5-0 | 1 | at Texas A&M |
| 2 | Georgia | 5-0 | 2 | at Auburn |
| 3 | Iowa | 5-0 | 4 | vs Penn State |
| 4 | Penn State | 5-0 | 5 | at Iowa |
| 5 | Cincinnati | 4-0 | 8 | (Fri.) vs Temple |
| 6 | Oklahoma | 5-0 | 7 | vs Texas (Dallas) |
| 7 | Michigan State | 5-0 | 12 | at Rutgers |
| 8 | Michigan | 5-0 | 15 | at Nebraska |
| 9 | BYU | 5-0 | 16 | vs Boise State |
| 10 | Coastal Carolina | 5-0 | 13 | (Thurs.) at Ark. St. |
| 11 | Oklahoma State | 5-0 | NR | Oct. 16 at Texas |
| 12 | N.C. State | 4-1 | 17 | Oct. 16 at Boston College |
| 13 | Oregon | 4-1 | 3 | Oct. 15 vs California |
| 14 | Ohio State | 4-1 | 14 | vs Maryland |
| 15 | Auburn | 4-1 | 18 | vs Georgia |
| 16 | Wake Forest | 5-0 | NR | at Syracuse |
| 17 | Notre Dame | 4-1 | 9 | at Virginia Tech |
| 18 | Arizona State | 4-1 | NR | (Fri.) vs Stanford |
| 19 | Arkansas | 4-1 | 6 | at Ole Miss |
| 20 | Ole Miss | 3-1 | 11 | vs Arkansas |
Dropped Out: No. 10 Clemson, No. 18 Fresno State, No. 20 Texas A&M
Here are the top games to watch this week:
Penn State at Iowa
Georgia at Auburn
Arkansas at Ole Miss
Oklahoma vs Texas (Cotton Bowl, Dallas)
Michigan at Nebraska
Utah at USC
Maryland at Ohio State
West Virginia at Baylor
Notre Dame at Virginia Tech
Alabama at Texas A&M
Boise State at BYU
About the writer
Scott McDonald is a Newsweek deputy night editor based in Cape Coral, Florida. His focus is assigning and writing stories across all topics, from news to politics, business, weather, sports and international news. Scott joined Newsweek in 2018 after a lengthy career of print journalism in Texas, including The Dallas Morning News, where he was a sportswriter, and he's a voter for the Heisman Trophy. He has been a newspaper editor-in-chief and also a newspaper publisher. He is a graduate of The University of Texas at Austin. You can get in touch with Scott by emailing s.mcdonald@newsweek.com. Languages: English