Newsweek College Football Top 20 Rankings, Games to Watch For Week 8
One week after moving to the No. 2 spot in almost every national poll, the Iowa Hawkeyes showed they probably didn't belong there. The Hawkeyes got beat, 24-7, at home Saturday by the unranked Purdue Boilermakers.
Iowa (5-1) dropped 11 spots to No. 13 in the latest Newsweek Top 20 college football ranking.
Georgia remains the top team after throttling Kentucky, 30-13. The Bulldogs looked dominant in all phases of the game. Georgia has a week off before facing rival Florida in what is formerly known as "The World's Largest Outdoor Cocktail Party."
The Cincinnati Bearcats moved to the No. 2 spot this week after handling Central Florida, 56-21. The only relatively close game this season for Cincinnati so far was an 11-point win at Notre Dame. The Bearcats likely need SMU to stay undefeated before the teams meet in late November. Otherwise, Cincinnati's schedule is less than desirable in the American Athletic Conference.
Oklahoma moves up to No. 3 after defeating TCU, and Alabama is now back to No. 4 after stomping Mississippi State, 49-9.
Michigan State leap frogs to No. 5 despite a lackluster, 20-15, win over Indiana. The Spartans are idle this week before hosting No. 6 Michigan on Oct. 30.
Oregon is the second-highest-ranked one-loss team (behind Alabama) at No. 7. The Ducks squeaked out a 24-17 win at home over Cal on Friday night, and they travel to face UCLA this Saturday.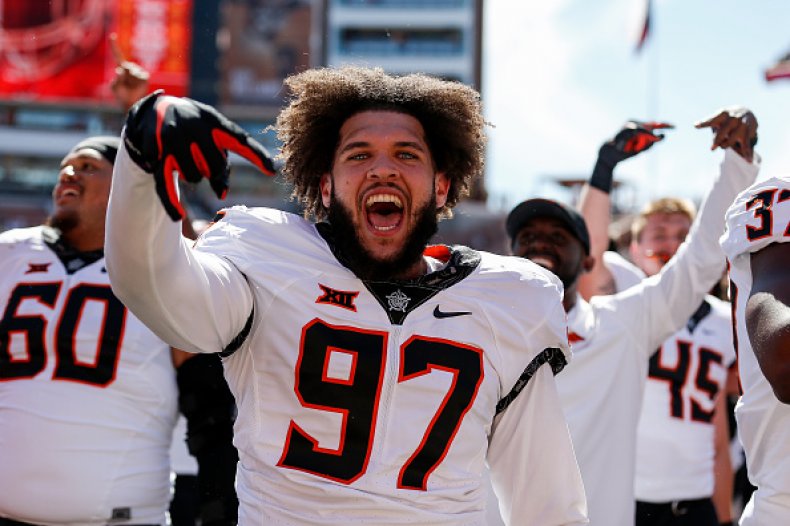 Oklahoma State vaults three spots to No. 8 after an impressive come-from-behind win at Texas on Saturday. The Cowboys face a dangerous Iowa State squad this week. Penn State and Coastal Carolina round out the top 10.
The deck shuffled a little in the next 10, including San Diego State making its debut at No. 19. Auburn is back in at No. 20 after a 15-point win at Arkansas.
Arizona State and BYU both fell from the ranking after losses to unranked teams last week.
Here are the rankings for for Week 8 — October 17, 2021
| | | | | |
| --- | --- | --- | --- | --- |
| Rank | Team | Record | Previous | Next Game |
| 1 | Georgia | 7-0 | 1 | Oct. 30 vs Florida (in Jacksonville) |
| 2 | Cincinnati | 6-0 | 3 | at Navy |
| 3 | Oklahoma | 7-0 | 4 | at Kansas |
| 4 | Alabama | 6-1 | 5 | vs Tennessee |
| 5 | Michigan State | 7-0 | 6 | Oct. 30 vs Michigan |
| 6 | Michigan | 6-0 | 8 | vs Northwestern |
| 7 | Oregon | 5-1 | 7 | at UCLA |
| 8 | Oklahoma State | 6-0 | 11 | at Iowa State |
| 9 | Penn State | 5-1 | 9 | vs Illinois |
| 10 | Coastal Carolina | 6-0 | 10 | (Wed.) at Appalachian State |
| 11 | Ohio State | 5-1 | 13 | at Indiana |
| 12 | Texas A&M | 5-2 | 18 | vs South Carolina |
| 13 | Iowa | 5-1 | 2 | Oct. 30 at Wisconsin |
| 14 | Ole Miss | 5-1 | 20 | vs LSU |
| 15 | N.C. State | 5-1 | 14 | at Miami |
| 16 | Wake Forest | 6-0 | 15 | at Army |
| 17 | Notre Dame | 5-1 | 16 | vs USC |
| 18 | Kentucky | 6-1 | 12 | Oct. 30 at Mississippi State |
| 19 | San Diego State | 6-0 | NR | at Air Force |
| 20 | Auburn | 5-2 | NR | Oct. 30 vs Ole Miss |
Dropped Out: No. 17 Arizona State, No. 19 BYU
Here are the top games to watch this week:
(Wednesday) Coast Carolina at Appalachian State
(Thursday) Tulane at SMU
Saturday Games
Cincinnati at Navy
Northwestern at Michigan
Illinois at Penn State
Wake Forest at Army
Oregon at UCLA
Oklahoma State at Iowa State
Wisconsin at Purdue
Tennessee at Alabama
LSU at Ole Miss
Clemson at Pittsburgh
USC at Notre Dame
Ohio State at Indiana