Russian Troops Who Washed Dirty Shoes in Holy Water Face 1 Year in Prison
A pair of Russian soldiers have been detained on charges of offending religious believers after a video went viral last weekend showing them washing their shoes in holy water, according to the Russian news agency Interfax.
In the video uploaded to YouTube the two young men can be seen laughing as they wash their dirty shoes at a chapel next to the Cathedral of Christ the Savior in Russian city Kaliningrad.
During the video, which was translated by The Moscow Times, a man's voice can be heard saying, "This is holy water for them while we wash our feet, for real."
Interfax, citing an unnamed source, reported that Kaliningrad garrison's military investigation department detained a Russian Navy contract soldier and another military serviceman and opened a criminal case into "insulting religious beliefs" over the incident.
The Moscow Times referred to the two as Baltic Fleet soldiers who hail from Russia's ethnically diverse Muslim-majority republic of Dagestan, a Caucasian republic on the country's southern border. If convicted, the soldiers could spend up to a year in jail on the charges.
Following the recording going viral, one of the participants apologized for the incident, saying that they did not know that it was "such serious water." After the apology, the Kaliningrad diocese of the Russian Orthodox Church announced it doesn't wish for the culprits to be jailed, calling the severe public reaction to the video adequate punishment.
"We hope that other participants in the incident will follow his example and repent publicly," the diocese said in a statement. They also announced they had temporarily turned off the chapel's water for planned renovations.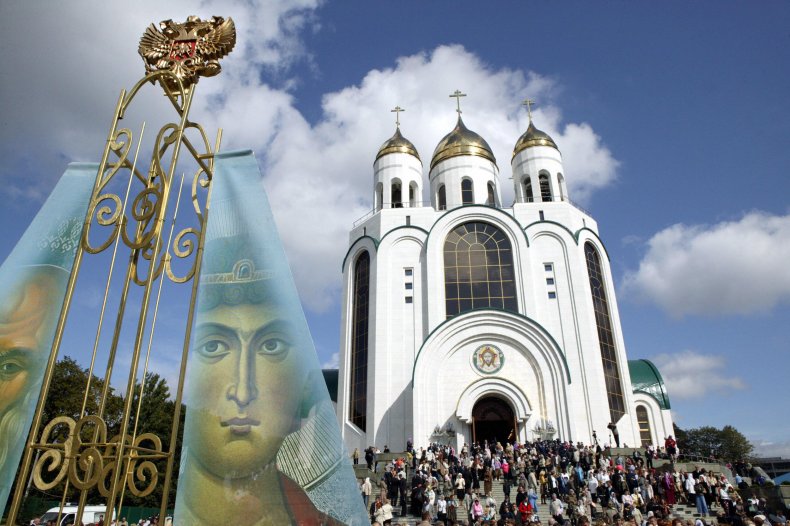 Russia first criminalized insulting the feelings of religious believers in 2013 following a show by the anti-Kremlin group Pussy Riot, during which the feminist protest band performed a "punk prayer" at a central Moscow cathedral that called on the Virgin Mary to banish President Vladimir Putin.
In 2016, the law made further headlines after YouTube blogger Ruslan Sokolovsky was arrested for playing the game Pokemon GO in a church in Ekaterinburg. Just last month, the country's Investigative Committee opened a criminal case against an 18-year-old for lighting a cigarette with a church candle and filming it for TikTok.
Russian Troops Who Washed Dirty Shoes in Holy Water Face 1 Year in Prison | Culture