When Did the California Drought Start?
After weeks of torrential rain, California's persistent drought is beginning to ease.
"California has been in dry conditions for much of the last 10 years, with only two years of wet," Jeff Mount, senior fellow at the Public Policy Institute of California Water Policy Center, previously told Newsweek.
"The past three years have been the driest three-year period on record [dating back to 1895.] That just beats the driest three-year period on record from 2013 to 2015. And both of these three-year periods have been the hottest on record."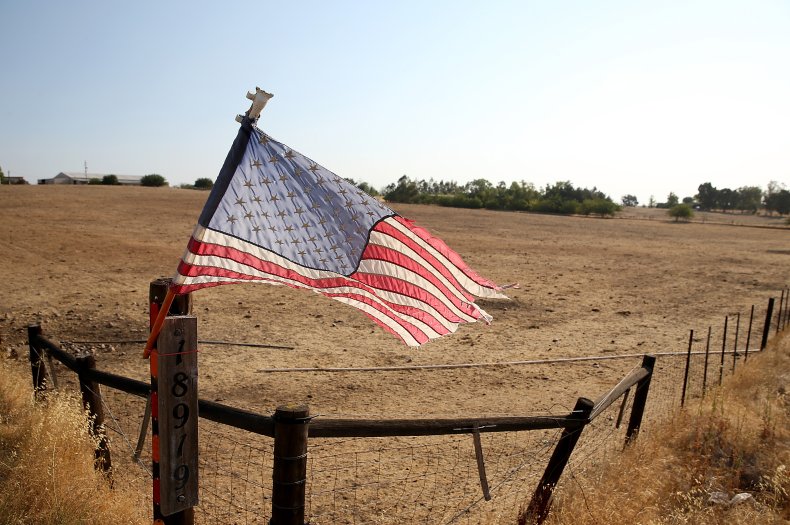 For the last 23 years, the southwestern U.S. states have been gripped by a longstanding megadrought. Rick Relyea, director of the Darrin Fresh Water Institute at Rensselaer Polytechnic Institute in New York, previously told Newsweek that the U.S had not seen a drought this severe for the last 1,200 years.
The extreme conditions, combined with growing populations and demands for agriculture, have resulted in water shortages in many regions. Just this month, the city of Scottsdale in Arizona was forced to cut off its water supply to the Rio Verde Foothills because of concerns over their own residents not receiving enough.
However, since December 26, California has seen record-breaking rainfall. Over 32 trillion gallons of rain fell on the state in just three weeks, and snowpack in the Sierra Mountains is at 250 percent of what it normally would be for this time of year. So how has all of this wet weather affected the state's long-standing drought?
Californian Drought Monitor
The U.S. Drought Monitor is a map that is updated every week to show the location and intensity of drought across the country. Drought intensity is measured using five categories, from "abnormally dry" to "exceptional drought."
Just three months ago, 41 percent of the state was classed as being under "extreme drought," the second most-intense category, by the monitoring system, with 17 percent experiencing the most-intense "exceptional drought."
Today, for the first time since 2020, neither of these categories is present across California, and only 43 percent of the state is considered to be under "severe" drought, down from 92 percent in October.
California Drought Status
Despite improvements in California's overall drought status, 92 percent of the state is still considered to be under at least a "moderate" drought.
Graham Fogg, a professor emeritus of hydrogeology at the University of California, Davis, has told Newsweek that, although the recent rainfall has been beneficial, it is not enough to compensate fully for the drought. "It would likely take at least a couple more years of average-to-wet years for California to more fully climb out of the drought," he said.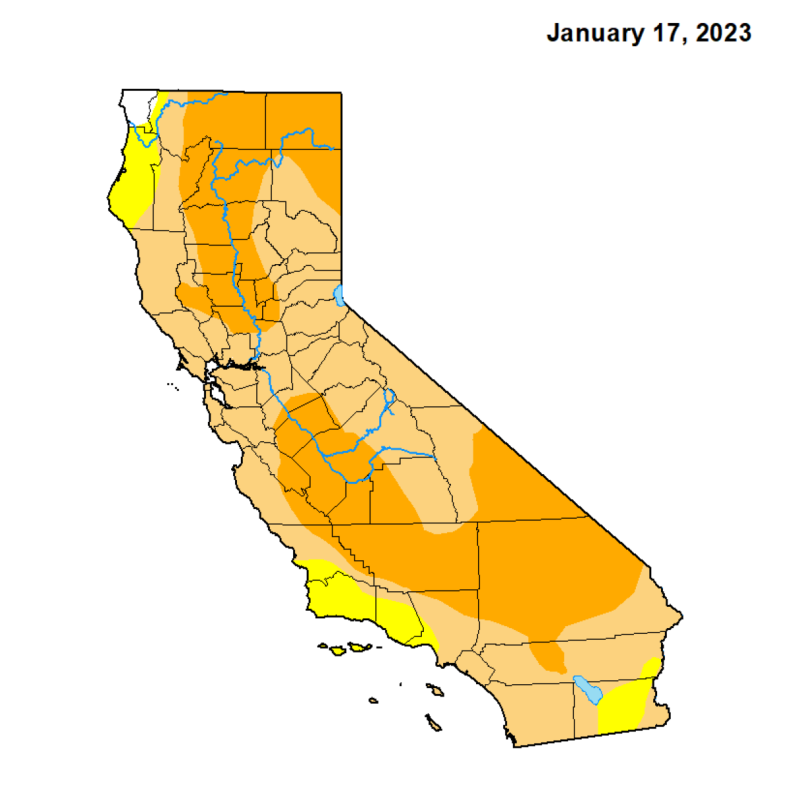 At the start of this water year, which stretches from October 2022 to September 2023, the state's largest reservoir, Lake Shasta, was only a third full. It is now at 55 percent of its total capacity, but it still has a way to go.
Donald Bader, the Shasta area manager for the Bureau of Reclamation, which manages water resources in the region, previously told Newsweek that the bureau would not be able to say confidently whether there had been enough rain to restore water levels in the state's reservoirs until February, after another month of potentially wet weather.
"Right now, we're just really hoping the rains continue because we've seen it too many times where they just shut off," he said.
Do you have a tip on a science story that Newsweek should be covering? Do you have a question about drought? Let us know via science@newsweek.com.