Newsweek Fixes the NBA: Wiggins to Sixers! Greek Freak Joins Uni-Brow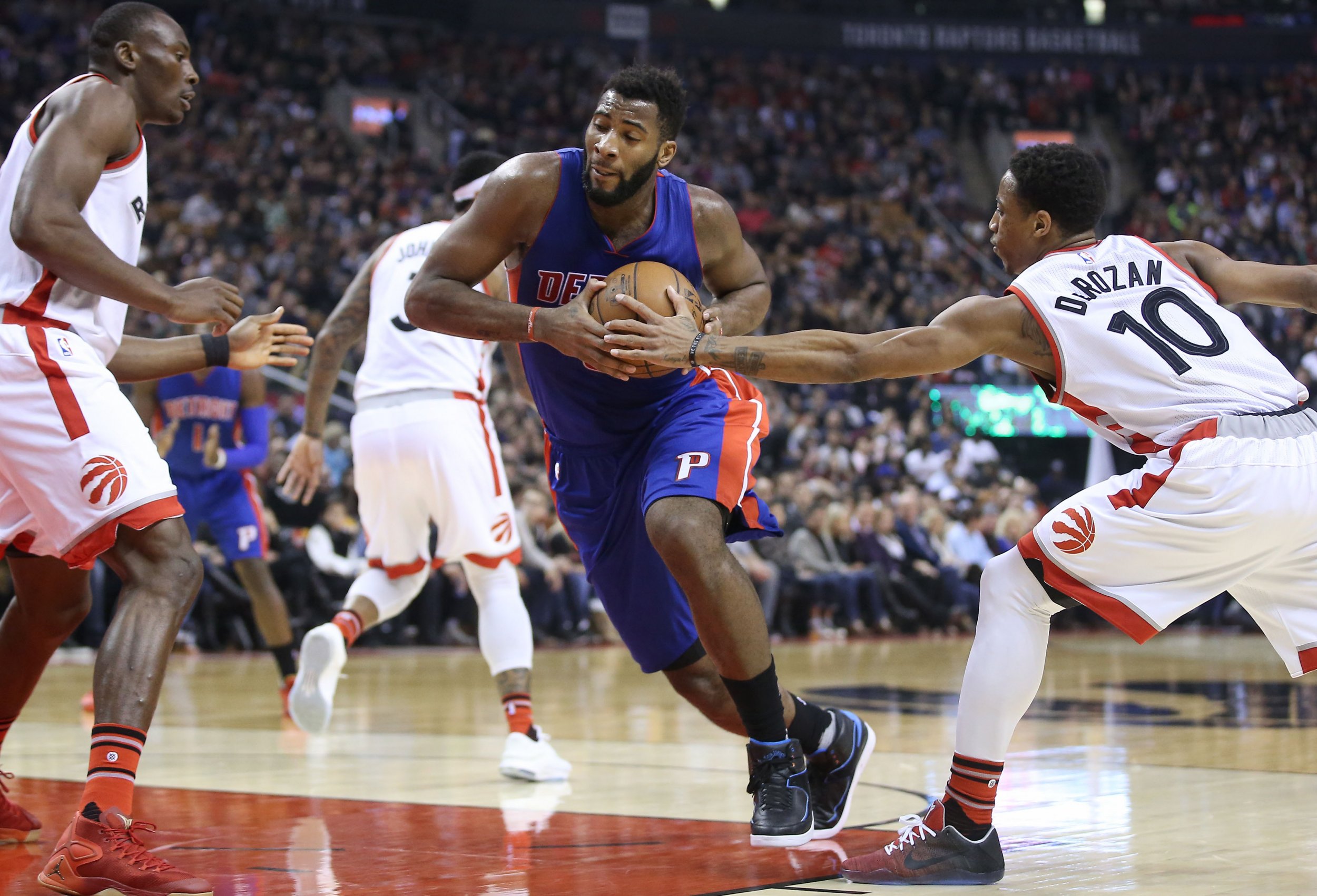 Last weekend, tickets to an NBA game between the Nets and 76ers were selling for $14 on StubHub. You could have paid the same price to see Brooklyn, the Oscar-nominated film, for what it cost to see Brooklyn, the crappy basketball team. More TV viewers nationwide have tuned in to watch Making a Murderer in the past six weeks than to see the Milwaukee Bucks in the past six years. And can you even recall the last time you saw an Orlando Magic highlight on SportsCenter?
As the NBA's premier talent and off-court figures convene in Toronto for All-Star Weekend, it may be time for Commissioner Adam Silver to acknowledge that his league, much like the Houston Rockets on defense, is overextended and does not try hard enough. There are 30 franchises in the NBA, which is at least six too many.
In the 1985-86 season, the NBA had 23 teams. The influx of international players has dramatically improved the game in the interim—five NBA MVPs since then were either born or raised abroad: Hakeem Olajuwon, Tim Duncan, Steve Nash, Kobe Bryant and Dirk Nowitzki—and added a diversity both of surnames and styles. Xenophilia has been a hoop boon.
However, in those three decades the league has grown from 23 12-man rosters (276 players) to 30 15-man rosters (450), which is a growth spurt of 63 percent. The result is a league in which several starters cannot make 50 percent of their free throws. It is a league in which nepotism exists (remember Zoran Dragic, Coby Karl and Chris Smith?) and in which far too many players take the court oblivious to the fact that they are paid performers as opposed to being AAU knuckleheads.
In the past two months, Markieff Morris of the Phoenix Suns has tossed a towel in the face of his head coach, choked a teammate during a game, and flipped the bird to his hometown fans (the "Artest Trifecta"), and yet he still has a job. Morris will continue to have a job in the NBA, as will his twin brother, Marcus, because there are not enough talented 6-foot-10-inch players in a league that fills out 30 rosters of 15 men apiece.
There are so many roster spots to fill that the NBA has become a quasi-daycare service for budding talent. Last season, Tyus Jones led Duke to the NCAA championship and was named Final Four MVP as a freshman. This season, Jones is averaging 11 minutes per game for the Minnesota Timberwolves, who have the league's fifth-worst record. Jones, 19, might be developing faster if he were still under the tutelage of Coach K back in college, but can you really blame him for taking an NBA paycheck?
There are simply too many NBA players and too few who leave a lasting impression. Can you honestly tell the difference between Michael Kidd-Gilchrist, Michael Carter-Williams and Kentavious Caldwell-Pope? At this stage of his Hall of Fame career isn't Kevin Garnett (3.2 points per game) a highly overpaid and under-dressed assistant coach? Would you be able to pick Johnny O'Bryant III out of a lineup, police or Milwaukee Bucks?
We want to—and we cannot remember how this phrase came to us—make the NBA great again. We wish to downsize the NBA. We propose to do so by eliminating six franchises and creating a dispersal draft for their players.
Somewhat arbitrarily, based partly on attendance records and on a general sense of apathy toward these teams, we are cutting the Nets, Charlotte Hornets, Detroit Pistons, Milwaukee Bucks, Minnesota T-Wolves and Orlando Magic, and holding a dispersal draft for the best players on those teams. Six Newsweek staffers (Editor-in-Chief Jim Impoco, Deputy Editor Bob Roe, Tech Editor Grant Burningham and writers Ryan Bort, Doug Main and myself) served as general managers for four teams apiece. What we discovered and you may, too: by the end of just one round, after having eliminated 20 percent of the NBA, there was nobody remaining that any of us longed for.
Here, then, is our first annual NBA Contraction Draft:
1. Philadelphia 76ers: Andrew Wiggins, Minnesota Timberwolves
"The player who was once effectively traded for Kevin Love now heads to the City of Brotherly Love. The 6-foot-8-inch wing averages his age, 20, in scoring. Both numbers are inevitably heading up. The Sixers are the worst team in the league, but they have solid, young big men in Joel Embiid, Nerlens Noel and Jahlil Okafor, so I figured I'd take the best guard available." —Doug Main
Starting Five: Ish Smith, Nik Stauskas, Wiggins, Noel, Okafor
2. Los Angeles Lakers: Karl-Anthony Towns, Timberwolves
"D'Angelo Russell hasn't looked much like a number two overall pick, but I'm going to blame that on bad coaching. Criminally bad coaching. Coaching with malice aforethought.... With Russell, Jordan Clarkson, Julius Randle and Towns, the Lakers have the best kiddie core in the league, and a very manageable payroll (And as soon as I cut Kobe, they'll finally be able to get some shots up.) With a long, athletic big man who's willing to pass, the free agents will come running to Hollywood. Kevin Durant, say hello to my little friend, Kevin Costner. And Kevin Hart." —Bob Roe
Starting Five: Russell, Clarkson, Larry Nance Jr., Randle, Towns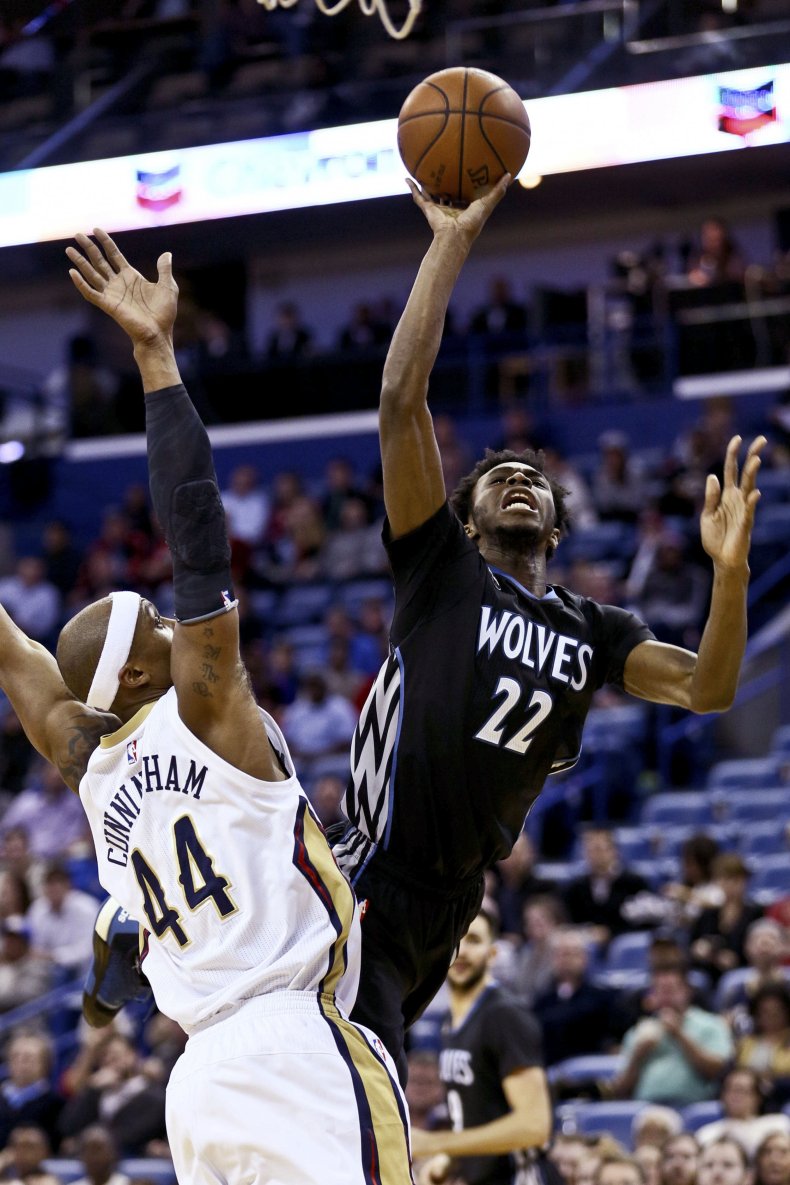 3. Phoenix Suns: Andre Drummond, Detroit Pistons
"The NBA's leading rebounder will be welcome on a team that only once in its history has placed anyone in the top two (Shawn Marion, 2005). The -foot-11 center also averages 17 points per game, or nearly 10 more per night than 33 year-old Tyson Chandler." —John Walters
Starting Five: Archie Goodwin*, Devin Booker, P.J. Tucker, Markieff Morris, Drummond
*Until Eric Bledsoe returns from IR.
4. New Orleans Pelicans: Giannis Antetokounmpo, Milwaukee Bucks
"The Greek Freak is just that—an athletic, 6-foot-11 swingman who can shoot threes and jump over tall buildings in a single bound. He's also only 21, one year younger than his new Pelicans running buddy Anthony Davis. The future is suddenly bright in New Orleans." —Ryan Bort
Starting Five: Norris Cole, Eric Gordon, Antetokounmpo, Davis, Omer Asik
5. Denver Nuggets: Greg Monroe, Bucks
"The Nugs are owned by none other than Stan Kroenke (now the bane of St. Louis, since he's taking the NFL's Rams to L.A.) and morale is awful. Besides, sports fan in Denver only care about the Broncos. However, the Nuggets are still named after the now-legal marijuana plant , and they have some exciting young players like Emmanuel Mudiay. So, in lieu of a joint, I thought the best gift for a bad-to-mediocre team was a slightly-better-than mediocre big man." —D. Main
Starting Five: Mudiay, Gary Harris, Kenneth Faried, Danilo Gallinari, Monroe
6. Sacramento Kings: Jabari Parker, Bucks
"I'm not going to pretend this franchise can be fixed by anything less than an exorcism, but Parker, Willie Cauley-Stein and Boogie Cousins could be the best front court in the West next year, after Tim Duncan retires from the Spurs. Hell, there are some nights Boogie and two ushers are the best front-court in the West this year. Rudy Gay has been putting up decent numbers, but Boogie needs to play with a forward who's willing to give up the ball, and play some defense." —B. Roe
Starting Five: Rajon Rondo, Marco Belinelli, Parker, Cousins, Cauley-Stein
7. New York Knicks: Reggie Jackson, Pistons
"Let's hope this Reggie Jackson headed to New York in the prime of his career does not also earn the moniker 'Mr. October.' Jackson averages 19.2 points per game, more than twice as many as incumbent point guard Jose Calderon, and he averages two more assists per game as well. The Garden will rock with chants of "Reg-gie! Reg-gie!" —Jim Impoco
Starting Five: Jackson, Aaron Afflalo, Carmelo Anthony, Kristaps Porzingis, Robin Lopez
8. Washington Wizards: Nikola Vukevic, Orlando Magic
"The Wizards are set on the perimeter with John Wall, who in 2016 is having a career year, and shooting guard Bradley Beal, who can't seem to stay healthy but is only 22. Current center Marcin Gortat isn't a long-term solution, so who better to add to the front court mix than a 25-year-old 7-footer, who Wall can feed in the post for the next decade?" —R. Bort
Starting Five: Wall, Beal, Otto Porter, Vukevic, Gortat
9. Portland Trail Blazers: Tobias Harris, Magic
"Doesn't the 6-foot-9-inch Harris just seem like he belongs on the Blazers? He plays with high energy and never says anything quotable. Damian Lillard would certainly welcome him." —R. Bort
Starting Five: Lillard, C.J. McCollum, Al-Farouq Aminu, Harris, Mason Plumlee
10. Utah Jazz: Kemba Walker, Charlotte Hornets
"Don't laugh, but the Jazz are one good point guard away from being a great team. Utah heads into the break having won seven of eight and they are set in the front court with Gordon Hayward, Derrick Favors and the Stifle Tower, Rudy Gobert. Like the Knicks, they just need a lethal backcourt weapon." —Grant Burningham
Starting Five: Walker, Rodney Hood, Hayward, Favors, Gobert
11. Houston Rockets: Ricky Rubio, Timberwolves
"A phenomenal passer who's happiest when he doesn't have to shoot, El Rubirosa's the perfect running-mate for Da Beard (James Harden), and he played with Kevin Love for a couple of years, so he's used to pouty, self-centered big men who are just a little bit too close to their mirrors. Dwight Howard might average 20 points a game on alley-oops alone from Ricky! Huge bonus, he's fun to watch, and nobody on Houston is fun to watch." —B. Roe
Starting Five: Rubio, Harden, Trevor Ariza, Clint Capela, Howard
12. Indiana Pacers: Brook Lopez, Brooklyn Nets
"The Pacers have already scheduled an introductory press conference and foot surgery for this oft-injured low-post player, who missed 160 games over the previous four seasons. Still, the 6-foot-11-inch Stanford product is averaging 20.2 points and 8.3 boards this season on a pitiful squad and may be the NBA's only player whose name is the composite of two entertainment-news show hosts (Brooke Burke and Mario Lopez)." —J. Walters
Starting Five: George Hill, Monta Ellis, Paul George, Myles Turner, Lopez
13. Dallas Mavericks: Victor Oladipo, Magic
"The Mavs get a huge upgrade at shooting guard, replacing scrappy Wes Matthews with the fun-to-watch Victor Oladipo. 'I tell you what, Victor Oladipo is like a baby's bottom, smooth and SOMETIMES… EXPLOSIVE!' CBS's Clark Kellogg once said that out loud." —G. Burningham
Starting Five: Deron Williams, Oladipo, Chandler Parsons, Dirk Nowitzki, Zaza Pachulia
14. Miami Heat: Khris Middleton, Bucks
"This Texas A&M product has increased his scoring average in each of his four seasons and is now the Bucks' leading scorer at 17.7 points per game. At 6-foot-8, Middleton has great size for his position and 34-year-old Dwyane Wade is only too happy to cede some minutes as his career hits the twilight stage." —G. Burningham
Starting Five: Goran Dragic, Wade, Middleton, Chris Bosh, Hassan Whiteside
15. Chicago Bulls: Thaddeus Young, Nets
"Is Thaddeus young? The 6-foot-8 forward is already in his ninth season, although he is only 27. Young is having a terrific season—15 points and nine rebounds per game—for a terrible team. He's hungry: Young has yet to appear in a playoff game in a league in which more than half the teams qualify for the postseason." —D. Main
Starting Five: Derrick Rose, Jimmy Butler, Young, Joakim Noah, Pau Gasol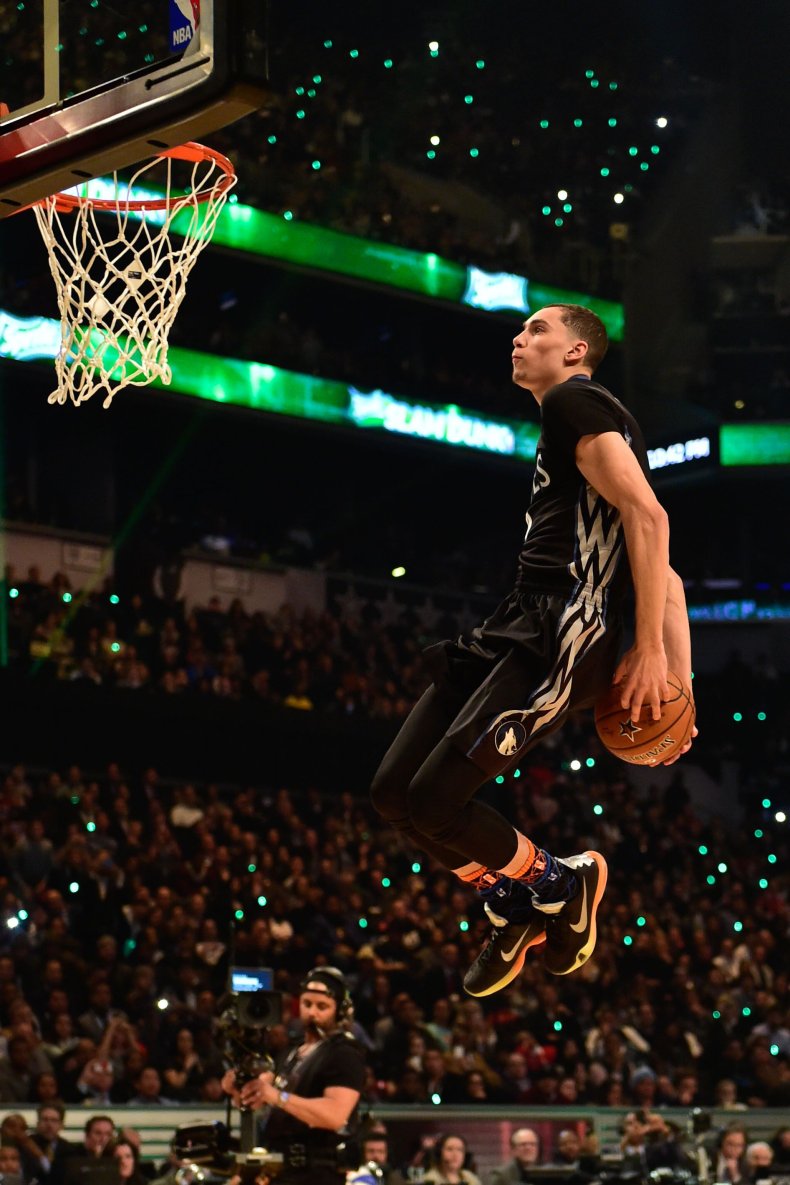 16. Boston Celtics: Zach LaVine, Timberwolves
"Sure, Boston already has three solid guards, including an all-star, but they don't have anyone you'd pay to see dunk during warm-ups. LaVine's upside is already above the rim; put him with the NBA's best coach for young'uns (and probably old ones too) and he could make Tommy Heinsohn spill at least one of the 12 beers he drinks during Celtics broadcasts." —B. Roe
Starting Five: Isaiah Thomas, Avery Bradley, Jae Crowder, Amir Johnson, Jared Sullinger
17. Atlanta Hawks: Michael Kidd-Gilchrist, Hornets
"Is Kidd-Gilchrist the best of this draft's available hyphenated swingmen? Is he more multi-faceted than Michael Carter-Williams or Kentavious Caldwell-Pope? The 6-foot-7-inch fourth-year player has upped his scoring average to a career-high 13.5 points per game this season." —J. Walters
Starting Five: Jeff Teague, Kyle Korver, Kidd-Gilchrist, Paul Millsap, Al Horford
18. Memphis Grizzlies: Aaron Gordon, Magic
"The former Pac-12 Freshman of the Year has been underwhelming in his one and one-half seasons with Orlando (6.5 points and 4.8 rebounds per game), but he has been playing behind a better player at the same position in Tobias Harris. If Gordon is to attain the level of 'whelming,' a move to the Grizz will help. Zach Randolph, 34, can't play forever." —J. Walters
Starting Five: Mike Conley, Tony Allen, Jeff Green, Randolph, Marc Gasol
19. Los Angeles Clippers: Nicolas Batum, Hornets
"The eighth-year pro is having his best season in Charlotte, averaging career-highs in scoring (14.9 points per game) and assists (5.6). Like Young, he stands 6-foot-8-inches and is in his prime at the age of 27. The last seven NBA champions have either had LeBron James or a foreign-born starter—and the King is not coming to L.A." —G. Burningham
Starting Five: Chris Paul, J.J. Redick, Batum, Blake Griffin, DeAndre Jordan
20. Toronto Raptors: Frank Kaminsky, Hornets
"Last year's consensus college player of the year has yet to make his first NBA start, and he won't crack this lineup, either. At least not yet. Frank the Tank is 6-foot-11, has fluent footwork and can bury the three. Once he survives his rookie season, he will make an impact on this league." —D. Main
Starting Five: Kyle Lowry, DeMar DeRozan, DeMarre Carrol, Luis Scola, Jonas Valanciunas
21. Cleveland Cavaliers: Elfrid Payton, Magic
"Despite, or maybe because of, his helmet hair, 2014 lottery pick Elfrid Payton has developed into a solid point guard for the Orlando Magic. At only 21, there's still plenty of room to grow, even for that hair. There'd be no better experience than coming off the bench to spell Kyrie Irving as the Cavs gun for their first title." —R. Bort
Starting Five: Kyrie Irving, J.R. Smith, LeBron James, Kevin Love, Tristan Thompson
22. Oklahoma City Thunder: Brandon Jennings, Pistons
"Remember when Jennings scored 55 points as a rookie? The 6-foot-1-inch streak shooter is having his least productive NBA season, averaging less than half his career scoring average of 16.0 points per game, but that's due in large part to Reggie Jackson (See No. 7). At 26, he's a year younger than Russell Westbrook and when the mood strikes, can still go for 20." —J. Impoco
Starting Five: Westbrook, Dion Waiters, Kevin Durant, Serge Ibaka, Steven Adams
23. San Antonio Spurs: Jeremy Lin, Hornets
"Coach Gregg Popovich has a 7-foot-3 Serbian rookie who resembles a James Bond villain (Boban Marjanovic) and a female assistant coach (Becky Hammon), so why wouldn't he be the perfect guy to restore the luster to the career of a Chinese-American Harvard alum? Linsanity! is history and Lin will never again be featured on the cover of Sports Illustrated, but Pop will turn him into a 40 percent shooter from beyond the arc." —J. Impoco
Starting Five: Tony Parker, Danny Green, Kawhi Leonard, David West, LaMarcus Aldridge
24. Golden State Warriors:"I Don't Know"
"Honestly. Do I have to take someone?" —J. Impoco
Our intrepid editorial leader shrewdly refused to mess with the roster of a 48-4 team that, like water, is flowing effortlessly and relentlessly toward history, as a friend of ours (three-time Emmy winner Chris Corbellini, formerly of NFL Films) noted. Would they really want Jarrett Jack back? Do they need the "leadership" of Kevin Garnett? Would they covet either available Shabazz, Muhammad or Napier? When it comes to this draft, the Dubs will do what they do best: pass.
Starting Five: Stephen Curry, Klay Thompson, Harrison Barnes, Draymond Green, Andrew Bogut
We could easily do another round, redistributing the likes of Joe or Stanley Johnson in favor of Orlando and Tyler Johnson (an ode to the Letterman-suggested NBA promo, "Come See Our Johnsons."). We wouldn't have to send Orlando's Dewayne Dedmon walking.
Really, though, who but their immediate families and a smattering of friends would miss them? The NBA will soldier on with or without the Nets' Sergey Karasev.
The NBA would be eliminating 20 percent of its workforce but in return be vastly improving its product. Real-life businesses do this every day.