The 2021 Newsweek Autos Awards highlight the industry's best in 25 individual vehicle and brand categories.
This first annual list includes several U.S. companies, a start-up automaker and a number of models that have recently been redesigned. Nearly all of the vehicles we ranked are made in America.
We rated vehicles in two ways: by test driving them and by comparing their standard and available features and specifications to those of other vehicles in the same category. Over the last year, the Newsweek autos team drove about 150 vehicles, rating them in seven categories: performance, handling and braking, technology, cargo area, seating, interior appointments and pricing. We focused on how well the vehicles lived up to the expectations of the target customer. Automakers were asked to provide vehicles for testing and only models that were available were test driven.
Best Car, SUV, Truck and Minivan category winners had 25 percent of their total rating determined by the test drive score and 75 percent by features and specifications. Brand awards were more subjective. In addition to vehicle scores, we looked at changes to the model lineup and other company activities to determine our winners.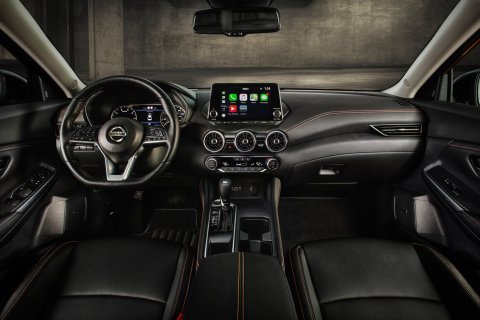 Best Car Lineup
Nissan
Nissan's car lineup includes the Versa, Sentra, Altima, Maxima, 370 Z, Leaf and GT-R. In recent years, the Versa, Sentra and Altima have all had new generations introduced while the Maxima got a number of upgrades as part of a mid-cycle refresh. The 370Z will be switched out for the 2023 Nissan Z the coming year while the GT-R continues to offer racing-inspired technology and equipment.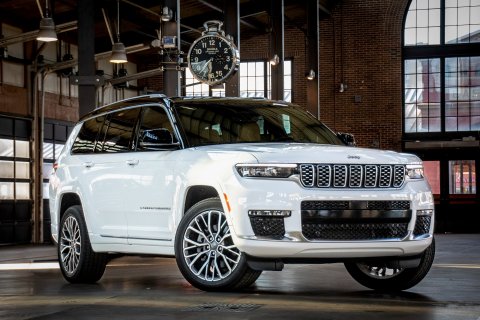 Best SUV Lineup
Jeep
Over the last year, the Jeep lineup has been shaken up with new models, an improvement in quality and a new way of building vehicles. The company's SUV lineup now includes the Renegade, Compass, Cherokee, Wrangler, Grand Cherokee, Grand Cherokee L, Wagoneer and Grand Wagoneer. Jeep is continuing to grow the lineup adding plug-in hybrid electric versions of its models and installing off-the-grid chargers at trailheads nationwide.
Best Truck Lineup
Ford
Ford is the only automaker to offer a vehicle in every pickup truck segment. Its compact Maverick comes standard with a hybrid powertrain and a sub-$20,000 price tag (before taxes and fees). The midsize Ranger has quickly gained a foothold in its segment while the full-size F-150 and heavy-duty Super Duty trucks continually up the capability ante.
Best Brand for Your Buck
Hyundai
Hyundai punches above its weight in nearly every model it offers. From the small Venue SUV and Accent car to the larger Elantra, Sonata, Tucson, Santa Fe, Nexo and Palisade, Hyundai's robust lineup offers a wide variety of vehicle options in trim levels from budget-friendly to premium, along with safety and driver assistance tech and long warranties.
Most Improved Vehicle Brand
Land Rover
Land Rover brought a new generation of Defender to American shores last year. The existing lineup underwent multiple style and quality tweaks. The company has also streamlined its options and is capitalizing on its Special Vehicle Operations offerings to deliver a better customer experience.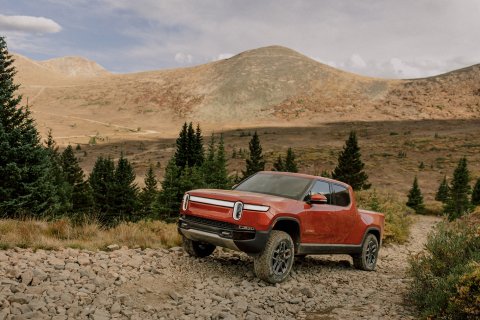 Most Innovative Vehicle Brand
Rivian
Newcomer Rivian isn't just making an all-electric truck. The Rivian R1T redefines what it means to be a truck with traditional capability that instantly drives it into relevance. A built-in air compressor, bedside button releases and clean digital interface design also work to set Rivian apart. Additionally, the company is working with Amazon to develop an all-electric delivery van for use throughout the U.S. The van and R1T share common technology with the R1S, an SUV coming later this year.
Best Two-Row SUV
Genesis GV70
The new Genesis GV70 delivers on the promise of a premium SUV and then some. Its sleek exterior, comfortable ride, robust power and long list of standard and available features make it a must-consider for buyers willing to go premium. Perhaps most impressive is the car's interior, which would easily be at home in a model with a price tag $30,000 higher. The GV70 is also practical with a good amount of second-row legroom and enough cargo space for a trip to the grocery store.
Best Small SUV
Subaru Crosstrek
The Subaru Crosstrek underwent a mid-generation refresh that refined its looks and added the option of a 182-horsepower, 2.5-liter four-cylinder engine. Adaptive cruise control joins all-wheel drive on the model's list of standard features. Subaru also offers the Crosstrek with a manual transmission, hill descent control and inclement conditions drive modes. The interior of the Crosstrek is lifestyle-friendly with plenty of room for taller adults in the back seat and gobs of cargo space. Its seats are comfortable and center console controls are easy to work on the go.
Best Full-Size SUV
Jeep Wagoneer
The new-to-market Jeep Wagoneer builds on the solid foundations of Jeeps of the past, delivering a three-row SUV with plenty of cargo space and enough room in the third row for adults to comfortably sit for extended periods of time. Paired with Jeep's new refined interior design and high-quality materials, the Wagoneer's technology exceeds the offerings of its cousin, the Dodge Durango, in nearly every way at a price point that is more cost effective than its more glamorous stablemate, the Jeep Grand Wagoneer.
Best Minivan
Kia Carnival
The Kia Carnival is a home run. The automaker has transformed its traditional minivan body styling into a new package that looks more like a full-size SUV than a minivan. Kia's V6 power plant delivers enough energy to get moving without hesitation, even when loaded up with kids and cargo. The styling transfers to the interior as well. The classic flat load floor remains while upper trim levels allow buyers to trade out the traditional middle bench seat or captain's chairs for executive style seating.
Best Small Car
Hyundai Elantra
Hyundai's Elantra punches far above its weight. The stylish small car was redesigned for the 2021 model year and comfortably seats four, has a good amount of safety and driver-
assist technology and is easy to drive and park. Its interior is hardly the stuff of a model that has a price tag hovering around $20,000. As with other Hyundai models, it is backed with a lengthy warranty.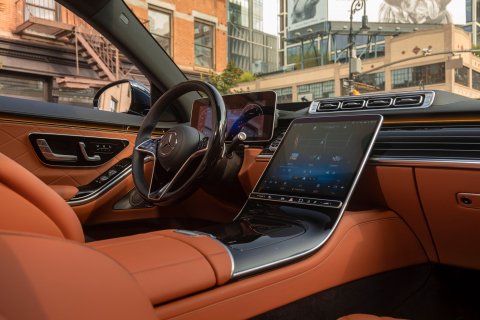 Best Large Car
Mercedes-Benz S-Class
Mercedes hasn't just redesigned the S-Class. They have pushed the model into the next decade offering large infotainment and driver's information screens, a bevy of fresh innovations and available rear-axle steering. Its trunk is bigger than before, and the model has 50 percent more infotainment system computing power than the last generation did. The car's powerful engine lineup and available Maybach version make the Mercedes-Benz S-Class the epitome of super luxury large cars and the best new large car you can buy.
Best Premium SUV
Infiniti QX60
With its redesigned 2022 Infiniti QX60, the company was looking to build on the foundation of what existing QX60 customers like while enhancing the offering with fresh technology, higher-quality appointments and enhanced drivability. The quiet cabin of the QX60 gains some innovations from its Nissan Pathfinder stablemate including its powertrain, rear under-floor storage and easily-accessed rear seats.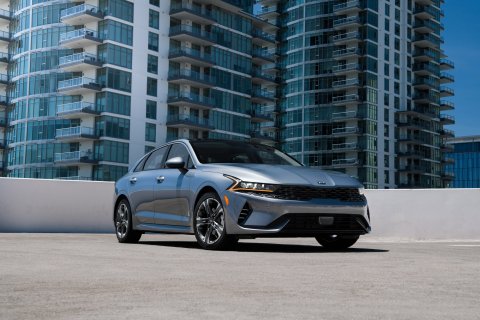 Best Midsize Car
Kia K5
Before there was the Kia K5, there was the Kia Optima. When the company switched out names and generations, the K5 didn't just move the brand story forward, it gave Kia one of its best cars to date. The K5 is easily among the top midsize cars on the market today, thanks to a near-premium interior, pointed steering, strong braking and comfortable seats. The model also gets an easy-to-use Kia infotainment system.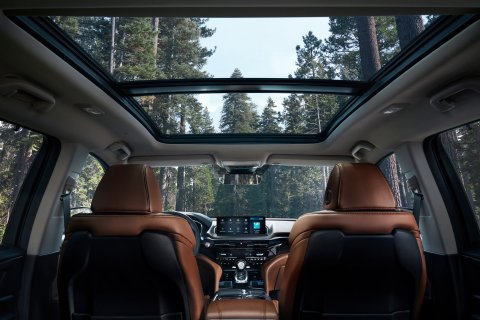 Best Three-Row SUV
Acura MDX
Completely redesigned for the 2022 model year, the Acura MDX delivers what it always has, above-class comfort, a good list of standard and available features and easy drivability. This new MDX takes those a step further with a refined cabin that includes authentic materials, an intuitive infotainment system and stylish looks. The MDX capitalizes on its new architecture to deliver a smooth and comfortable ride. Drivers can take advantage of the SUV's strong V6. Opt for the MDX Type S and get more aggressive performance paired with an interior that is just as nicely equipped as the traditional model.
Best Premium Car
Acura TLX
The Acura TLX isn't just another premium car. It's not even just another sports car. Acura has walked the line between what is expected and what is desired with the TLX and its sportier stablemate, the TLX Type S. Comfortable seats, high-quality appointments with excellent fit and finish and a responsive infotainment system are among the car's highlights. It's stylish exterior doesn't hurt either.
Best Luxury SUV
Jeep Grand Wagoneer
The 2022 Grand Wagoneer brings back to life a long-revered nameplate. With this SUV, Jeep goes further into luxury territory than ever before, equipping it with authentic materials, cutting-edge tech features and supple upholstery. It isn't just a pretty face. The Grand Wagoneer is capable of the type of off-roading that has made Jeep famous thanks to its available suspensions and stiff frame. Daily drivability doesn't suffer with these upgrades, making the Grand Wagoneer easily one of the best SUVs to spend hours in. With the Grand Wagoneer, Jeep is also giving customers a higher-level dealership shopping and service experience.
Best Luxury Car
Genesis G90
The Genesis G90 doesn't just give drivers a lot of car. It offers up a smooth, quiet ride that's powered by a robust power plant with stylish exterior looks and a high-class interior. Like other Genesis models, the G90 is more car for less money. It isn't as pricey as its chief competition and has a longer list of features, executed better than many of its rivals. The G90 exudes elegance inside and out.
Best Small Truck
Hyundai Santa Cruz
With its spacious cab, innovative bed features and plush accommodations, the Hyundai Santa Cruz is delightfully similar to a SUV. The cabin is straight from the Hyundai Tucson playbook offering a fully digital cockpit, good small item storage and seats that are comfortable to sit in all day long. The rear of the truck features under-bed storage with automatic illumination and a locking tonneau cover that can hold a fair amount of weight. When closed up against the tailgate, the tonneau cover has a watertight seal.
Best Family SUV
Jeep Grand Cherokee L
The first iteration of the next-generation Grand Cherokee is a three-row, full-size entry that is longer than Toyota Highlander and Honda Pilot though it has similar three-row styling. It checks an impressive amount of boxes for families on the go. The Grand Cherokee L easily fits six adults and up to seven passengers total. It has a good amount of cargo space, hands-on drive assist technology, can be equipped with a rear seat entertainment system that brings Amazon Fire TV to the car and features authentic materials throughout the interior. Additionally, the SUV's McIntosh sound system is one of the best out there.
Best Midsize Pickup Truck
Honda Ridgeline
The Honda Ridgeline isn't the most capable off-road pickup, but it does have a good roster of creature comforts that helped it take the win in this category. Ridgeline's standard V6 has plenty of power and steering allows for an SUV-like driving experience. Its cab is among the largest in the class, offering plenty of legroom for front- and rear-seat passengers. The Ridgeline also has good small item storage throughout the cabin and a decent amount of standard and available technology and features compared to the other models in its class.
Best Full-Size Pickup Truck
Ford F-150
The Ford F-Series has been the country's best-selling pickup truck for a half century and it's easy to see why. In addition to its best-in-class capability figures, the model comes with a large number of powertrain, bed, cab, drivetrain and suspension options. The F-150 also has a host of new technology and features. The PowerBoost onboard generator, folding shifter, large workspace table in the center console and built-in space for clamps are among the best innovations.
Best Family Car
Subaru Legacy
Subaru's products do an excellent job keeping families safe and secure, making it an easy choice to name the Legacy as the Best Family Car. The four-door Legacy has space enough for five and can sit four adults comfortably for an extended period of time. It comes standard with all-wheel drive, just like Subaru's SUV lineup, and the EyeSight suite of driver assist and safety technology. The interior is refined, whether you get the Legacy with cloth or leather seats, and the trunk is spacious.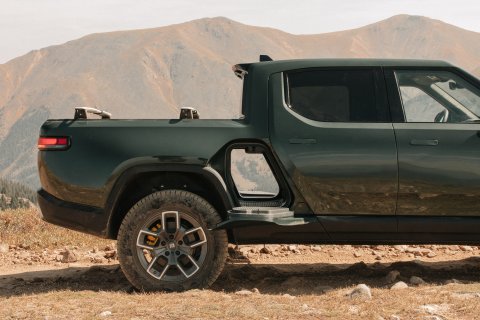 Best Family Truck
Rivian R1T
The Rivian R1T isn't just a truck, it's a family hauler. The model delivers exactly what families are looking for: storage solutions, confidence in tricky terrain, fuel efficiency and comfort. The model's powertrain allows for nontraditional storage solutions, which Rivian has taken full advantage of by offering a large portable kitchen for sale with the truck, complete with sink and burners. The model also has out-of-the-box design, like the ability to pitch tents simultaneously on the roof and bed.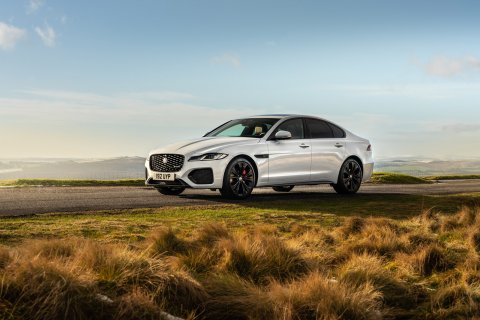 Most Improved Vehicle
Jaguar XF
The Jaguar XF has been refined thanks to a host of upgrades and a new, lower price point. The car's interior has undergone a near complete redesign with a fresh dashboard setup that features Jaguar Land Rover's latest iteration of the Pivi Pro infotainment system. The seats are wrapped in finer materials the higher you go in the car's trim levels, which themselves have been slimmed for ordering ease. XF's powertrains have been refined with the highest performing turbo-four delivering nearly 300 horsepower, which is plenty. The car's drive dynamics have also been improved.