NEWSWEEK Poll: Democrats May Not Be Headed for Midterm Bloodbath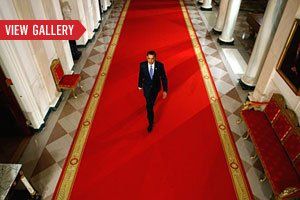 As Democrats prepare for considerable losses in the November elections, there's reason to believe the party in power may not be headed for the bloodbath it might expect. According to a new NEWSWEEK Poll, President Obama's approval rating—47 percent—indicates that the party is better off this year than Republicans were in 2006, when the GOP lost 30 House seats, and than the Democrats were in 1994, when they lost 52 House seats.
Obama's approval has fallen 1 percentage point since the last NEWSWEEK survey in June, but the White House has gained ground on several specific issues, specifically his handling of the economy, which has risen to 40 percent (from 38 percent) over the past two months. Voters also generally approve of Obama's response to the oil spill in the Gulf of Mexico, as well as the administration's handling of the war in Iraq, which Obama is expected to address next week from the Oval Office.
On other issues, Obama is still facing general disapproval. Forty-seven percent do not think favorably of Obama's plan in Afghanistan, which included a 30,000-troop increase he announced last year. Despite Congress passing a set of financial-regulation reforms, 52 percent disapprove of the administration's efforts to reform Wall Street, along with 51 percent who disapprove of Obama's health-care initiatives and 58 percent who disapprove of the administration's plan to reduce the federal deficit.
As with all midterm elections, the president's approval rating is considered a key factor in determining which party voters are likely to support. Indeed, 68 percent of registered voters say their view of Obama is "very" or "somewhat important" in determining their vote for Congress this year. That means little for partisans; Democratic voters appear just as willing as Republicans to vote for their party. But independents skew heavily toward the GOP.Forty-fivepercent of independents say they'll vote for Republican candidates, compared with just 33 percent for Democrats.
Still, Democrats' perceived weakness may not be so simple for the GOP to capitalize on this fall. Republican leaders still must deal with the Bush legacy, which 38 percent fault for today's economic problems (compared with 19 percent who fault Obama's policies). The public also strongly opposes extending the Bush tax cuts by a spread of 52 percent who think the cuts should expire at the end of this year, and 38 percent who would like them to be extended.
Enduring as a headache for the White House is the perception of the president's religion. The NEWSWEEK poll found that almost one quarter of the country—24 percent—believe Obama is a Muslim, a notable increase from a Pew Research Survey earlier this month showing 18 percent were skeptical of the president's declared Christian faith. But opinions vary sharply by party. More than half of self-identified Republicans believe Obama favors the interests of Muslims over other religions, compared with just 9 percent of Democrats.
The controversial plan to build a Muslim community center several blocks from Ground Zero is certainly responsible for reviving the debate about Islam in America. But according to the poll, anti-Muslim sentiment has risen over the past decade. This week, 20 percent had "mostly" or "very unfavorable" opinions of Muslim Americans, up from 17 percent when the question was asked several months after 9/11 in 2001.
Methodology: This poll was conducted by Princeton Survey Research Associates International on August 25 and 26, 2010. Telephone interviews were conducted with a nationally representative sample of 1,029 adults, 18 years and older, including 697 adults reached on a landline telephone and 332 adults reached on a cell phone. Results use a two-stage weighting procedure: (1) to account for number of adults in household and household phone-use patterns; and (2) to adjust the sample demographics to the U.S. Census's Current Population Survey parameters for gender, age, education, race, region, and population density. The overall margin of sampling error is plus or minus 3.7 percentage points for results based on 1,029 adults. Results based on smaller subgroups are subject to larger margins of sampling error.