Newsweek Presidential Election Covers: A 60-Year Review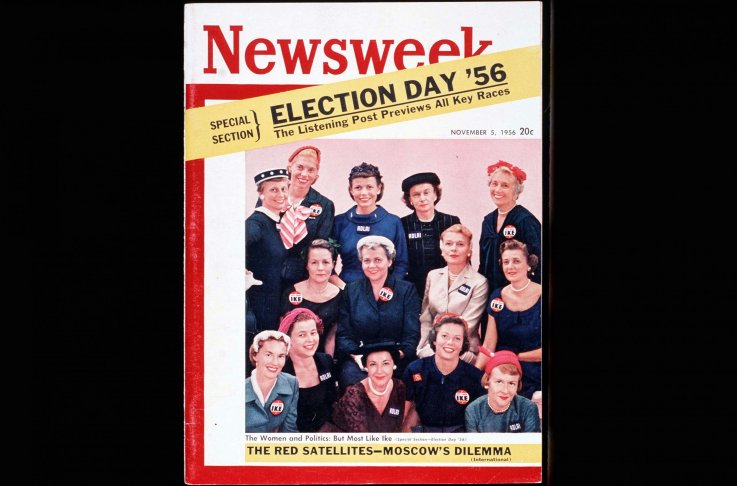 1956 was an election year and a leap year. It was also the year that, for the first time since they were given the right to vote, women voters were expected to equal male voters in the presidential election. Accordingly, the November 5, 1956, issue of Newsweek featured a coterie of women on the cover, wearing buttons that reflected their candidates of choice. President Dwight D. Eisenhower won re-election over former Illinois Governor Adlai Stevenson that year by a landslide; experts agreed it was largely attributable to the women's vote.
Fast-forward 60 years and we're on the brink of another first when it comes to women and presidential elections, but this time, instead of women clad in pearls, white gloves and perfectly respectable hats supporting male candidates for president, it's one woman in particular, Hillary Clinton, who has been stealing the election spotlight on national print magazine covers as she vies for a title a long time coming: first woman president.
Newsweek has reported on a lot firsts—the first televised presidential debate in history (1960), the first sitting president to never be elected to national office (Gerald Ford, 1976), the first time in 112 years in which the eventual winner failed to win the popular vote (George W. Bush in 2000, after the elections of 1824, 1876 and 1888) and the first African-American elected to the White House (Barack Obama, 2008). In honor of Election Day 2016 on November 8, Newsweek presents 60 years' worth of election covers, from 1956 to 2016. Which is your favorite?