'The New Yorker at 40': Newsweek's 1965 Look Inside 'The New Yorker'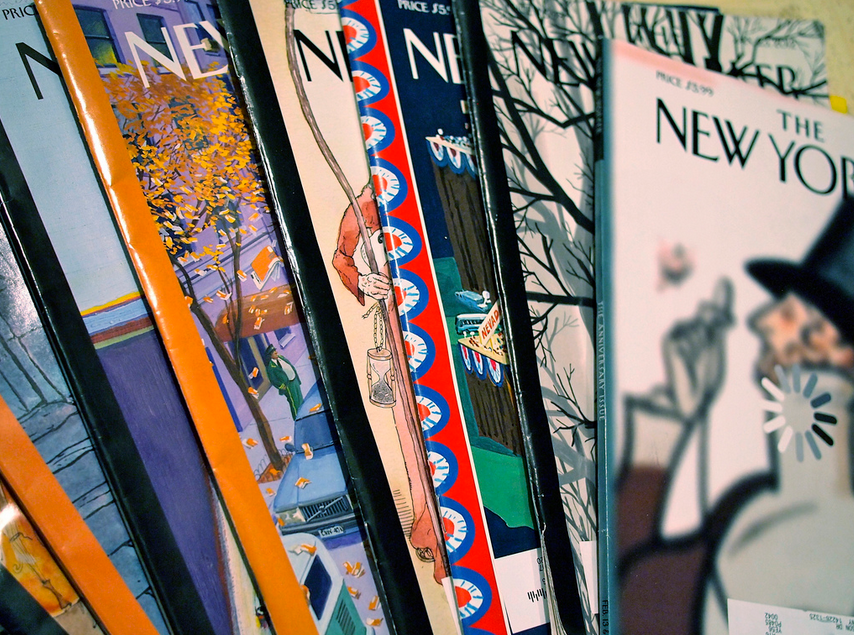 The New Yorker is celebrating its 90th anniversary next week with a nine-cover double issue. So we dug through Newsweek's archives and discovered this 2,500-word profile of the former magazine, published on the occasion of its 40th anniversary in 1965 and digitized now for the first time. It's a fascinating glimpse of a lost era of magazine journalism, when editors communicated in terse but rarely urgent memos and a Philip Roth story might be rejected for containing a diaphragm. Like most of Newsweek's pre-1970 reportage, it is unbylined. Read the full piece below.
The face was familiar. On the cover of the 40th anniversary issue of The New Yorker last week, Eustace Tilley, the Victorian dandy drawn by Rea Irvin for the magazine's first issue in 1925, stared haughtily at a butterfly through his monocle, as he has on every anniversary. Inside, the unaltered gray format—no photos, no masthead and only a cryptic index—of The New Yorker carried contributions of some of its Life Members: an appreciation of the critic Mario Praz by Edmund Wilson, which characteristically deflated what most other reviewers had to say; some needlework in the form of a playlet by S.J. Perelman, Letters from Mollie Panter-Downes in London and Genêt (Janet Flanner) in Paris, and cartoons in the distinctive genre of Peter Arno and Charles Addams.
But alongside the elders were some new names: 26-year-old Renata Adler, applying her Radcliffe and Sorbonne erudition to the noisy yackety-yack of the radio disc jockeys who blight the land; 35-year-old James Stevenson, cartooning a business-school class learning how to approach the income-tax; and 22-year-old Charlayne Hunter, writing of a childhood visit to Harlem. (Miss Hunter herself was the subject of a 1963 piece by still another new face at the magazine, Calvin Trillin, who described her experiences as the first Negro girl at the University of Georgia.)
'Trumpet'
Naturally, any magazine must search out fresh talent to survive and flourish. But in The New Yorker's case, the new contributors reflect both the magazine's need to replenish and its willingness to try fresh directions. William Shawn, who succeeded Harold Ross as editor in 1952, still spurns certain subjects—he once turned down a suggestion for a piece on a well-known Hollywood actress because she was "too popular for The New Yorker." But under Shawn, "The New Yorker style," in fiction and in reportage, is no longer so narrowly defined, or immediately recognizable. In the last three years, to take the most compelling instances, Shawn has published such distinguished nonfiction as "Silent Spring," the late Rachel Carson's indictment of pesticides; "Letters From a Region in my Mind," James Baldwin's bitter observations on the American Negro's torment; Hannah Arendt's searching "Eichmann in Jerusalem," and "Gideon's Trumpet," Anthony's Lewis's step-by-step review of the Supreme Court case that gave indigents the right to free legal counsel.
Undoubtedly one reason that The New Yorker gets first reading on so many good manuscripts is the magazine's munificence: James Baldwin, according to one account, received $12,000 for his "Letter" (later published as part of his book The Fire Next Time). But the magazine also has the good taste, and on occasion, the brilliant judgment, to spend its money to get the right pieces. When Miss Arendt, the social philosopher and author of The Origins of Totalitarianism, conceived the idea of covering the Eichmann trial in Jerusalem, she first approached Commentary magazine. The magazine told her it couldn't afford to send her; whereupon, one of Miss Arendt's friends, the novelist and New Yorker contributor Mary McCarthy, called Shawn. He rose to the chance to underwrite the trip.
'Cold Blood'
One New Yorker hand, who worked with both Ross and Shawn, recently compared the "old" New Yorker with the "new" New Yorker. "Ross, by his temperament, was more inclined to tackle a comical subject like the restaurateur Mike Romanoff," he said. "Shawn, by his, is inclined to come to grips with Gideon." Yet it would be inaccurate to consider Shawn an editor with solely cosmic interests. Just last month, for example, the magazine ran more than 17,000 words on 22-year-old Bill Bradley, the Princeton basketball player star and Rhodes Scholar. And it plans to publish this year all 130,000 words of Truman Capote's In Cold Blood, the meticulous account of a multiple murder in Kansas.
Recently, in an advertising-promotion piece, The New Yorker used a Steinberg drawing (above) under a head that asked "What is The New Yorker?" The promotion man's answer talked about "variety," and quoted the original prospectus announcing The New Yorker 40 years ago ("it will be what is reasonably called sophisticated...") as well as The Spectator of London ("The New Yorker is an important part, not only of American culture, but of Western culture generally"). The fundamental answer to the question, however, is a great deal simpler: The New Yorker is compounded of the tastes, talents and idiosyncrasies of Harold Ross and William Shawn.
Yet no two personalities could be less alike. "They shared a common addiction to the principles and methods that have built the magazine," says E.B. White, who came to the magazine in 1928 and stayed to write some of the most civilized editorials in the English language. But Ross, says White, "was a creature of the '20s, when everyone was kicking up his heels. Shawn was a creature of the '30s, when men were peddling apples. Ross was a belly-laugher, a nonreader, a loud, busy man interested in almost anything that came along in the New York scene and hell bent to capture it on paper. He worked 24 hours a day and caused great turmoil. He also managed to unearth new talent. Shawn laughs with his mind, not his belly; he is quiet, intellectual, interested in everything that comes along, works 24 hours a day, and his wholly receptive to new talent."
No Comment
Shy and passionately modest, Shawn refuses to be interviewed, photographed or quoted—and discourages friends and colleagues from talking about The New Yorker for publication. The only picture available of him was taken in 1955 by the Shawn family photographer, Hilde Hubbuck, who got the editor to pose briefly in his office. He was born in 1907, the son of Benjamin "Jackknife Ben" Chon, a prosperous Chicago cutlery merchant. After two years at the University of Michigan, he became a reporter on the Las Vegas (N.M.) Optic, where the most important weekly occurrence for him was the arrival of The New Yorker. In 1932, he moved to New York so he could write a book about the magazine. By the following year, however, Shawn had abandoned the project—as well as the spelling of his surname—and gone to work for the magazine as a Talk of the Town reporter. Within six years, Ross made him managing editor.
Shawn is so revered by the writers he works with that at least six authors have dedicated books to him; one of them is J.D. Salinger, who, in the dedication to "Franny and Zooey," calls Shawn the "most unreasonably modest of born great artist-editors." Describing what it is like to work with Shawn, one young reporter on the staff says: "He has an amazing ability to understand what you are trying to say, and when he criticizes a sentence it almost always is one you tried to sneak by, recognizing it was weak." Shawn also recognizes that staff writers need more than just good editing. Ross developed, and Shawn maintained, the magazine's drawing accounts, an arcane system of payments that provides writers with an annual bank deposit—an advance that they then earn with their pieces.
"The New Yorker is the only magazine in the English-speaking world to pay a living wage," says novelist John Cheever, whose Wapshot Chronicle and Wapshot Scandal both appeared first in the magazine. "My career," adds the author, "would have been impossible without their generosity."
Drab
Like much of the prose in the magazine, life on The New Yorker tends to be understated. No writer, editor, or officer of the magazine is listed on the lobby directory of the National Association building on West 43rd Street. On the eighteenth floor—"the writer's floor"—a lone receptionist presides over a drab corridor lined with cubicles. Since no formal hours are maintained, these writers' offices are often unoccupied. Because he is so busy, Shawn communicates by terse, polite memos: "Want to try this?" or "One to work on?" he will write on a story suggestion. The lack of urgency is staggering. "Such memos can sit in your desk for a year and you will never hear about it," says one writer. A former Talk of the Town reporter recalls that a piece he wrote two years before he left the magazine turned up in its pages more than six months after he had departed.
Shawn is an absolute stickler for facts. Pianist Glenn Gould recalls that before publishing a profile on him, the magazine let him check all his own quotes. "They gave me freedom to change anything, but I didn't really have to," says Gould. But British critic Kenneth Tynan, who reviewed Broadway theater for the magazine for two seasons, found the checking system gave him somewhat less freedom. "All the time at the back of your mind are all those departments, checking facts and syntax and punctuation," he recalls. "You found yourself thinking, well, I'd better check what year it is before somebody catches me out. Or you get home and start worrying whether you'd used a semi-colon where the house rule calls for a colon. But until Shawn worked on my copy I never had known when to use 'which' and when 'that.' It was his first homily to me. But he was very discreet, as dealing with a child."
Another Tynan recollection reflects one of the magazine's few weaknesses—its tendency to be timid and sometimes even prissy. In the French revue, "La Plume de Ma Tante," a sketch took place in a "pissoir," a word Shawn refused to allow Tynan to use in the magazine. After long deliberation, they settled on "circular curb-stone construction." Because of this stuffiness, Shawn has closed the magazine's pages to some excellent fiction, among it Philip Roth's "Goodbye, Columbus," which was turned down, in part, because a diaphragm figures in the story.
The assiduous checking—and the prissiness—extends sometimes to the advertising pages. And whole categories of ads are barred from The New Yorker's pages, including ads for vitamin tablets, slimming devices and depilatories. Liquor advertising is limited to 16 per cent of total paid space, and models in ads for foundation garments must be decorously clothed.
Edsel
Like Ross, Shawn has the final say on any ad. Occasionally an editor will even needle an advertiser, by intentionally running some related copy or art in the same issue with the ad. The Ford Motor Co. was furious when the magazine ran a Joseph Mirachi cartoon in their April 11, 1964, issue showing two used-car salesmen, jumping up and down saying "We sold the Edsel! We sold the Edsel!" (The New Yorker also took the Edsel seriously, devoting space in two issues to John Brooks's superb business study of the automobile's colossal flop.)
All this haughtiness produces a handsome profit. Last year, for the seventh year in a row, The New Yorker ran more advertising pages—5,959—than any other magazine. And its circulation is a well-heeled 475,406. In 1963, the magazine grossed more than $21 million and netted more than $2 million after taxes, a profit margin of 10 per cent in a business where 2 per cent is considered doing well. In his recently published autobiography, A Measure of Independence, sportswriter John R. Tunis recalls with chagrin that in 1925, when The New Yorker had still to turn the financial corner, Ross offered to pay him in stock because the magazine was low on cash. The late Frank Crowninshield, then editor of Vanity Fair, advised the young Tunis not to do it, saying the magazine would never make it because it would not appeal to national advertisers. Tunis demanded—and got—the cash. In 1925, a share of New Yorker stock was worth $33. Today, that share is worth approximately $2,500.
Mid-Cult
Despite the magazine's success and affluence—or perhaps because of it—it has become almost a literary reflex to attack it. Intellectuals scorn it as the citadel of mid-cult. "The New Yorker–type" short story has come to mean a particularly eventless form—all middle and no beginning or end. The nonfiction, critics argue, pours out in a humming Accutron prose and is needlessly detailed. Even Dorothy Parker, once a New Yorker regular, complains that the stories these days always "seem to be about somebody's childhood in Pakistan." But worst of all, goes the cry, The New Yorker is not funny any longer.
Much of this criticism is captious. To say all the fiction sounds the same is to say that John Cheever sounds like John Updike, that J.D. Salinger sounds like V.S Pritchett, that John O'Hara sounds like Vladimir Nabokov. The nonfiction is often long and detailed, but more often than not it is also fascinating, as was last month's E.J. Kahn piece on the continuing search for Guam's "stragglers," Japanese soldiers in hiding because they think World War II is still on. And, point out White, "if the magazine seems less funny than it once did, I think it is because nobody is kicking up his heels today; instead, youngsters are kicking windows in." (Despite the grimness of the times, Shawn's goal is at least one humorous piece a week; last week, in fact, there were three.)
Influence
In 40 years, The New Yorker has evolved from a magazine of entertainment to a magazine of both entertainment and extraordinary influence. Miss Carson's Silent Spring made newspapers across the nation when it appeared in The New Yorker months before publication. Michael Harrington's account of poverty, The Other America, was largely unnoticed until Dwight Macdonald reviewed it in The New Yorker, months after publication. Not only did the sales perk up but other publications began noticing The Other America, and Harrington himself was eventually consulted by the Kennedy Administration when the government's antipoverty program began. And the careful, lucid use of the English language is held up as an example all over the world. During a recent court fight over public aid to private education in Maryland, a lawyer, hoping to score a telling point, asked a nun, Sister Maura, if she did not use the Bible in her creative-writing course at the College of Notre Dame of Maryland. "We probably should," she replied, "but we don't. We use The New Yorker."
Typically, when the magazine won the Society of Magazine Writers' award as the best magazine of 1964, reticent editor Shawn did not appear to accept it. Instead, he sent a message. "I am told," Shawn wrote, "that I have been cited for helping to raise the standards of magazine journalism... The main function of editors is to create conditions under which writers can do their best work. Moreover, almost everything an editor asks for and hopes for and waits for and dreams of is based on what writers have shown themselves capable of writing."