Newsweek Rewind: Covering the Tiananmen Square Massacre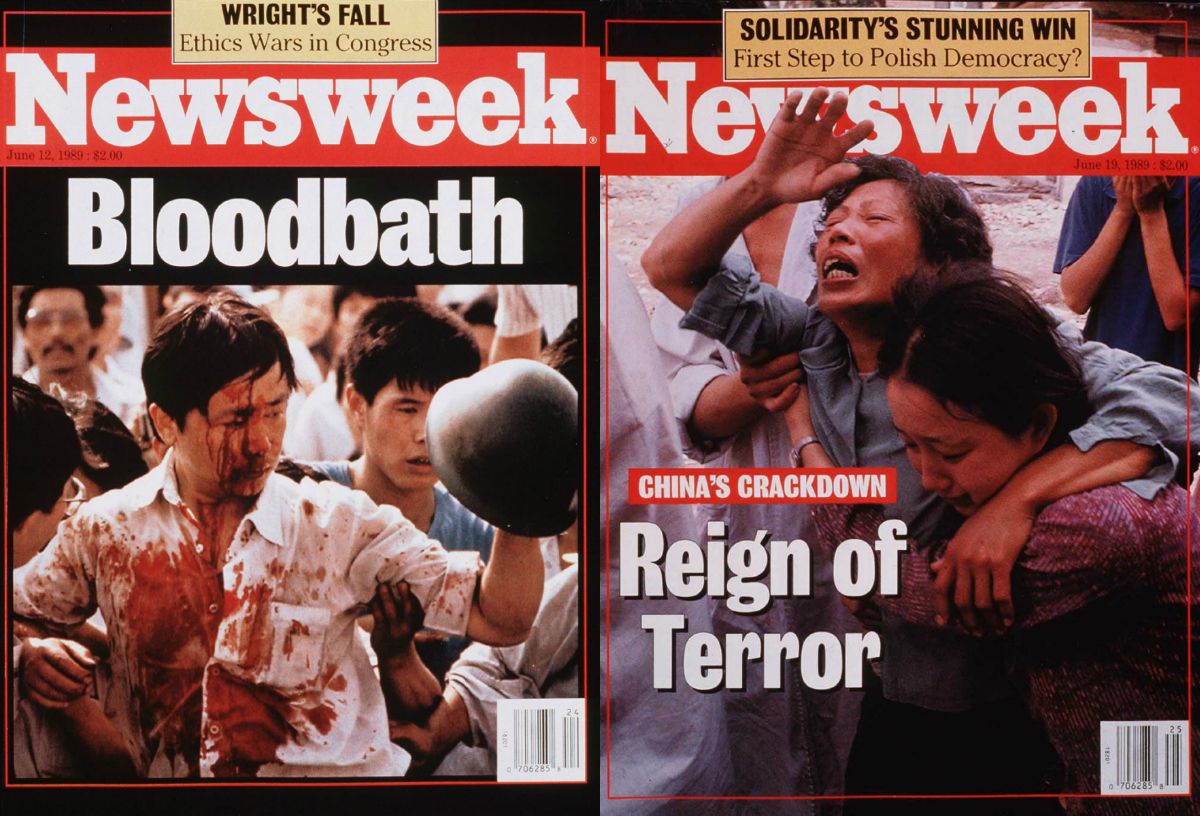 Today marks the 25th anniversary of the Tiananmen Square massacre in Beijing. On June 4, 1989, after several weeks of peaceful demonstrations and a student-led hunger strike, tens of thousands of protesters gathered in the historic city center to call for pro-democracy reforms and were met with tanks and bullets. The Chinese army descended on the square, firing into crowds of unarmed civilians attempting to block its path. Hundreds, if not thousands, were arrested and killed in the now-infamous bloodbath. The official death toll was between 200 and 300, but unofficial estimates were considerably higher; Amnesty International estimates nearly 1,000 were killed. Other human rights organizations believe several thousands were killed that day.
Newsweek reporters covered the massacre extensively with two cover stories, each followed by additional reports of the tragedy, under the banner "Upheaval in China."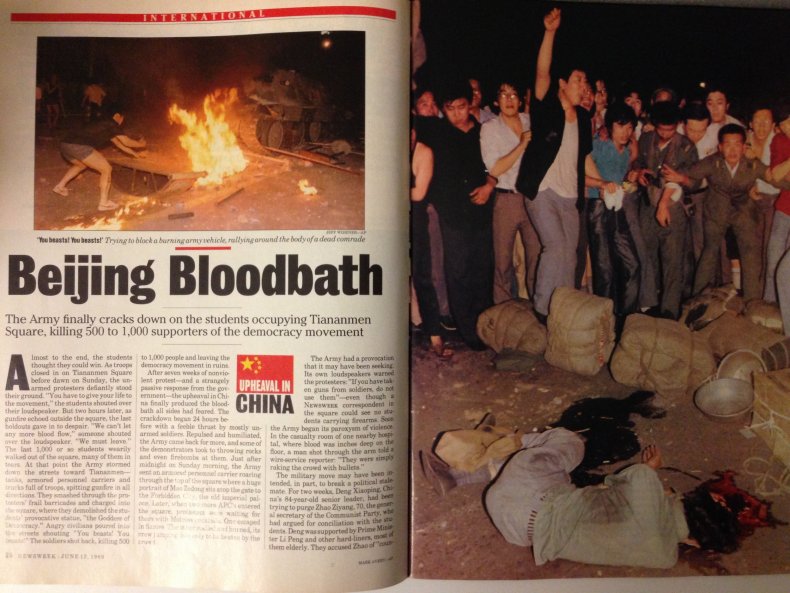 "Beijing Bloodbath," June 12, 1989, Russell Watson with Melinda Liu, Tony Clifton, Carroll Bogert, Lenore Magida, Douglas Waller
With plumes of tear gas and arcs of tracer bullets, the long-awaited crackdown on protesters in Tiananmen Square got under way Saturday night. Armored personnel carriers breached human barricades, and Chinese soldiers opened fire on the crowds. As day broke on Sunday, hundreds of protesters lay dead; countless more were injured. The suppression may have shown the resolve of a leadership crippled for weeks by a power struggle and humiliated by inability to control its own capital city. But in the process Beijing jeopardized a decade of reforms and squandered a global fund of goodwill.
Chinese-American writer Bette Bao Lord published an account of a phone call from a friend in Beijing mid-crisis: "Warn Americans not to be fooled. Warn them not to judge by what will be said and what will be seen. Those men are masters at orchestrating a misery all the more insidious because it is silent and invisible."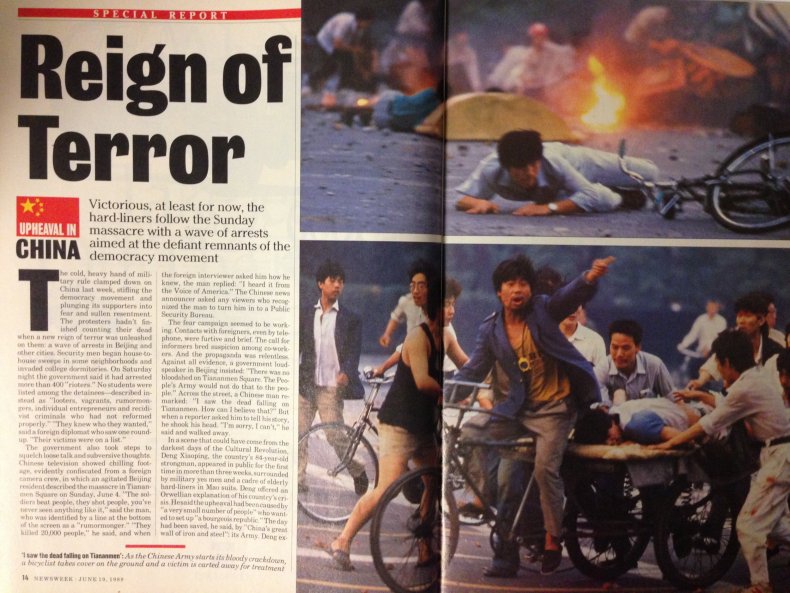 "Reign of Terror," June 19, 1989, Melinda Liu, Carroll Bogert, Tony Clifton and Rod Nordland
The protesters were not through counting their dead from the Tiananmen Square massacre when the government began rounding up what it called "rioters." Newsweek correspondents Melinda Liu, Carroll Bogert, Tony Clifton and Rod Nordland file from Beijing on the further damage to China's modernization hopes, with reports from Hong Kong, Washington and other cities in America and abroad.
A collection of eyewitness accounts of the violence follow the cover story under the headline "What I Saw Is Bodies, Bodies, Bodies." The "Upheaval in China" demarcation featured in "Reign of Terror" also appears on articles titled "Deng's Great Leap Backward: Bleeding the economy," "Revolution by Information: China's students wage high- and low-tech war on the blackout," and "Confessions of a China Watcher: Why no one predicted the bloodbath in Beijing."
Newsweek's current editor-in-chief, Jim Impoco, pictured, was also on the ground while on assignment for U.S. News and World Report. "I was terrified," he recalls. He wrote a screenplay about what he witnessed, but it was never produced.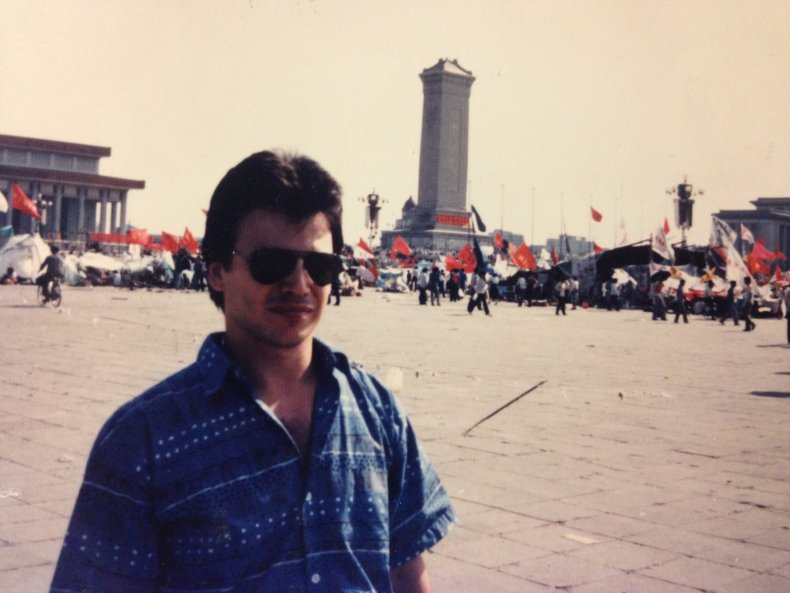 The Chinese government continues to actively suppress mentions of the tragedy at Tiananmen Square, with disruptions in Internet service, detentions, and increased security in Beijing in the run-up to the anniversary. Last month, a young factory worker visiting the city posed in the square for a selfie with his fingers in a "V" for victory, and was detained, according to a report by Newsweek's Melinda Liu.
On the eve of the 25th anniversary of the bloodshed, China defended its actions in Beijing: Foreign Ministry spokesman Hong Lei said the government had acted in the best interests of its people, declaring that "the road to socialism with Chinese characteristics which we follow today accords with China's national condition and the basic interests of the vast majority of China's people."
"In China there are only lawbreakers—there are no so-called dissidents."
Newsweek Rewind: Covering the Tiananmen Square Massacre | World