Newsweek Rewind: Our First Article About the Web, Which Just Turned 25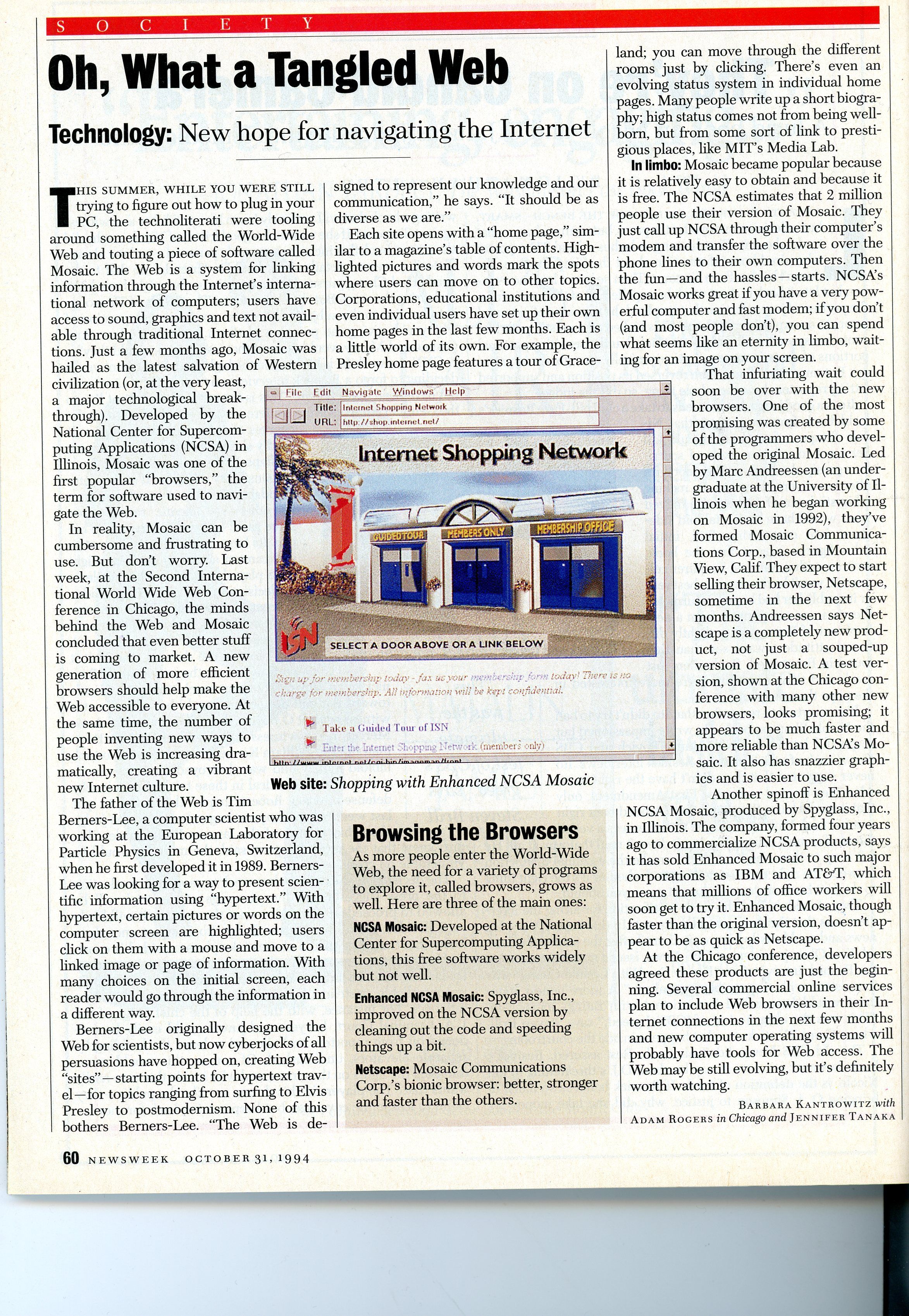 On March 12, 1989, British computer scientist Sir Tim Berners-Lee proposed an "information management" system that would become known as the Web. We celebrate the twenty-fifth anniversary of his world-changing invention on the first edition of our new weekly feature, Newsweek Rewind. We dug through our archive and pulled our first article about the Web, from our October 31, 1994 issue. Below, you'll find the full text of the piece, "Oh, what a Tangled Web," by Barbara Kantrowitz with Adam Rogers and Jennifer Tanaka.
Oh, What a Tangled Web: New Hope for Navigating the Internet
By Barbara Kantrowitz, Adam Rogers and Jennifer Tanaka
This summer, while you were still trying to figure out how to plug in your PC, the technoliterati were tooling around something called the World-Wide Web and touring a piece of software called Mosaic. The web is a system for linking information through the Internet's international network of computers; users have access to sound, graphics, and text not available through traditional Internet connections. Just a few months ago, Mosaic was hailed as the latest salvation of Western civilization (or, at the very least, a major technological breakthrough). Developed by the National Center for Supercomputing Applications (NCSA) in Illinois, Mosaic was one of the first popular "browsers," the term for software used to navigate the Web.
In reality, Mosaic can be cumbersome and frustrating to use. But don't worry. Last week, at the Second International World Wide Web Conference in Chicago, the minds behind the Web and Mosaic concluded that even better stuff is coming to market. A new generation of more efficient browsers should help make the Web accessible to everyone. at the same time, the number of people inventing new ways to use the Web is increasing dramatically, creating a vibrant new Internet culture.
The father of the Web is Tim Berners-Lee, a computer scientist who was working at the European Laboratory for Particle Physics in Geneva, Switzerland, when he first developed it in 1989. Berners-Lee was looking for a way to present scientific information using "hypertext." With hypertext, certain pictures of words on the computer screen are highlighted; users click on them with a mouse and move to a linked image or page of information. With many choices on the initial screen, each reader would go through the information in a different way.
Berners-Lee originally designed the Web for scientists, but now cyberjocks of all persuasions have hopped on, creating Web "sites"—starting points for hypertext travel—for topics ranging from surfing to Elvis Presley to postmodernism. None of this bothers Berners-Lee. "The Web is designed to represent our knowledge and our communication," he says. "It should be as diverse as we are."
Each site opens with a "home page," similar to a magazine's table of contents. Highlighted pictures and words mark the spots where users can move on to other topics. Corporations, educational institutions and even individual users have set up their own home pages in the last few months. Each is a little world of its own. For example, the Presley home page features a tour of Graceland; you can move through the different rooms just by clicking. There's even an evolving status system in individual home pages. Many people write up a short biography; high status comes not from being well-born, but from some sort of link to prestigious places, like MIT's Media Lab.
In limbo: Mosaic became popular because it is relatively easy to obtain and because it is free. The NCSA estimates that 2 million people use their version of Mosaic. They just call up NCSA through their computer's modem and transfer the software over the phone lines to their own computers. then the fun—and the hassles—starts. NCSA's Mosaic works great if you have a very powerful computer and fast modem; if you don't (and most people don't), you can spend what seems like an eternity in limbo, waiting for an image on your screen.
That infuriating wait could soon be over with the new browsers. One of the most promising was created by some of the programmers who developed the original Mosaic. Led by Marc Andreessen (an undergraduate at the University of Illinois when he began working on Mosaic in 1992), they've formed Mosaic Communications Corp., based in Mountain View, Calif. They expect to start selling their browser, Netscape, sometime in the next few months. Andreessen says Netscape is a completely new product, not just a souped up version of Mosaic. A test version, shown at the Chicago conference with many other new browsers, looks promising; it appears to be much faster and more reliable than NCSA's Mosaic. It also has snazzier graphics and is easier to use.
Another spinoff is Enhanced NCSA Mosaic, produced by Spyglass, Inc., in Illinois. The company, formed four years ago to commercialize NCSA products, says it has sold Enhanced Mosaic to such major corporations as IBM and AT&T, which means that millions of office workers will soon get to try it. Enhanced Mosaic, though faster than the original version, doesn't appear to be as quick as Netscape.
At the Chicago conference, developers agreed these products are just the beginning. Several commercial online services plan to include Web browsers in their Internet connections in the next few months and new computer operating systems will probably have tools for Web access. The Web may be still evolving, but it's definitely worth watching.