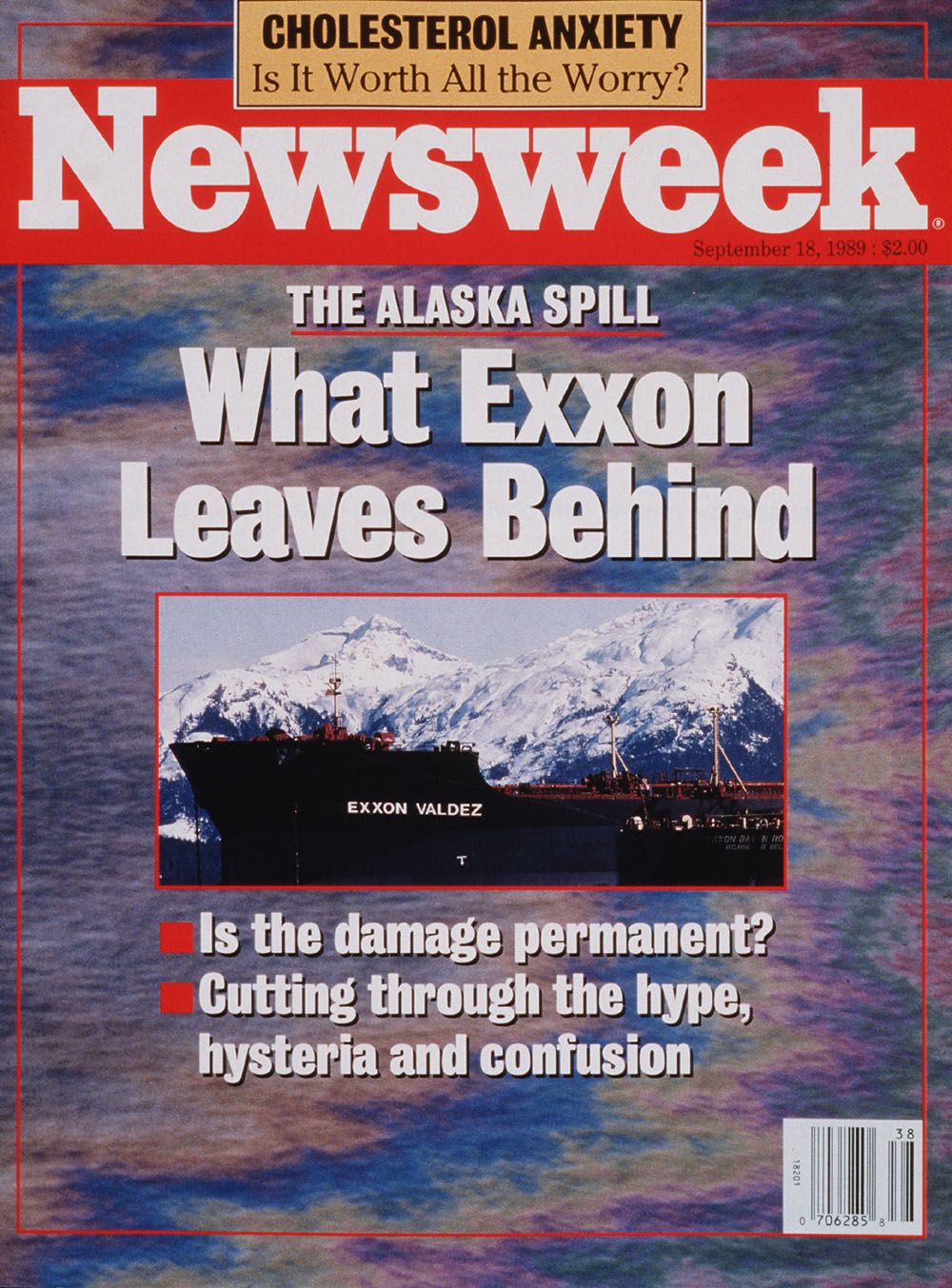 For today's Newsweek Rewind, we feature the Exxon Valdez oil spill, which occurred 25 years ago, on March 24, 1989. One of the worst environmental disasters in U.S. history, Exxon Valdez released over 10.8 million gallons of oil into Prince William Sound, contaminating 1,300 miles of the coastline and killing thousands of birds, eagles, otters and other native animals. Despite over a billion dollars being spent on cleanup, the region still hasn't fully recovered, even a quarter of a century later.
The spill was covered extensively in Newsweek's September 18, 1989 issue, with reporting by Harry Hurt III, Lynda Wright, Pamela Abramson in articles by Jerry Adler and Sharon Begley. The feature "What Exxon Leaves Behind" paints a grim picture.
Nearly six months after one of its giant tankers spilled millions of gallons of oil into Alaska's Prince William Sound, Exxon is preparing to end its cleanup operation. It has been a colossal and humbling effort: Exxon has found that what man has defaced not even the world's largest oil company can repair.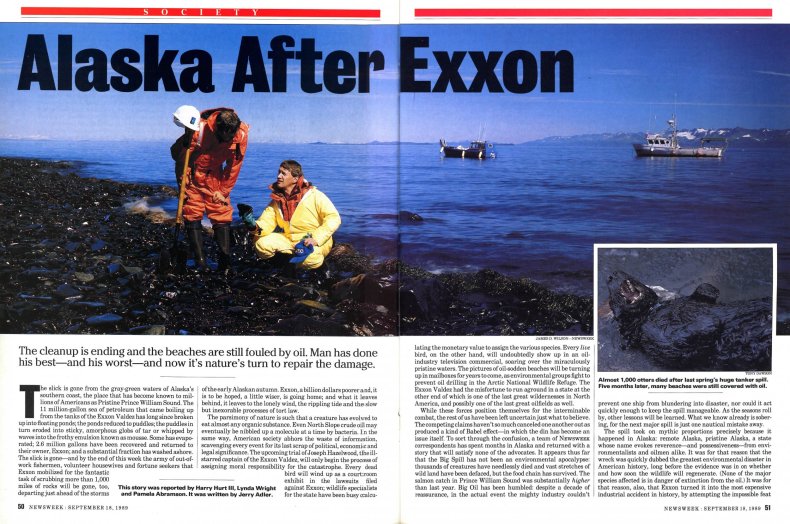 We're reprinting some of our original photos, documenting the devastation to the environment, wildlife, and the people of Alaska, as well as a feature from 1989 on how to address future spills. The main takeaway from this mess, according to George Oberholtzer, then-director of the National Spill Control School in Corpus Christi, Texas, is "an oil spill never happens the way the contingency plan said it would. You need someone on the scene with authority to act."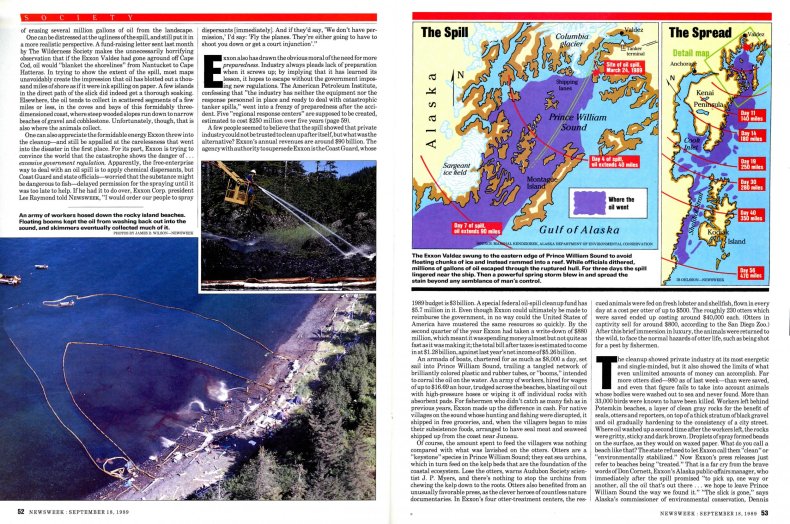 The Spill Next Time: What Needs to Be Done
Sharon Begley with bureau reporters
Short of an outright ban on oil tankers, there is no way to prevent another Exxon Valdez—if not off Alaska, then in the Gulf of Mexico, off Cape Cod or along the California coast. Governments can only improve the odds. After the Amoco Cadiz spilled 1.3 million barrels of oil off Brittany in 1978, for instance, France moved the tanker corridors farther off coast, put them under closer surveillance and gave maritime officials the power to do almost anything during a spill, from requisitioning private tugboats to mobilizing the Navy. If a Big One occurs again, as is all but inevitable, minimizing the damage will take better equipment, logistics and chains of command than exist today.
Spill-containment gear hasn't gotten much more sophisticated since the days when crude oil was destined for a late-model DeSoto. About the only devices that are at all effective in turbulent water are sea curtains: Exxon used these two-foot-high containment booms in the Gulf of Alaska to corral oil more efficiently than the standard short boom, which the oil sloshes right over. The real problem is that the equipment to control a megaspill hasn't been invented. What Exxon urgently needed were skimmers that can operate in high seas (current ones work only in calm water), oil "mops" with more absorbent polypropylene pom-poms, and anything to collect the tar balls and frothy "mousse" that form when oil erodes and gets whipped by wind.
Scientists have made progress toward biological and chemical agents to control oil. Naturally occurring marine microbes eat petroleum; by adding fertilizer to tainted waters, the microbes flourish and consume barrels and barrels of the lost crude. The challenge is to make the bugs work quickly and in frigid waters. Chemical dispersants break crude into microscopic droplets, but in large doses they can be toxic to marine life. To find greater acceptance, dispersants will have to be safer. The same goes for chemical herding agents, which Oberholtzer, director of the National Spill Control School in Corpus Christi, Texas, likens to bumpers: spread along a beach, they push advancing oil out to sea, where it forms patches that can be mopped up. Herding agents can be toxic, too.
Fire Gong: The best equipment is worthless if it can't get to the spill in time. Britain stores dispersants at 12 huge depots along the coast, but Exxon did not have anywhere near enough dispersant close to the Valdez to control a large spill. "Equally important is having trained experts who can respond like a fire department when the gong goes off," says Royal Nadeau, a spill expert at the U.S. Environmental Protection Agency. To meet that need, the oil industry announced in June the creation of the Petroleum Industry Response Organization. PIRO, with initial funding of $70 million to $100 million, will establish five regional centers to fight spills, says Jack Costello, a veteran Coast Guard man who came out of retirement to head PIRO. Each of the planned staging areas will be staffed around the clock and will be equipped to respond to a spill of 200,000 barrels.
As crucial as gear and manpower is the will to use both—fast. Now, an on-scene coordinator, usually the local Coast Guard commander, is nominally in charge. But he can be buffeted by so many opposing groups that he's hogtied. Frank Iarossi, president of the Exxon USA Shipping Co., recommends naming a spill "dictator" with unquestioned authority. "An oil spill never happens the way the contingency plan said it would," says Oberholtzer. "You need someone on the scene with authority to act." Once a slick is spreading, democracy and oil don't mix.