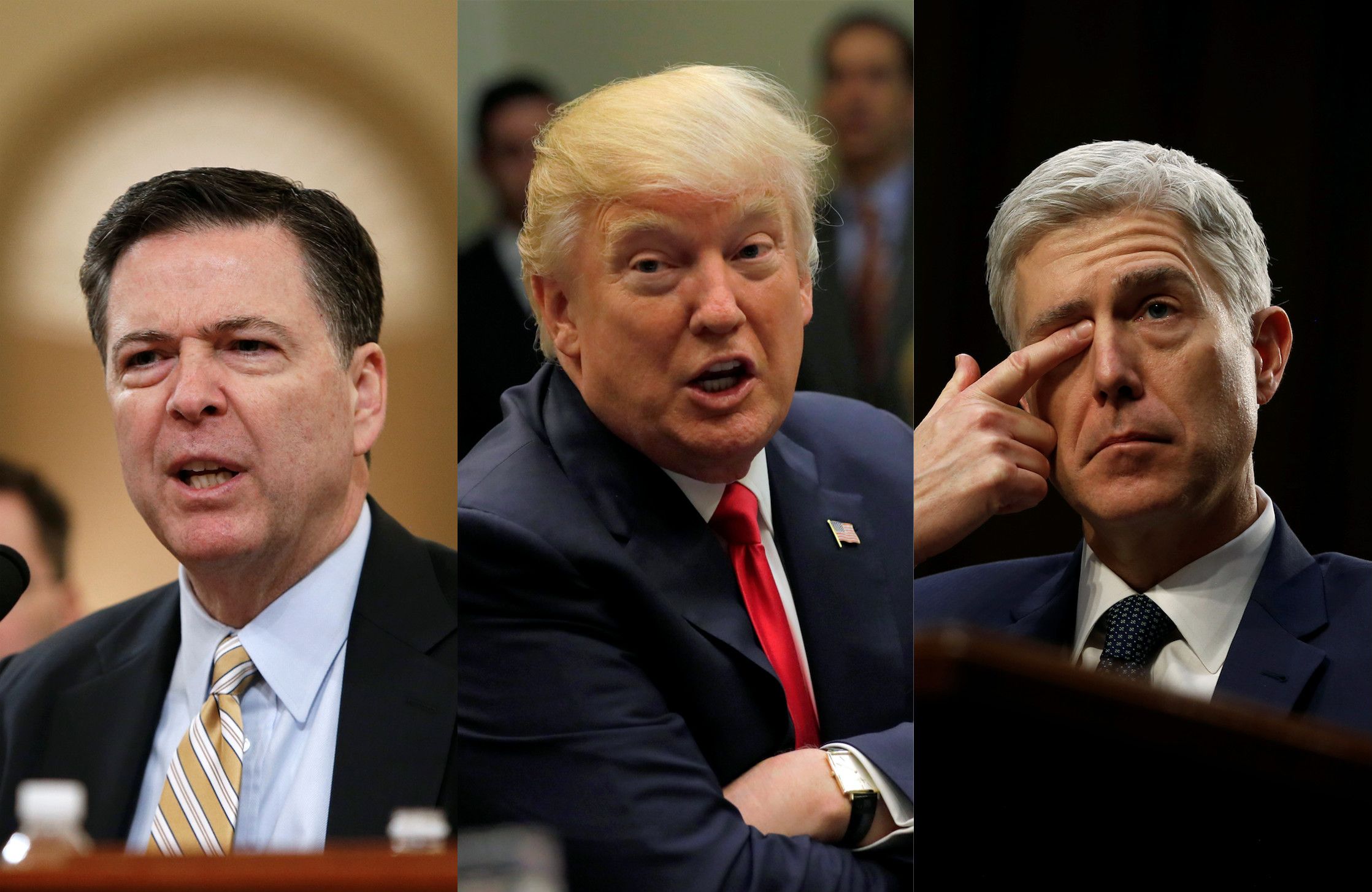 As we noted in December, 2016 was one of the weirdest years in recent memory. After only three full months, 2017 might already have it beat. Regardless of how much time you spend on the internet, it's virtually impossible to keep up with what's going on. Even our president doesn't seem to have much interest in staying informed, all due respect to Fox and Friends.
So, starting today, we're going to provide you with an end-of-week summary of some of the important stories you may have missed. It's called "Newsweek TL;DR" and we promise it won't take up much of your time.
FBI Director James Comey attempted to go public as early as the summer of 2016 with information on Russia's campaign to influence the U.S. presidential election, but Obama administration officials blocked him from doing so, two sources with knowledge of the matter told Newsweek. Well before the Department of Homeland Security and the Office of the Director of National Intelligence accused the Russian government of tampering with the U.S. election in an October 7 statement, Comey pitched the idea of writing an op-ed about the Russian campaign during a meeting in the White House Situation Room over the summer.
tl;dr: He wanted to write an op-ed.
In 2006, the federal government realized that chemicals used to make furniture flame retardant were—surprise, surprise—hazardous. Polybrominated diphenyl ethers, or PBDEs, were banned, but that doesn't mean its effects aren't still being felt over 10 years later. Though the presence of the chemicals in people's houses and bodies was found to have declined as a result of the ban, a new study suggests that may no longer be the case, particularly in women. The study's author feels this may be the result of the ways in which the act of getting rid of old furniture can infuse the environment with these hard-to-destroy chemicals. Though PDBEs were banned in 2006, similar chemicals are now being used, the health effects of which have yet to be studied.
tl;dr: Your ottomans are killing you.
At first, Evan Buechley, a doctoral student at the University of Utah, was disappointed. He'd spent a lot of time and effort dragging a cow carcass to a wild area in the northwest part of the state and then staking it down to study what scavengers might come to eat it, and how. But it appeared that some creatures, perhaps a band of coyotes, had managed to drag it away. But his chagrin turned to elation upon downloading photos from the motion-triggered camera next to the kill: The pictures revealed a badger completely burying the cow, something that has never been witnessed before. And it didn't end there.
tl;dr: Don't mess with honey badger.
Abortion may be legal in the eyes of the Supreme Court, but that hasn't stopped conservative states from doing whatever they can to restrict access to the procedure. The latest to do so is Kentucky, where the state's only abortion clinic is on the verge of closing after a dispute over emergency medical treatment. The ACLU isn't having it, though. The organization filed a lawsuit on Wednesday alleging that the state's threat of shutdown came "out of the blue," and that the state approved the same agreement it is now disputing when it renewed the clinic's medical license. "The state's bureaucratic sleight of hand is fooling no one. This is an attempt to ban abortion in Kentucky, plain and simple," Brigitte Amiri, senior staff attorney with the ACLU's Reproductive Freedom Project, said in a statement on Wednesday. "We are fighting to keep this from happening."
tl;dr: Kentucky is not the most progressive state in the union.
During Wednesday's Women's Empowerment Panel at the White House, Trump didn't come across as particularly learned about the women who have shaped American history. "Since the very beginning, women have driven—and I mean each generation of—Americans toward a more free and more prosperous future," he said before running down the accomplishments of Abigail Adams, Harriet Tubman and Susan B. Anthony, his eyes never straying from the teleprompter. The remarks about Anthony drew criticism, but Trump was clearly joking here. We think. It's entirely possible—perhaps even likely—that Trump had no idea who Susan B. Anthony was before it was suggested to him that he mention her on Wednesday. It also wasn't the first time that Trump has made a history-related gaffe since he entered the political arena. In honor of the "very, very courageous" Tubman—whom Trump suggested should be placed on the out-of-print $2 bill but not the $20 bill, as had been proposed—we take a walk through some of the other times the president has demonstrated a lack of respect for, knowledge of or reverence to those who struggled to make America so breathtakingly free that a reality star could be elected to its highest office.
tl;dr: Lol nothing matters.
If there's any demographic of American worker that Donald Trump has tailored his rhetoric around, it's the coal miner. Kurt Eichenwald writes, however, that Trump's bluster about saving the industry is just that. Though he signed an coal-friendly order reversing the Obama administration's Clean Power Plan on Tuesday, the government's power to "save" struggling, antiquated industries, Eichenwald contends, is overstated. "Laws could be passed providing new federal support for the buggy whip industry, but that business is not coming back," he writes.
tl;dr: Trump is full of natural gas.
S-Town, released this week, is a podcast unlike any other. Whereas its cousin Serial threw itself deeply toward an endpoint, toward the answer of a question, S-Town started down one path, meandered to another and eventually lingered in a tiny Alabama hamlet to tell the story of one man and his home. Throughout the seven episodes of S-Town—short for Shittown—the principal through-line holding the story together is the extraordinary life of John B. McLemore. In a story that ostensibly began with false rumors of a murder in town, listeners go on to learn the many sides of McLemore. He was one of the world's foremost repairers of antique clocks, a doomsday believer obsessed with climate change, a gay or bisexual liberal who hung out with racists in an Alabama tattoo shop, an amateur horticulturist, a likely genius, a man who long-struggled with mental health issues and a lonely bachelor who, improbably, had friends across the globe. It's hard to listen to the podcast and not have your mind fixed on John B., as most folks called him—his elegant, obsessive rants, his many contradictions, his life cut tragically short by suicide and his continuing legacy. The internet, predictably, has become obsessed with the podcast that has topped the charts since it came out.
tl;dr: You can't keep secrets from the internet, and you shouldn't even try.
Oakland may be one of America's fastest-growing cities, but that isn't stopping the Raiders, who have called the Bay Area home since 1995 (as well as from 1960-1981), from packing their bags for the glitz and glam of Las Vegas. On Monday, NFL owners voted overwhelmingly in favor of approving the move, which is likely to happen following the 2018 or 2019 season. Newsweek's John Walters proposed a few creative ways the team can grow accustomed to their new home, such as enlisting Wayne Newton to perform the national anthem, hiring cocktail waitresses to patrol the sidelines and allowing coaches to "double down" on third-and-long situations. Why not? It's Vegas.
tl;dr: Who knew gambling and the NFL could coexist?
Senate Minority Leader Chuck Schumer announced this month that he would vote against confirming Trump Supreme Court nominee Neil Gorsuch, and urged Senate Democrats to join him and filibuster the selection. Trump and Majority Leader Mitch McConnell have threatened to change the rules and lower the number of senators required to confirm a nominee should Democrats try to stop the appointment, but Schumer wants to convince Republicans to choose another nominee rather than resorting to this "nuclear option." His efforts may be for naught, though. Senate Republicans have expressed nothing but admiration for Gorsuch, and they seem poised to do whatever it takes to ensure his confirmation.
tl;dr: Pray for Chuck Schumer
Jean-Claude Juncker, the president of the EU's policy-making wing, is a man entirely unafraid to express his opinion. Speaking Thursday at a conference in Malta, Juncker, the head of the European Commission, declared that if Trump continued to support Brexit, he in turn would "promote the independence of Ohio and Austin, Texas." Though Juncker's comments were—Newsweek hopes—made in jest, they come at a time of growing European frustration with the Trump administration. This week alone, the White House has managed to spark a trade row with Germany, frustrate the G7, threaten an EU-U.S. data privacy agreement and irritate NATO. Small wonder then that Juncker's facial expression barely altered as he made his quip.
tl;dr: No one is safe.