On February 17, 1933, a new media venture called News-Week published its first issue. Here's what the cover looked like: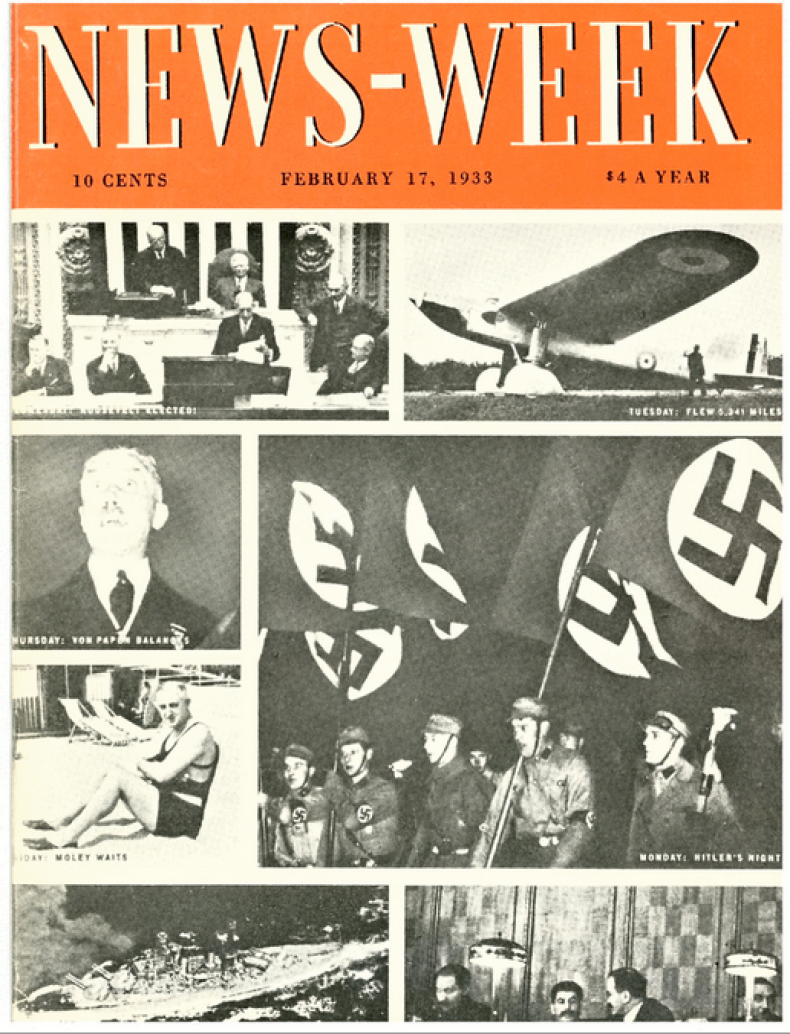 If you squint, you can see that the issue cost 10 cents—or $4 for a year's subscription. The Great Depression was in full swing, a reality that was reflected in the issue's headlines: "Easing Burdens of Debt and Foreclosure," "Roosevelt Seeks Governors' Aid," "Tradition Ignored in Chase Securities Statement."
But the nascent News-Week, with its narrow, newspaper-style columns and unbylined dispatches, still found space to report on athletics ("HORSES: Young Girl Upsets Even Tenor of Jockey Club"), foreign affairs ("Hitler and Frau Wagner Coupled in Romance") and new movies ("It is a beautifully restrained performance that John Barrymore gives in 'Topaze'"). There was also the curious case of the old woman "sacrificed to the gods of an obscure cult" in a county tucked into "the remote fastness of the Eastern Kentucky mountains." It's an odd and unsettling report from the scene, and it remains unclear how the national affairs publication stumbled upon the story. (You can read the full issue online here, via The Daily Beast and Scribd.)
The magazine, which has been styled as the single-word Newsweek since the late 1930s, was then funded by a handful of financiers, including MoMA president John Hay Whitney and Mellon fortune heir Paul Mellon. In 1937, businessman and philanthropist Vincent Astor took over as chairman and chief stockholder of the publication. In 1961, The Washington Post Company began its longtime ownership of Newsweek, which was sold to 91-year-old audio pioneer businessman Sidney Harman amid dwindling revenue streams in 2010. After a three-year merger with The Daily Beast under Tina Brown's editorship, Newsweek was purchased by IBT Media in August 2013 and announced profitability in 2014.
Which isn't to say Newsweek is celebrating 82 years in print. More accurately, the magazine will soon be celebrating one year (back) in print. Newsweek relaunched in March 2014, after briefly going all-digital at the end of 2012. Since then, with a smaller distribution model, Newsweek has published cover stories ranging from Silicon Valley sexism and assisted suicide to exposing the fabrications of anti-sex trafficking advocate Somaly Mam. There wasn't a Newsweek.com in 1933 but there is now, so have a look at this week's issue here.