Newsweek's 1966 Feature on The Beatles Didn't Mention 'Revolver' Once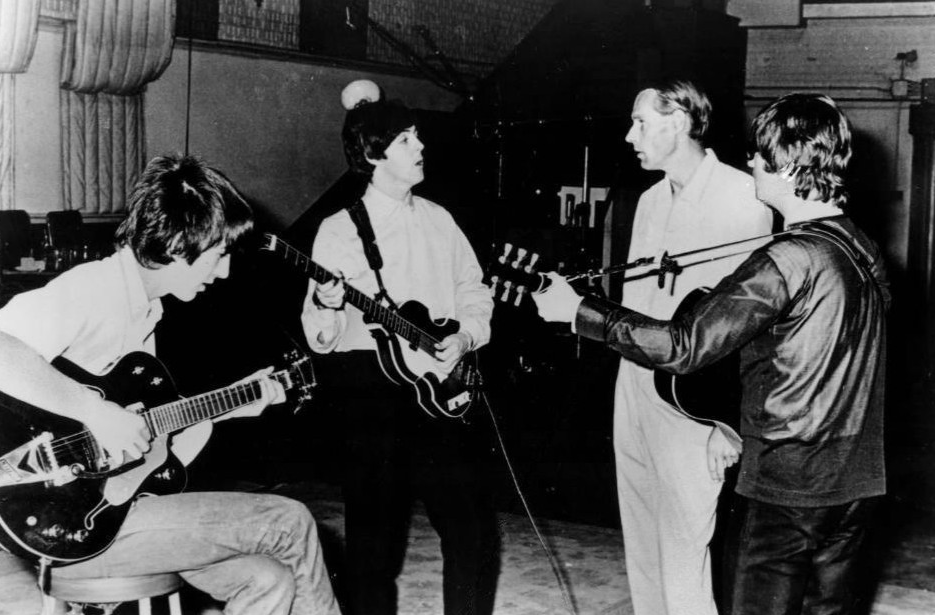 Fifty years ago today, the Beatles released Revolver, an album that would revolutionize pop music. Apparently, nobody told Newsweek. When we published a piece on the Beatles several weeks later, under the headline "Blues for the Beatles," we didn't bother to mention the record once. Instead, the article focused on the fall-out following John Lennon's "more popular than Jesus" remark and pondered whether the Fab Four's years of selling out stadiums was over. (We weren't too far off—the 1966 tour indeed was the Beatles' last, although the group's most influential studio period had barely begun.) Today, this piece is available on our website for the first time.
"John, please don't go. They'll kill you," screamed one of the 500 young Beatlemaniacs who braved the London rain last week to watch John, Paul, George and Ringo board a Pan Am clipper for the U.S. and their fourth American tour, a 14-city jaunt winding up in San Francisco, August 30. And, for a time, it looked indeed as if there might be a jihad. Last March, Lennon, in a London interview, observed that the Beatles had more of a hold on teenagers than Jesus. When the interview was reprinted earlier this month in a U.S. teenage magazine, the reaction was swift: A Massachusetts legislator denounced the Beatles; disk jockeys around the U.S. banned their records, the South Carolina Grand Dragon of the Ku Klux Klan burned a Beatles disk on a cross. While Lennon didn't fear for his life, he admitted: "We've never left for America with this sort of feeling before. Frankly, I'm worried."
To add to the Beatles' woes, Mayor William Ingram Jr. of Memphis announced that the 14-city tour would be a thirteen-city tour, citing his "duty to protect Memphians against the Beatles' use of the public coliseum to ridicule anyone's religion." On the secular front, reports that the Beatles' August 23 date at New York's Shea Stadium (capacity: 56,000) was only 80 percent booked suggested that the Beatles' era of sure-fire sellouts had passed.
The Beatles have always joked about "The Downfall," that slow but inevitable skid down the record charts that any pop group must face sooner or later. Time, in fact, has turned the prosperous quartet into solid Establishment businessmen. Three—John, George and Ringo—are married and live close together in Weybridge, an upper-crust suburb of London. Their music, now baroque and folk, has cooled off many who used to pack the palladiums. Lamented one dedicated fan, 15-year-old Cissy Benkoczy of Glen Cove, New Yor: "Last year they played more blues stuff. It moved you more. You felt more."
Married, rich and rococo, the Beatles nevertheless turned on the teenagers in Chicago. Three girls invaded their plane at O'Hare International Airport last week and pinched the pillow slips on which the group had rested their celebrated heads. Later, at the Astor Towers, one of 200 shrieking sentinels suffered facial lacerations when a service elevator closed on her as she tried to breach the Beatles' bastion. On the charts, the Beatles' newest single, "Yellow Submarine," leaped to 24 in its first week among Cash Box magazine's top 100. "My friends and I don't agree with what John said," explained one loyal teenager, "but we've loved the Beatles for three years and just can't stop now."
At a Chicago news conference arranged so Lennon could apologize, the Beatles' lyricist and composer, obviously nervous and pale, tried to smooth the way for the upcoming tour. "I do believe Christianity is shrinking...that doesn't mean that I have un-Christian thoughts," Lennon told sympathetic reporters. "I could have said TV, cinema or big cars were more popular than Jesus. Sometimes we forget we are Beatles and say things we'd say to a friend across a bar. I am sorry I opened my mouth." But the publicity didn't hurt in Chicago. Over the weekend, sellout crowds heard Lennon open his mouth. "Lennon forgiven," summed up The Chicago Daily News. "Beatles mosey on, richer than ever."
This article originally appeared in the August 22, 1966 issue of Newsweek.