Newsweek's Annual List: The Best High Schools in America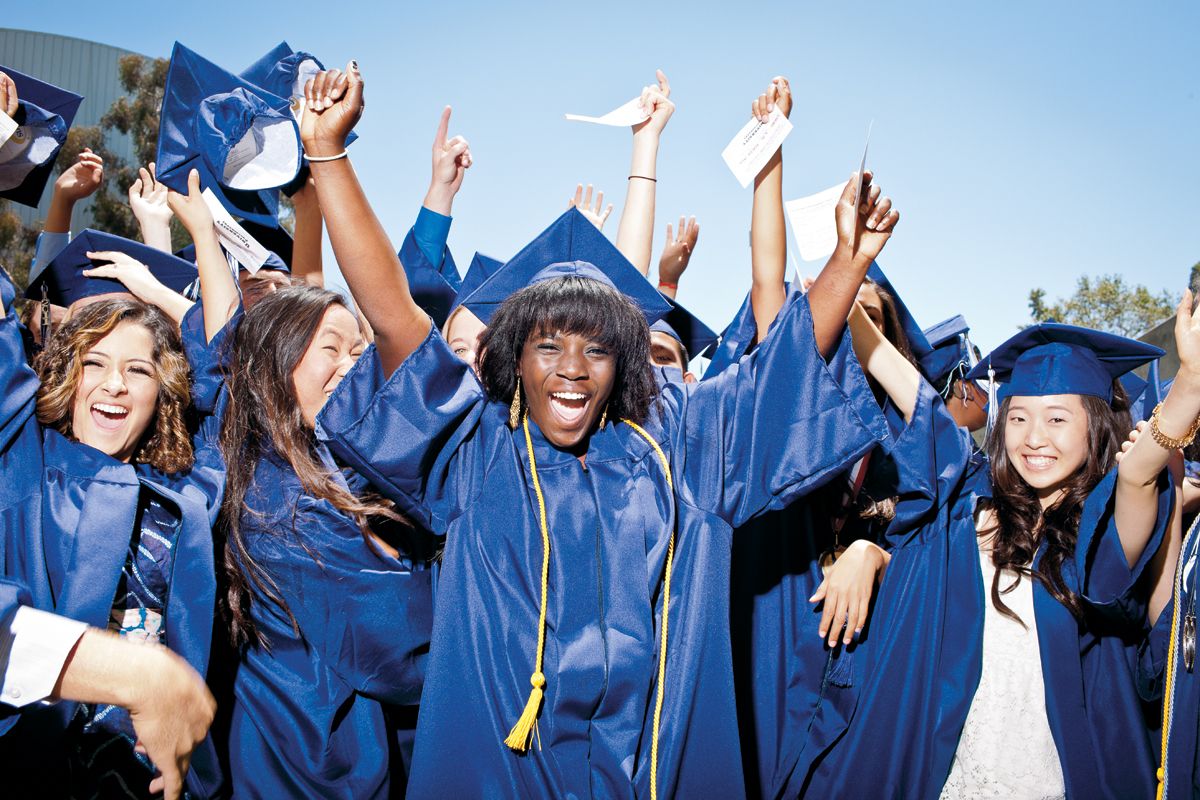 On any given morning, the halls of the School of Science and Engineering in Dallas look like most public high schools—nondescript classrooms packed with bleary-eyed students bent over ponderous textbooks. The difference is the time: this scene plays out each school day at 7:30 a.m., 90 minutes before class officially starts, and it will repeat for a solid hour after the day's final bell, as students at this magnet school cram in as much daily, organized study as possible.
The discipline is systemic—teachers sit shoulder to shoulder with the students during this extra study time—and it's nurtured before matriculation. Incoming freshmen spend the last weeks of summer in "boot camp" to learn math and Java programming. Last year, all 86 seniors graduated, had an average SAT score of 1786, and went to college, even though most of them qualify for a subsidized school lunch. Science and Engineering's system works so well, in fact, that it landed the No. 1 spot on NEWSWEEK'S annual list of the top public high schools in America.
Rather than focus, as in the past, on one metric (AP tests taken per graduate), we consulted a group of experts—Wendy Kopp, founder and CEO of Teach For America; Tom Vander Ark, CEO of Open Education Solutions and the former executive director for education at the Bill & Melinda Gates Foundation; and Linda Darling-Hammond, Stanford professor of education and founder of the School Redesign Network—to develop a yardstick that fully reflects a school's success turning out college-ready (and life-ready) students.
These are challenging times for secondary education. Cash-strapped school districts are cutting back; No Child Left Behind mandates test results; parents and students fret incessantly. This Waiting for 'Superman' reality craves solutions, and so NEWSWEEK, which has been ranking the top U.S. high schools for more than a decade, revamped its methodology for 2011 in the hopes of highlighting some.
Our new criteria have six components: graduation rate (25%), college matriculation rate (25%), and AP tests taken per graduate (25%), plus average SAT/ACT scores (10%), average AP/IB scores (10%), and AP courses offered per graduate (5%).
In all, more than 1,100 of America's top public high schools supplied internal data, and NEWSWEEK culled from there. That brings us back to Dallas's top-rated School of Science and Engineering, which is familiar with accolades (it has landed among the top-five high schools on NEWSWEEK'S list since 2006) and the challenges most schools face. Some 62% of its students qualify for subsidized lunch, and the Texas legislature seems poised to subtract $164 million from the district's budget in the next two years.
"Our major goal is to continue with the standard of service we've provided for years and years," says Principal Jovan Wells. That means offsetting larger student-teacher ratios—27 percent of its faculty face elimination—with more one-on-one tutoring, and a more intimate overall environment (the entire school population: less than 400). "This is more of a family atmosphere," says Wells. When students return home during college breaks, "most of them come here first. We get invitations to their college graduations."