Newsweek's David Ansen Names Top 10 Movies of 2010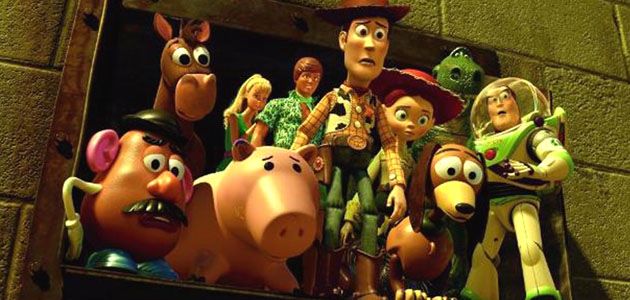 Toy Story 3 is a marvel of animation.
The year 2010 will not be remembered as a vintage year for movies, but it was better than most people will ever know. Unless you were in the privileged position to see movies at film festivals around the world, you'd have no idea how many good movies never see the light of day in U.S. theaters. Distributors are running scared, and loath to take chances on foreign films, documentaries, or independent films that, without massive marketing campaigns behind them, routinely get lost in the fog of our mass-media culture.
I looked at movies in a different way this year, for after decades as a critic, I took on a new role as a programmer, in my job as artistic director of the Los Angeles Film Festival. This meant, among other things, that I watched more movies than I ever have before—some of which deserve their obscurity, but many of which were gems that, back in more cinéaste-friendly days, would have been scooped up by buyers and brought to your local art house. Now you'll be lucky to find them on Netflix.
My new gig also meant that, for the first six months of the year, I didn't have time to see most of the mainstream commercial releases—and I can't say I missed much. Hollywood, in heavy recycling mode, was rolling out product like mayonnaise, little of which could hold a candle to the best TV was offering. Unless you have a bottomless appetite for superheroes (or vampires), the nervous masters of the universe who run the big studios are not interested in you as an audience. How they will cope with the public's inevitable fatigue with these two-dimensional genres is an economic train wreck waiting to happen, and that will be amusing to watch. In the meantime, here are 10 wonderful exceptions to the Hollywood rules:
When Malik (Tahar Rahim), a Frenchman of Arab descent, enters prison, he is an illiterate 19-year-old enigma, beginning a six-year sentence for a crime he claims he didn't commit. When he emerges, at the end of Jacques Audiard's astonishing saga, he has transformed himself into a sage and cunning criminal: he's taught himself to read, to murder, and to navigate the kill-or-be-killed rules of prison life. Though Malik commits terrible acts, he remains a fascinating and sympathetic figure, a pure and model product of his savage environment. Niels Arestrup gives a haunting performance as the brutal Corsican prison lord who takes Malik under his wing. Audiard (Read My Lips) has never made a bad film, but here he rises to a new level. A Prophet ranks with the great prison movies of all time.
Real heroism—not the fake superpower kind—came to the screen in the form of 17-year-old Ree Dolly (Jennifer Lawrence), a flinty Ozark teenager with a crazy mom, two younger siblings to care for, and a missing drug-dealing father she has to find in a week or the banks will foreclose on her home. Debra Granik's tense, enthralling adaptation of Daniel Woodrell's "Ozark noir" plunges us into an ingrown, terrifying world of meth labs and fierce family loyalties and betrayals. Part crime thriller, part coming-of-age story, part Southern Gothic, Winter's Bone has the nightmarish beauty and timeless power of a Grimm fable. The gifted Lawrence; John Hawkes as her complex, meth-snorting uncle, Teardrop; and Dale Dickey as a hatchet-faced mountain woman give performances that will haunt you long after the lights come up.
Katie Jarvis had never acted before director Andrea Arnold (Red Road) cast her as the furiously antisocial, foulmouthed 15-year-old Mia, and she's pure dynamite. So is Arnold's movie. Mia, who lives in a bleak English housing project with her little sis and party-girl mum (Kierston Wareing), would rather head-butt you than say hello. Temperatures rise with the arrival of mum's hunky new Irish boyfriend (an amazing Michael Fassbender), whose paternal feelings toward Mia take an erotic turn. This rough and ferocious coming-of-age story reeks of hormones, anger, and surprising flashes of hope. It confirms Arnold—who won an Oscar for her short, Wasp—as one of the U.K.'s most explosive young directors.
There was no smarter or more entertaining movie about marriage and family than Lisa Cholodenko's witty and moving tale of a lesbian couple whose teenage kids decide to search out their biological father. Annette Bening, as a control-freak doctor, and Julianne Moore, as a flaky landscape designer, lit up the screen as partners whose marriage is going through a rocky patch. As the laid-back, motorcycle-riding ladies' man who charms his way into the family, Mark Ruffalo did his best work in years. Cholodenko and Stuart Blumberg's wise and funny screenplay moved effortlessly from laughs to tears, the writers's ears perfectly attuned to the lingo and lifestyle of a 21st-century Los Angeles family whose hearts are not always in sync with their minds.
It may be true that this tale of a stuttering king and the iconoclastic Aussie speech therapist who helps him find his voice follows a familiar therapeutic formula, but when it's as smashingly well done as this, only a film snob could complain. David Seidler's adroit and deeply felt screenplay allows Colin Firth and Geoffrey Rush to put on a master class in acting, and director Tom Hooper mounts this sumptuous period piece with impeccable savvy, expertly and honorably playing on our heartstrings. I suspect The King's Speech will become a staple of people's DVD collections: it's just as good—maybe even better—on second viewing.
Pixar has become a staple on everybody's top 10 lists ever since the first Toy Story, and with damn good reason: they are the gold standard of animation. The final installment of the trilogy, in which the toys must deal with the terror of abandonment when their beloved Andy goes off to college, managed to make grown men cry. I saw TS3 just after seeing (and enjoying) the much-lauded Inception, and it struck me that the dark poetry of the Pixar movie captured the logic of dreams far more accurately than Christopher Nolan's more mechanically complicated film. For nonstop inventiveness mixed with real feeling, Toy Story 3 is hard to beat.
I went to the screening of this five-and-a-half-hour epic bracing for an endurance test—and was astonished how fleetingly and enthrallingly those hours zipped by. Director Olivier Assayas, training his fluid, sophisticated camera on the international terrorist Carlos the Jackal, keeps you in his grip from start to finish, aided by a flawless performance from Édgar Ramírez as the narcissistic, shape- and ideology-shifting assassin who starts as a sleek young ideologue and ends as a bloated mercenary. Whether you see it on three separate nights or in one rich gulp, Carlos is a wild, smart, and nerve-racking ride.
The brilliant, rapid-fire first scene, in which Harvard undergrad and Facebook founder Mark Zuckerberg gets dumped by his girlfriend, establishes the snappy, mile-a-minute tone of director David Fincher and writer Aaron Sorkin's wicked anatomy of entrepreneurial chutzpah. It's got the rat-a-tat dazzle of an old Howard Hawks comedy like His Girl Friday, but where Hawks made movies celebrating men in groups, The Social Network depicts a techno-geek world made up of men who can't relate to anything but a computer screen. Jesse Eisenberg, as the brilliant, arrogant, emotionally skittish Zuckerberg, is dead-on perfect. Whether his Zuckerberg bears any resemblance to the real Zuckerberg is debatable: Sorkin ascribes motives to him that may say more about Sorkin than his subject. But accurate or not, it's a riveting panorama of our brave, chilly, Asperger-ish new world.
Jan Hřebejk's masterly film centers on an esteemed Czech professor of psychiatry who is about to be honored for his courageous dissident role during the Communist regime. His boorish son-in-law, who is having an affair, resents the pedestal upon which the urbane, dignified professor is placed, and it turns out that, in fact, his father-in-law had collaborated with the regime, betraying a man who was having an affair with his wife. Nothing, however, is black and white or heavy-handed in this nuanced, morally complex and beautifully acted movie. So far, Hřebejk's film has only opened in New York: hopefully, many more will get a chance to see this sophisticated and quietly devastating work.
David O. Russell's live-wire account of welterweight Micky Ward (Mark Wahlberg), the working-class hero of Lowell, Mass., transcends the usual triumph-of-the-spirit clichés of the sports movie. Its true subject is the wildly dysfunctional, suffocatingly loving family that both inspired and impeded Ward's career, from his fierce lioness of a mother/manager (Melissa Leo) to his crack-addicted, out-of-control brother, Dicky (Christian Bale), a former fighter who trains his younger brother to absorb inhuman amounts of punishment in the ring. Urgent, gritty, and sometimes weirdly funny, The Fighter, which costars Amy Adams as Micky's tough and smart girlfriend, is a cavalcade of bravura acting—none more flashy, or terrifying, than Bale's creepily cadaverous Dicky, who is both the movie's heel and unexpected hero.