Newsweek's Foreign Service Podcast: Putin the Puppet-Master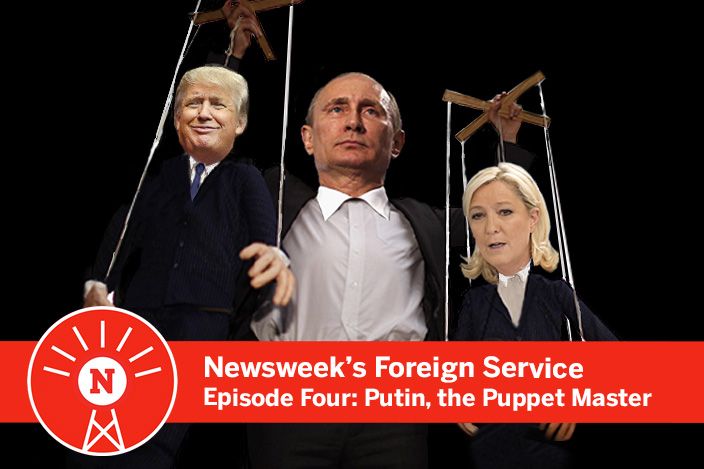 You can subscribe to Newsweek's Foreign Service on SoundCloud, Acast and on iTunes.
Episode four of Newsweek's Foreign Service podcast looks at Russian President Vladimir Putin's attempts to influence the political processes in Europe and the U.S.
Much has been made of Donald Trump's support for Putin, who the Republican presidential nominee has praised as a true leader. Though the pair maintain that they have no direct relationship, their seeming closeness has prompted questions. Trump's campaign manager Paul Manafort, has worked for former Ukrainian President Viktor Yanukovych—an ally of Putin's.
On Monday, the Democratic Presidential Candidate Hillary Clinton claimed that Russian intelligence services had hacked into emails sent by senior figures in her party. The messages proved damaging, suggesting that the Democratic party establishment had colluded to undermine Clinton's left-wing challenger, Bernie Sanders.
Over in Europe, Putin has lent his support to far-right and far-left parties who tend to be anti-EU. One of the more powerful of these is France's Front National, led by Marine Le Pen. She has twice asked Russia for financial support, as she prepares to run for president in 2017.
So, what is Putin's eventual aim for both the U.S. and Europe, and how influential is he really? Find out as we discuss with Heather Williams, a lecturer at King's College London with a focus on US-Russian relations and nuclear policies, and Jacob Parakilas, assistant head of the U.S. and the Americas program at the U.K. think-tank, Chatham House.
Catch up on all the previous episodes of our podcast here.
Newsweek's Foreign Service is presented by Josh Lowe, produced by Mirren Gidda and recorded and edited by Jordan Saville and William Brooks.