Newsweek's Foreign Service Podcast: Populists vs. Professionals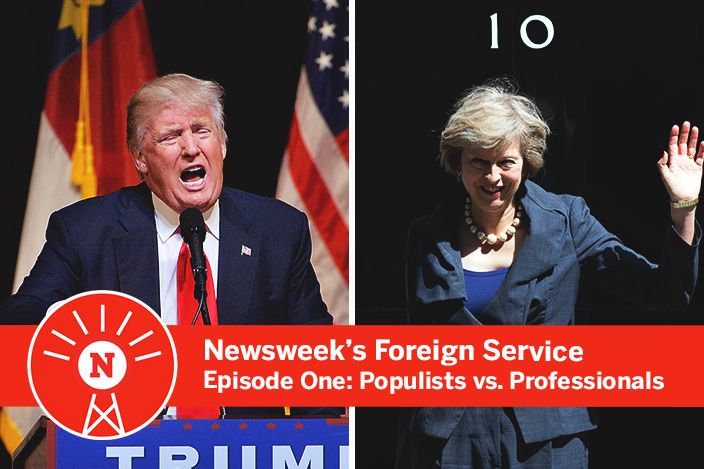 You can subscribe to Newsweek's Foreign Service on SoundCloud, Acast and on iTunes
Episode one of Newsweek's Foreign Service podcast debates the question—what happens when populists face off against the professionals?
July 18 marks the start of the Republican National Convention in Cleveland, Ohio. For Donald Trump, the party's presumptive presidential candidate, this has to be the moment when he unites his fellow Republicans and proves to the party and the U.S. that he can be president.
Trump has already said that he will be more on-message at the conference, perhaps indicating that he will tone down his populist rhetoric in favor of a more measured, statesman-like persona. But, when he gets up on the stage, will he manage to stay calm or will the lure of cheering crowds prove irresistible?
Perhaps more importantly, should someone like Trump feel that they have to master the conventional approach to steer a party or a country?
This question is relevant to British politics too. The country's EU referendum saw anti-Europe campaigners surge to victory by masterfully manipulating mass discontent with traditional politics.
Despite their majority, none of these campaigners—among them Boris Johnson, Michael Gove and Andrea Leadsom—were able to keep up their momentum after the campaign. Britain's new prime minister is very much an establishment figure, and a quiet "Remain" supporter, the former Home Secretary Theresa May.
Joining Newsweek's Josh Lowe to discuss all this are Leslie Vinjamuri, an associate fellow at Chatham House's U.S. program and an associate politics professor at SOAS University, and Charlie Wolf, a political commentator and former communications director for Republicans Abroad.
Catch up on all the previous episodes of our podcast here.
Newsweek's Foreign Service is presented by Josh Lowe, produced by Mirren Gidda and recorded and edited by Jordan Saville.