Newsweek's Foreign Service Podcast: Islamophobia On the Rise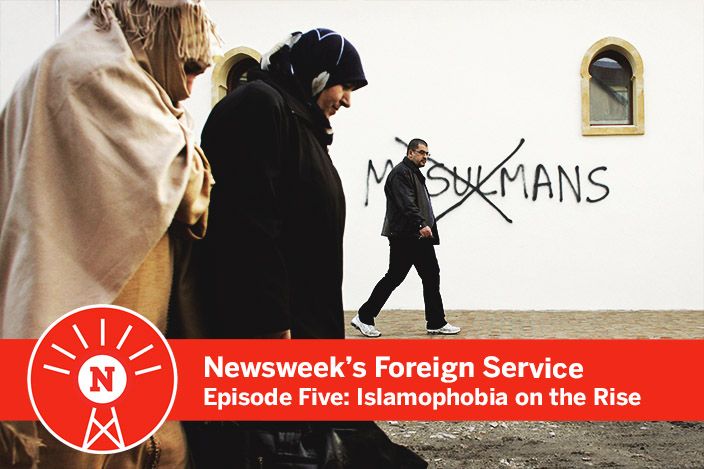 You can subscribe to Newsweek's Foreign Service on SoundCloud, Acast and on iTunes.
On Saturday, Imam Maulama Akonjee and his assistant Thara Uddin were shot and killed as they walked through Queens, New York after prayers.
Oscar Morel, 35, has been charged over the killings, although police have not announced a motive for the attack. But whether or not the incident is formally classified as a "hate crime," and many in New York's Muslim community have argued strongly that it should be, it highlights the growing threat to Muslims living amid rising Islamophobia in the United States.
New York Mayor Bill De Blasio said after the attack that Muslims live in the "perpetual crosshairs of bigotry."
His comment doesn't just apply to Muslim New Yorkers, or Muslim Americans. In Europe, Muslims are being subjected to mounting Islamophobia, particularly in the wake of a spate of terrorist attacks carried out by people allied with the Islamic State militant group (ISIS).
In France, several coastal towns have banned the burkini, a form of swimwear worn by some Muslims, saying that it violates the country's laws on secularism. In June, a study found that more than 40 percent of Germans believe Muslims should be banned from coming into the country.
Why is Islamophobia on the rise in the U.S. and Europe, and how do we combat it? Find out as we discuss this topic with Shaista Ahmad Sheehan, a Liberal Democrat peer in Britain's House of Lords, and Hussein Kesvani, a consultant at Theos, a religion and public affairs think-tank.
Catch up on all the previous episodes of our podcast here.
Newsweek's Foreign Service is presented by Josh Lowe, produced by Mirren Gidda and recorded and edited by Jordan Saville.