Abolishing Electoral College Would Incentivize Illegal Immigrants to Vote Democrat, Newt Gingrich Claims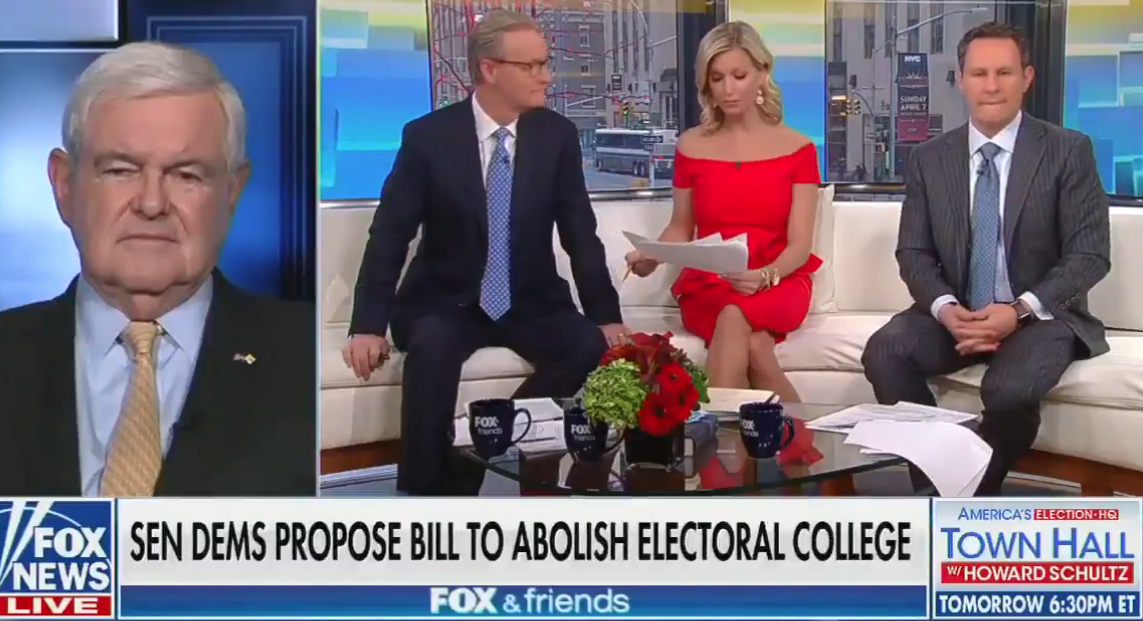 Former Republican House Speaker and Fox News contributor Newt Gingrich claimed Democrats would absolutely try to "steal the election" and have illegal immigrants vote should the U.S. dismantle the Electoral College.
Speaking on Fox & Friends Wednesday morning, Gingrich mocked the Democratic-led Senate proposal to abolish the Electoral College system ahead of the 2020 presidential election. Gingrich said the move would lead to election chaos and compared it to the Palm Beach County ballot debacle during the 2000 election. He lamented a frequently cited argument that the most populous states of New York and California would have too much sway in the presidential elections.
Gingrich said the Senate Democrats behind the Electoral College dismantling proposal -- Sens. Brian Schatz of Hawaii, Dick Durbin of Illinois, Kirsten Gillibrand of New York and Dianne Feinstein of California -- are in favor of the idea because they want illegal immigrants to vote.
"I think if you want to set up a single nationwide count so we could have the Palm Beach story nationwide, and you could have the maximum incentive for Democrats to steal the election," the former GOP House Speaker in the 1990s told Fox & Friends. "And the maximum incentive for Democrats to have illegal immigrants voting, it's a terrific idea. And I think anybody who believes in having a totally corrupt nationwide system ought to be in favor of it."
"But if you think it's better to have a decentralized system, Gingrich continued. "And by the way, I want to see these candidates for president go to Iowa and go to New Hampshire and explain why they think in the future no presidential candidate should worry about any place except New York and California."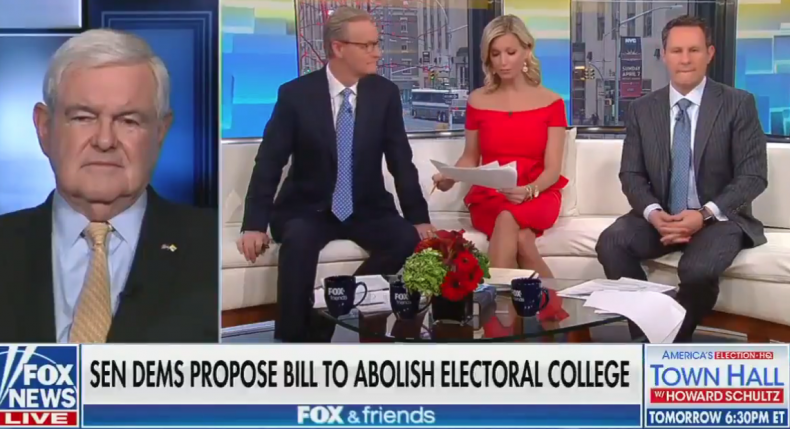 The move by Senate Democrats to propose abolishing the Electoral College system serves as companion legislation to a bill pushed by Tennessee Democratic. Rep. Steve Cohen in the House. Wide swaths of Democratic voters are motivated to eliminate the Electoral College after two elections -- 2000 and 2016 -- were lost to Republican presidential candidates who actually had fewer overall votes. Both George W. Bush and Donald Trump won their respective elections against Democratic candidates Al Gore and Hillary Clinton, who actually won the popular vote.
The Electoral College system, which seeks to prevent candidates from campaigning only in the country's largest cities, has been criticized for skewing the demands of the country's true majority. Although conservatives and conspiracy theorists frequently float claims of widespread illegal voting the accusations against Democrats are widely unproven.
"Before the 2000 election, I introduced a bipartisan resolution to amend the Constitution and create a system of direct election for presidents," Durbin said in a statement. "And I still believe today as I did then that the Electoral College is a relic from a shameful period in our nation's history, and allows some votes to carry greater weight than others."
Gillibrand, a 2020 candidate herself, said the Electoral College has "distorted the outcome of elections and disenfranchised millions of voters." Another 2020 Democratic hopeful, Beto O'Rourke, has also repeatedly called for the abolishment of the bureaucratic system.
On Fox & Friends Wednesday, Gingrich also addressed Trump's potential shutdown of the southern U.S. border with Mexico, urging the president against it because of it's negative impact on the economy.
"I think that the consequences to the economy, to our relationship with Mexico, to millions of families would be absurd," Gingrich said. "I would strongly urge the president not to try to shut down the border. We have so many people every day who go back and forth. We have so much economic goods on both sides. It would truly be a mess and it would frankly mess up the very economy he is proud of. You would have tremendous side effects from closing the border."