Newt Gingrich Blasts 'Absurdity' of Democrats' Partisan Impeachment Inquiry Despite Leading Process Against Bill Clinton
A little over two decades after former Republican Speaker of the House Newt Gingrich led an overtly partisan impeachment inquiry against former President Bill Clinton, he is blasting Democrats in the House of Representatives for doing the same thing to President Donald Trump.
"I think this is an absurdity," Gingrich said during a Monday interview with Fox News America's Newsroom, during which he discussed the Democratic-led House Judiciary Committee's decision to vote this week on whether to set-up new procedures for an impeachment inquiry into Trump.
"Nobody believes that the Republican Senate is going to convict the president. Period," the former GOP congressional leader continued. "It's hopeless. It makes no sense at all," he added.
The ex House Speaker pushed successfully for the then Republican controlled house to impeach Clinton back in 1998. While Republicans controlled the Senate as well at the time, a two thirds majority of Senators is required to remove a president from office after they are convicted by the House.
At the time, there were 45 Democrats in the Senate and 55 Republicans. All 45 Democrats inevitably voted "not guilty" joined by five Republicans. For there to be a two thirds majority, at least 12 Democrats in the upper house of Congress would have had to vote for the president's removal, as well as every Republican. The Republican-led impeachment effort against Clinton is widely viewed as leading to the worst midterm election performance in more than six decades by a party that did not also hold the presidency. Facing rebellion from within his own party, Gingrich resigned from Congress.
Currently, the House of Representatives is controlled by Democrats, although Democratic lawmakers are still divided over the issue of impeachment. Of the 235 Democrats in Congress, 137 have publicly backed pursuing the president's impeachment. The Senate, however, is controlled by Republicans 53 to 45, with two independents who caucus with Democrats.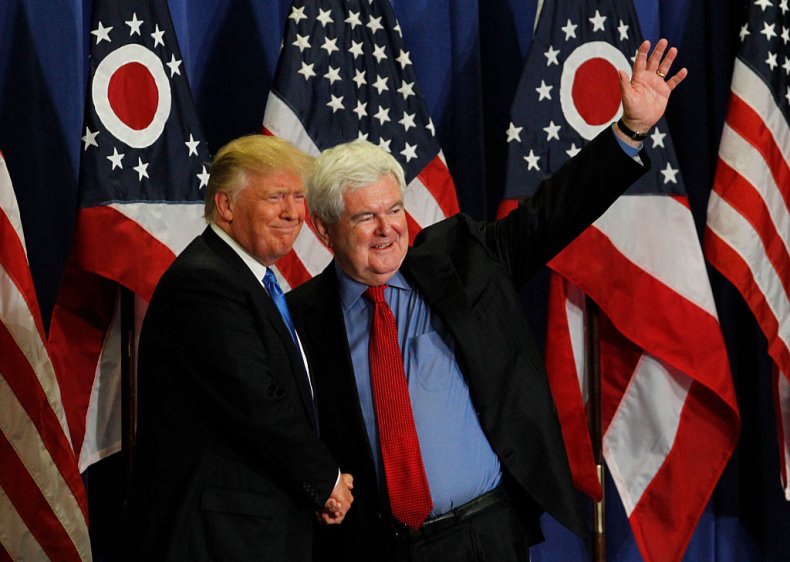 Speaker of the House Nancy Pelosi, a Democrat from California, has long expressed caution and even opposition to the impeachment process. Earlier this year, she argued that Trump's "just not worth it." She, along with other skeptical Democrats, has suggested that it would be better to defeat the president at the ballot box in 2020 than to attempt to remove him from office in a politically charged process.
On Monday, Pelosi appeared to downplay this week's upcoming vote by the House Judiciary Committee. The speaker said that the investigation into Trump had already been going on for "a very long time."
"We are legislating. We're investigating as we have been, and we are litigating. We are taking our information to court," she asserted, NPR reported. "That's the path that we are on, and that's the path we'll continue to be on."
A poll released last Thursday by Monmouth University showed that the majority of Americans do not want Trump to be impeached. Of those surveyed, 59 percent opposed impeachment and forcing the president out of office. However, the poll showed a divide along partisan lines, with 72 percent of Democrats supporting an impeachment inquiry, while only 8 percent of Republicans and 38 percent of independents supported the Democratic-led effort.