Newt Gingrich: GOP Victories Contradict the Media's Pure-Baloney Narrative | Opinion
If Republicans had lost in the North Carolina special elections Tuesday, we would have seen "Democrats win, Republicans lose" stories all over the national media.
Instead, we saw a series of downplayed stories which attempted to twist reality. A story in The New York Times Wednesday did its best to convince readers that Dan Bishop's victory in North Carolina's 9th District was actually bad for President Donald Trump and the 2020 elections. Similarly, The Washington Post ran a story—on page A-4—which attempted to argue that because Bishop's victory was narrow, and Trump had won the district by 12 points in 2016, support for Republicans in these areas must be waning. (The New York Times didn't even mention Republican Greg Murphy's landslide victory over his Democratic opponent in North Carolina's 3rd District, and The Washington Post mentioned it only in passing. It wouldn't have been helpful to the "Republicans are in trouble" narrative.)
This is pure media baloney. Virtually no one in the mainstream media acknowledged that Bishop's opponent, Dan McCready, had been campaigning for two years, had run nearly $7.2 million in TV ads in that time and had almost complete name recognition throughout the district. The media's argument gives no weight to the fact that McCready had just run a campaign and so already had infrastructure, donors and volunteers gathered. And the stories made only passing mention that the special election was called because of an alleged election fraud scheme in 2018 which was blamed on Republican operatives.
So, considering that Bishop announced his bid in March; had a huge disadvantage in money, time and organization, and was working through a scandal—which he played no role in but still likely loomed over Republicans in the district—any normal person would recognize his victory as a stunning success. Also consider that the margin in this race grew from 905 votes for the Republican in 2018 (which could have been inflated) to 3,937 for Bishop on Tuesday. There is no reasonable way to view this as anything but a Republican win.
It's a win for Bishop. It's a win for President Trump. It's a win for leader Kevin McCarthy. And it's a win for the Republican National Committee and the National Republican Congressional Committee. Republicans held these North Carolina seats because all of these people worked hard to make sure Bishop and Murphy had the resources and support they needed to succeed.
It was a loss for Speaker of the House Nancy Pelosi and the Democrats on two levels. First, they gained no momentum from these races leading into 2020. Second, McCready—on whom they spent millions and who was their only real chance—isn't even with them. McCready is a centrist and a Marine. I suspect this is the key reason he even had a shot at winning.
Yet, all we see is the national media working overtime to make Republicans feel defeated about winning in North Carolina. It is absurd.
Everyone in the national media—reporters, editors, pundits, producers and publishers—should be asking themselves: What if Biden-Warren-Sanders-Pelosi-AOC-style Democrats had been running in North Carolina? I suspect Bishop's win would have been a landslide and Murphy's would have been even steeper.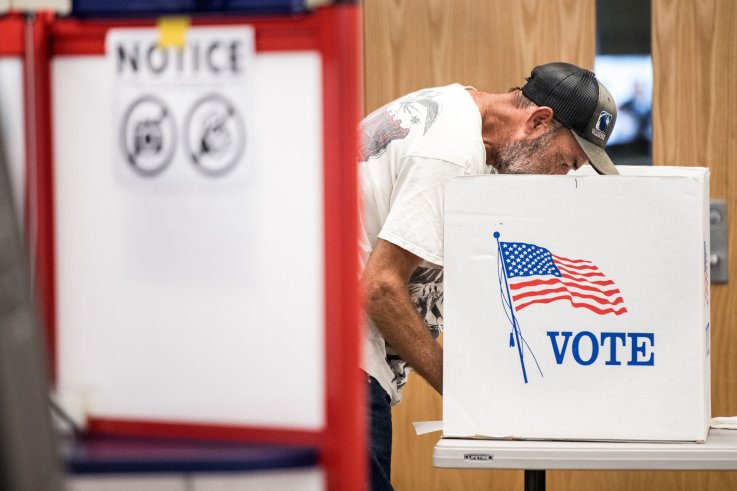 Despite what the national media is reporting, the score card for the 2020 race is, as of now, Trump and Republicans - 2; Pelosi and Democrats – 0.
Former Speaker of the U.S. House of Representatives Newt Gingrich is the chairman of Gingrich 360, the host of the Newt's World podcast and author of the New York Times best-sellers Understanding Trump and Trump's America.
The views expressed in this article are the writer's own.
Newt Gingrich: GOP Victories Contradict the Media's Pure-Baloney Narrative | Opinion | Opinion