Newt Gingrich Proposes Paying Teachers Extra $500 a Month to Carry Guns
Former Speaker of the House Newt Gingrich has suggested giving extra pay worth $500 to teachers who are willing to carry firearms and be trained to protect children in schools.
Gingrich, a Republican, told Fox News' Laura Ingraham on Wednesday that each school should have some members of staff who are trained and who could receive extra pay as a result.
His comments come after a deadly shooting at Robb Elementary School in Uvalde, Texas that left 19 children and two adults dead, while the suspect was killed at the scene by law enforcement.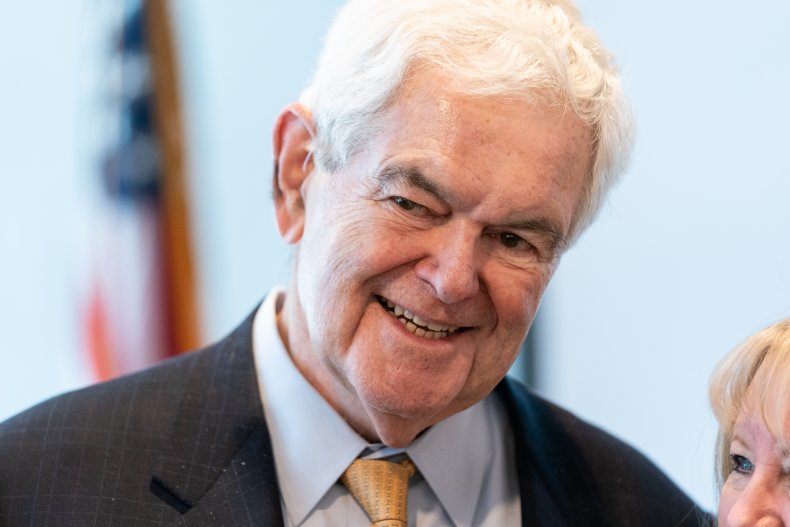 Gingrich said "every school in the country ought to have five or 10 people paid $500 a month or more extra—that would be a rational federal program—to pay every teacher who's willing to be trained and armed to protect the children—teachers and administrators."
"But we don't have that kind of conversation," he went on. "We're all stuck up in some high political baloney led by President Joe Biden who, I think, yesterday made a total disgrace out of what should have been a serious national speech."
"And so, I'm very happy to have a debate about what would it really take to fix these things, but there aren't many people in politics who want to get involved in that level of change," Gingrich added.
Gingrich's proposal appears to invoke the argument that the "only thing that stops a bad guy with a gun is a good guy with a gun," as National Rifle Association (NRA) executive vice president Wayne LaPierre famously put it following the Sandy Hook Elementary School shooting in 2012.
Law enforcement officers arrived at the scene before the shooter barricaded himself into a classroom because they had "received a call of a crashed vehicle and an individual armed with a weapon making his way into the school," according to Lieutenant Chris Olivarez of the Texas Department of Public Safety.
Olivarez told NBC's Today program on Wednesday that officers tried to make entry into the school before Ramos barricaded himself into the classroom and began "shooting numerous children and teachers that were in that classroom."
President Biden took aim at gun manufacturers in emotional remarks on Tuesday after the shooting in Uvalde and said that action was needed on the issue of assault weapons.
"The idea that an 18-year-old kid can walk into a gun store and buy two assault weapons is just wrong," the president said. "What in God's name do you need an assault weapon for except to kill someone? Deer aren't running through the forest with Kevlar vests on, for God's sake. It's just sick."
"And the gun manufacturers have spent two decades aggressively marketing assault weapons which make them the most and largest profit. For God's sake, we have to have the courage to stand up to the industry," Biden said.