Gingrich Warns Trump: Saudi Prince Bin Salman Can't 'Get Away' With Alleged Khashoggi Murder
Republican and former Speaker of the House Newt Gingrich ridiculed the Saudi Arabian government's "insultingly stupid" responses to the U.S. after reports journalist Jamal Khashoggi was murdered in their Turkey consulate.
Gingrich warned President Donald Trump on Fox News Sunday he's setting a dangerous precedent by giving 33-year-old Saudi Crown Prince Mohammed bin Salman the idea he can "get away" with egregious insults directed toward the United States. Gingrich said "it hurts the Saudis to lie this stupidly" to the Trump administration.
The former GOP House leader during the Clinton administration said Trump is "trying to walk a tight rope" with relations between the U.S. and the Middle East nation.
"First of all, their explanation is insultingly stupid," he told Fox News host Chris Wallace during the Sunday interview. "The idea that this guy walked in the room with 15 security people, got in a fight, and was accidentally killed, and then they happened to have apparently an ability to dismember him and get rid of him that happened to be there?"
Gingrich labeled the foreign relations debacle "a big problem, not a small one." He said the massive contracts and trade deals between the two countries is clouding Trump's ability to demand harsh punishment against the Saudis should it be confirmed Khashoggi was murdered.
"On the one hand you don't want to break the alliance with the Saudis," Gingrich said. "On the other hand you cannot teach a 33-year-old crown prince that he can get away with things that are this outrageous and this stupid or he will be out of control for the next 40 years."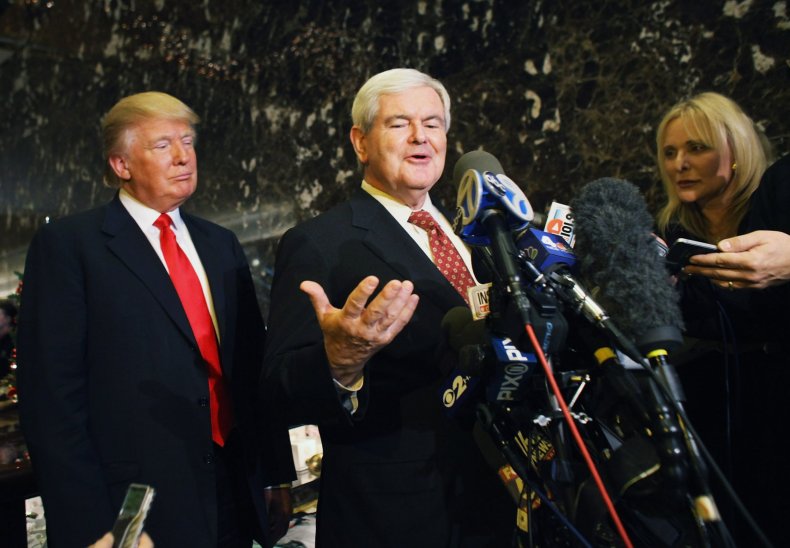 When pressed by Wallace, Gingrich said he believes the Trump administration will use "selective sanctions" against the Saudis. He added that U.S. Secretary of State Mike Pompeo is likely "saying pretty aggressively 'you guys have got to come up with the truth.'"