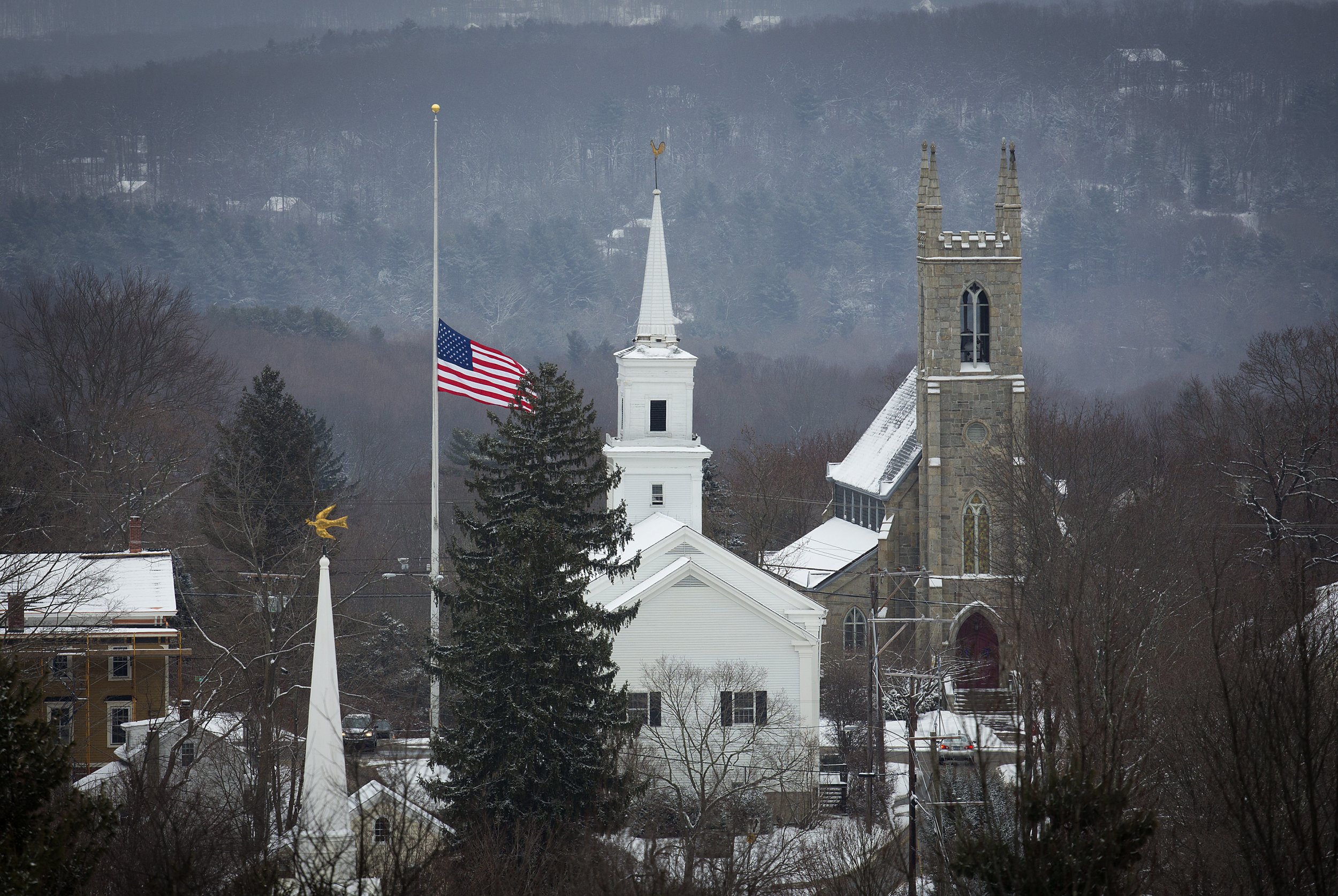 A shaky voice tells the 911 dispatcher that a police officer has arrived. It was Sergeant Bill Cario, who entered the room at Sandy Hook Elementary School in Newtown, Connecticut, after responding to reports of a shooting. He remembers seeing Dylan Hockley that day, one of 20 first-graders and six adults who were murdered, with his teacher's arm around him. There are other details he won't share.
"I don't think that any of us who were in there feel that anybody needs to know specifically what we saw," he says in Newtown, a feature-length documentary out Friday. But "emotionally, I think the world needs to know, to understand it."
That is the central premise of Newtown: that people need to know and feel what happened that day, as well as what continues to unfold in its aftermath. We can expect that watching the grief that follows the deaths of 20 first-graders and six adults in idyllic small-town Connecticut play out over the course of years will be excruciating. But, because America hasn't yet figured out how to prevent these shootings from happening over and over again, it must be endured.
"It was such an atomic explosion of collective grief," director Kim Snyder says on a rainy day in New York the week before the film's release. After all the news cameras had left Newtown, she still felt a need to tell the community's story, "because it was like no one would believe that [they're] still this traumatized." She spent three years there, building trust with parents and families of victims, first responders and doctors, interfaith leaders, neighbors, teachers and friends. "That is the point of the film—to break through that desensitization and say let's just stop, take this one thing, in a micro way, and look at what a community looks like," she adds. "And now let's multiply that by over a thousand mass shootings since Newtown." One, at the Pulse nightclub in Orlando, Florida, happened just hours after Newtown had its Connecticut premiere screened this past June at the Greenwich International Film Festival.
The film opens with a parade. A squad of pint-sized cheerleaders march in slow motion, "Newtown" in block letters on their tops. Those first moments give the viewer the sense that Newtown is, as Snyder and producer Maria Cuomo Cole say, like so many other American towns. "It's this perfect little Norman Rockwell town that could be anywhere," Snyder says. Its residents used to see news reports of gun violence on TV and were perhaps moved by them, but they hadn't been affected by it personally. Until suddenly they were the ones on TV. (While the "Newtown as any town" idea is apt and powerful, it's important to note that many other communities, often less affluent, deal with gun violence on a regular basis and don't receive the same frenzy of press coverage.)
After the parade footage, viewers are suddenly thrown into the panic of 911 calls and police dashboard cams recorded on December 14, 2012. The film then steers a zigzag chronological course, going back in time to photos and home videos to introduce the children who can no longer introduce themselves, going forward to follow the ups and downs of the grief processes and pausing on the day of when it naturally comes up in memories. Mark Barden, Nicole Hockley and David Wheeler—who lost their sons Daniel, Dylan and Ben—are at the core of the film with their families. There are intimate looks at "everyday" scenes and testimonials from people throughout the town, including first responders, like Cario, and the doctor who tried to save the few victims who even made it to the hospital, as well as teachers and school staff. The film strikes a very conscious balance—giving enough information about 12/14 to make sense of the aftermath without indulging in gratuitously graphic descriptions. The shooter's name is never mentioned.
There's a fear that comes with the prospect of sitting down to watch Newtown and experiencing its pain. The documentary yields overwhelming power to stir intense emotional and physical responses that go beyond tears, though those were plentiful for me. Within minutes, even before the title appeared, I was crying, and throughout the next hour and 20 minutes, I found myself, on occasion, shaking, holding my breath, grasping my desk or pumping my foot up and down as though to seek a release for the anxious energy and sorrow the movie elicited. It very early on breaks your heart. And then it breaks your heart hundreds more times before it ends. It's exhausting, and it's impossible to walk away without feeling like something is broken. At the same time, the intertwining narratives that make up a larger story about Newtown are never contrived or exploitative. They are told simply, honestly and beautifully.
All of Newtown's difficulty is only further evidence that it is a necessary film, one that anyone who lives in America, where roughly 33,000 people are killed by guns each year, must watch.
There's hope in the film, but no closure or neat ending. Many believed that the sheer horror of the shooting would be enough to inspire political change. "Although sadly we've had so many mass shootings before and since," Snyder says, "there was something about that age [of the victims] that did grab the world by its throat and say, 'If this doesn't get us to reconsider what's happening, what will?'" But despite the particularly visceral reaction Americans had to the shooting at Sandy Hook Elementary School, it wasn't enough to get a federal bill on background checks through the Senate, as we see in a later scene.
Snyder and Cole insist that Newtown is not political. It doesn't suggest specific policy proposals or take a stance on particular gun laws. "We both felt strongly from the beginning that it was not a film that went in with a specific agenda or wanted to be structured as an advocacy film per se," Snyder says. "But we both felt passionately that you can't make a film like this without its underlying ethos being…to talk about what we're doing about gun violence," she adds. Kids dying from guns "really shouldn't be a political issue; it's a humanitarian [issue]."
Though they didn't set out to make an advocacy film or build a movement, they're buoyed by reactions to dozens of early screenings at festivals and in community settings. They see people cry and then talk, they have audience members ask how they can get every single senator to watch the film, and they notice viewers get angry and walk out wanting to do something. They've begun to wonder whether Newtown might contribute to a tipping point.
There's "a feeling like people can take this issue back. You know, we don't have to accept this," Snyder says. "Like I'm mad as hell, and I'm not going to take it anymore."