Next Coronavirus Relief Bill Must Contain $1 Trillion in State, Local Aid, With $100 Billion for Public Schools, Union Coalition Tells Dems
A coalition of progressive groups and labor unions demanded on Tuesday that the next round of economic stimulus amid the novel coronavirus pandemic must include at least $1 trillion in state and local aid as well as at least $100 billion for public schools, in a letter sent to Democratic congressional leaders.
"One trillion dollars in state and local aid to safely reopen schools, avoid mass layoffs, and maintain essential services with at least $100 billion for public education and a significant increase in funding for child care," the organizations wrote in the joint letter, which was viewed by Newsweek, to Speaker of the House Nancy Pelosi and Senate Minority Leader Chuck Schumer. The letter, which was first reported by The Hill, also called on Democrats to fight to preserve three "essential components" of the $3 trillion HEROES Act.
In addition to the funding for local governments and education, the organizations—which included the Service Employees International Union, American Federation of Teachers, United We Dream, Bend the Arc Jewish Action, Greenpeace and Move On—called on Democrats to ensure that the next round of economic stimulus contains "an Essential Workers Bill of Rights" and "modest but essential immigrant inclusion provisions and protections."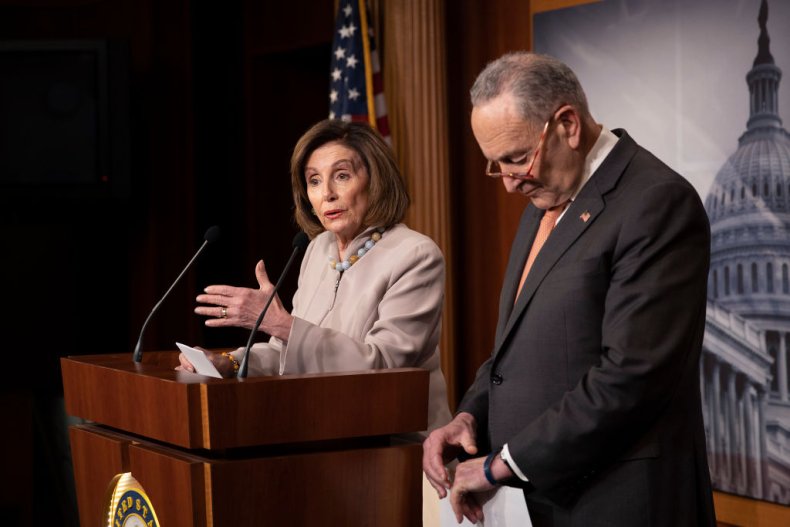 "These measures are essential for our economy to recover, avoid mass layoffs and protect millions of workers," the organizations wrote. "They must be retained in final relief legislation."
Democrats in the House of Representatives passed the HEROES Act economic stimulus legislation in May, but it was rejected by the Republican-controlled Senate and the White House as a nonstarter.
White House deputy press secretary Judd Deere told Newsweek that "the federal government and American taxpayers are not bailing out anyone," when asked for comment on the letter. "The White House continues to be open to targeted assistance for states and localities responding to the global pandemic," Deere added.
Newsweek reached out to Senate Majority Leader Mitch McConnell, a Republican from Kentucky, for comment on the demands from progressive groups and unions, but they did not respond by the time of publication.
The White House has suggested that it wants the total price tag of a new round of stimulus to be about $1 trillion. President Donald Trump and McConnell have both expressed skepticism about the sending additional aid to state and local governments, raising concerns that some may be requesting funds to fill budget shortfalls that predated the novel coronavirus pandemic. McConnell drew controversy in late April after he said struggling states should consider filing for bankruptcy.
Meanwhile, Trump and his Education Secretary Betsy DeVos have threatened in the past week to withhold funding from public schools that decline to re-open in the fall due to concerns about the new coronavirus pandemic. As lockdowns took effect in March and April across the country, schools turned to offering remote education for students.
McConnell on Monday said that he expected Republicans to put forward a new economic stimulus proposal by next week. "We shouldn't lightly add more to the national debt, but I'm predicting that we will have one more rescue package, which we'll begin to debate and discuss next week," McConnell said at a news conference in Kentucky.
"When my members come back next week, we'll start socializing it with them, begin to discuss it with the Democrats and start the legislative process," he explained. "I think you can anticipate this coming to a head sometime within the next three weeks, beginning next week."