Who Will Be Next President if Donald Trump is Impeached? Remember Paul Manafort Picked Mike Pence
The astonishing claim by Donald Trump's former personal lawyer Michael Cohen that he was directed by the president to pay hush-money to two women before the 2016 election has some renewing the call for Trump's impeachment.
While it is unlikely that Trump will be charged for breaking federal campaign finance laws due to longstanding regulations within the Justice Department that a sitting president cannot be indicted, Congress can still determine if Tuesday's events are grounds for impeachment. Former Trump aide Steve Bannon told White House Bloomberg reporter Jennifer Jacobs that "today clarifies that November is a referendum on impeachment, an up or down vote."
If Trump were to be removed from office, Vice President Mike Pence would take his place as commander-in-chief for the remainder of Trump's first term until 2020. Pence has dutifully stood by the president during his time in the White House, but little attention has been paid to how the former governor of Indiana rose to the position of the vice presidency during the 2016 election.
Before Trump officially announced that Pence would be his running mate, campaign chairman Paul Manafort was the man behind the mirror making sure it happened, according to a New York Times report from 2016.
Manafort was found guilty by a jury on Tuesday on eight counts of financial crimes, including tax fraud, hiding foreign bank accounts and bank fraud. The case was the first to be brought to trial as part of Robert Mueller's special counsel investigation into Russian interference in the 2016 presidential election.
The Times report detailed how much then-candidate Trump struggled over the decision on whether Pence was the right man for the job, repeatedly hesitating over the selection. The two had no prior personal relationship before the campaign.
Trump had also seriously considered former governor of New Jersey Chris Christie for the job, according to a CBS News report. The two had been friends for over a decade, running in similar circles. Christie also ran a short-lived campaign for president but was one of the first to pull out of the race and endorse Trump.
But in the end, Trump settled on Pence at the counsel of many campaign advisers, including Manafort and Jared Kushner. By choosing Pence, Trump gained the former congressman's valuable connections in Washington and support among the Christian right—a demographic that would become some of the president's most loyal supporters.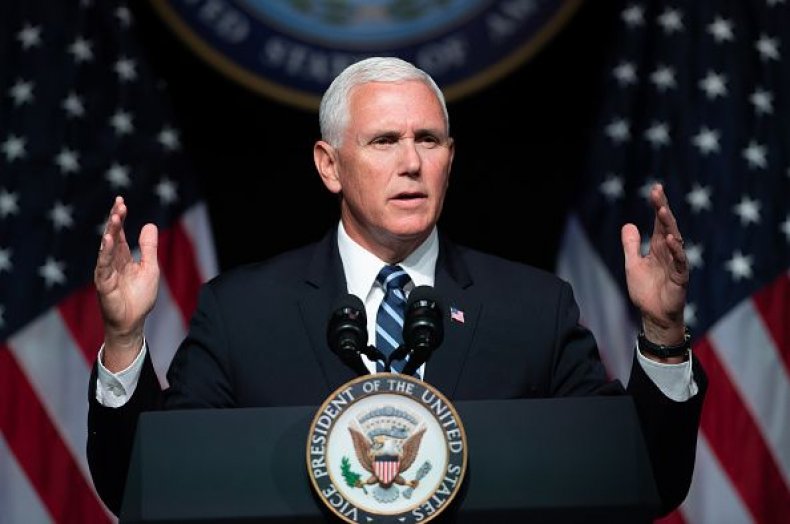 During his time as vice president, Pence has stayed relatively behind the scenes of his boss but has managed to make an impact in Washington. Pence has delivered the tie-breaking vote in the Senate nine times in just under two years, proving to be instrumental in decisions such as confirming Betsy DeVos as education secretary and pushing through a plan to allow states to block funding for Planned Parenthood.
After Trump claimed that millions of people illegally voted in the 2016 election, he put Pence in charge of charge of a commission to investigate voter fraud. The commission was later disbanded after it sparked massive backlash for requesting detailed information on every registered voter in the country. It was slammed by lawsuits and shut down.
Pence has also been responsible for spearheading the renewed effort in the Space Force, which he has said could become the sixth branch of the military. But the plan has received criticism from both inside and outside the Pentagon.
But perhaps his most important job so far has been to play a major role in the upcoming midterm elections. Since becoming vice president, Pence has raised $20 million for various conservative candidates and campaigns, according to an ABC News report earlier this year. He was scheduled to appear at as many as 40 campaign events before the end of April.
As impeachment rumors continue to swirl around Trump, some have argued against removing the president because of the detrimental consequences of a Pence presidency. CNN commentator Sally Kohn tweeted that if Pence were to become president the result would be something similar to the "dark ages."
But top Democrats are still remaining hesitant to call for Trump's impeachment. House Minority Leader Nancy Pelosi has been shrugging off impeachment talks ahead of the upcoming midterm elections, calling the conversation a "distraction." Senate Minority Leader Chuck Schumer has also shut down Democratic talk of Trump's impeachment in the past few months. But Schumer did send out a warning message to the president after Tuesday's verdicts, telling Trump not to begin talking about potential pardons for Manafort or Cohen.