Next U.S. Coronavirus Hot Spot? Health Official Says Mississippi, Where Nearly 1 in 4 Tested Are Positive
Harvard Global Health Institute Director Ashish Jha said Saturday that Mississippi is likely to become the next COVID-19 hot spot in the U.S. as an average of nearly one in four residents tested positive for the virus for nearly two consecutive weeks.
The seven-day rolling average of infected Mississippi residents ranged between 20.6 percent and 24.1 percent over the last 11 days, according to data compiled by researchers at Johns Hopkins University. The state's number of new cases rose steadily throughout July as states like Arizona, California, Florida and Texas managed outbreaks of their own.
Jha said in a Twitter thread that though Mississippi has not received as much attention for its battle with COVID-19 as has a handful of other states, the situation in Mississippi "is much worse."
"Mississippi will become [the] nation's #1 in new cases/[population]," Jha predicted.
Florida currently has the most cases per capita in the U.S. with 295 infections per 100,000 residents, according to The New York Times. But while case numbers in Florida are beginning to decline, Mississippi health officials are still reporting increases in case numbers, with 277 positive tests per 100,000 residents, the paper said.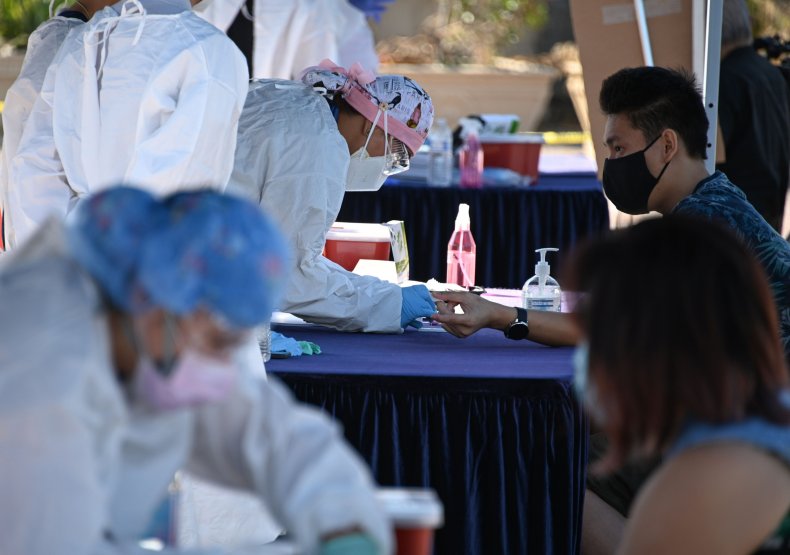 State health officials reported a total of 61,125 cases and 1,711 deaths by Sunday, August 2. Health officials throughout the country reported more than 4.6 million cases and 155,000 deaths by Monday, August 3, according to Johns Hopkins University.
Federal officials have encouraged Americans to wear face coverings and practice social distancing for months in an effort to curb the spread of the virus, but each state is handling its response to the pandemic separately. In Mississippi, 37 of the state's 82 counties require face coverings, but Republican Governor Tate Reeves has not implemented a statewide mandate. While governors managing other hot spot areas closed indoor access to bars, restaurants, gyms and other businesses in response to rising case counts, most businesses in Mississippi remain open, albeit with limits in place to reduce the number of customers inside at any given time.
"Much of Mississippi remains open" despite rising COVID-19 case and death counts, Jha said. He said the state should require mask use in every county and close bars, gyms and indoor restaurants if state officials want to open schools in time for the fall semester.
Jha told Newsweek that in addition to requiring masks, local leaders should also find ways to enforce a hypothetical statewide mandate to make a significant impact. While temporarily closing indoor dining and gyms would be important steps to take to slow the spread of the virus, he said it was also imperative to close bars.
"Bars are the most efficient way I know of to spread this virus," Jha said, noting how patrons are not required to wear masks while drinking and that social distancing is difficult to maintain inside such establishments.
Bolstering testing efforts could also help the state gain control over the virus, he said. Testing in Mississippi fluctuated in the spring and summer, with a record high of more than 16,000 tests conducted on a single day earlier this summer, but fewer than 10,000 have been performed daily in recent weeks, according to Johns Hopkins University. Mississippi is one of 33 U.S. states that does not currently meet the World Health Organization's testing positivity criteria for reopening, university researchers said.
"If the governor woke up tomorrow and said, 'I really want to get this outbreak under control in Mississippi,' and put in the policies that I'm describing, I believe that we would start to see dramatic decreases in cases within a couple of weeks," Jha said. "We would start seeing real decreases in hospitalizations in the week or two that follow."
Newsweek reached out to Reeves' office for further comment but did not receive a response in time for publication.
Update, 08/03, 5:33 p.m. ET: This article has been updated to include comments from Harvard Global Health Institute Director Ashish Jha.