The Next World Bank President Needs to Make These 3 Changes | Opinion
The hunt is now on for a new president of the World Bank. Traditionally, the job is taken by an American. But whoever is picked must be someone determined to fix three big problems: the Bank's mission, model—and money. This is a bold plan for change and we will not solve climate change without it.
Let's start with the mission. Right now, the World Bank's "Twin Goals" center on ending extreme poverty and delivering shared prosperity. But the twin goals must now become "triple goals" because we cannot end extreme poverty or build inclusive growth unless we tackle climate change.
Standing in Kenya's Masai Mara, where I was this week, brings it home. Here I heard from little children in schools sponsored by global NGO World Vision, tell us how hard it was to learn when they were starving and thirsty. East Africa has been hit by the worst drought for 40 years, devastating the livelihoods of Masai cattle farmers who quite simply can no longer predict seasons that were stable for centuries. The result is children sent out to work earlier. Or married younger. Or dropping out of school. There is no way we can end extreme poverty without tackling climate change. So, tackling climate change must be core to the Bank's new mission.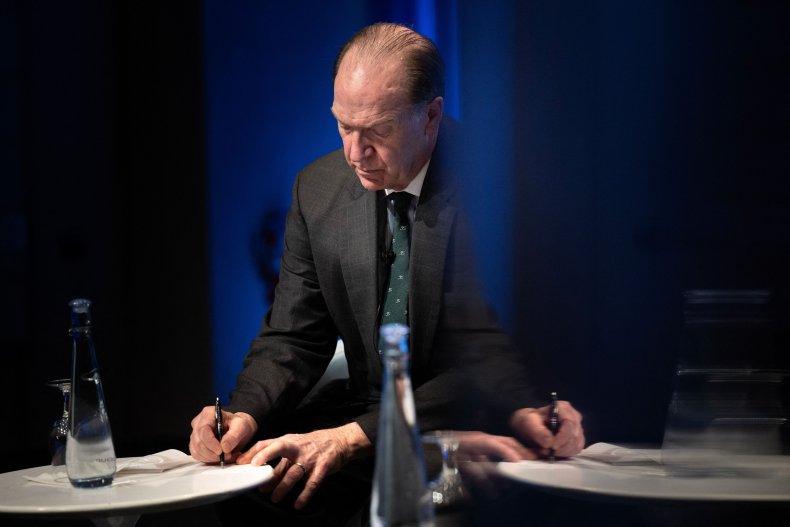 Second, is the model. Right now, the Bank has a very successful country-by-country-based approach. But tackling global public goods, demands new ways of working and raising money regionally and globally.
Some projects designed to tackle climate change and create new jobs will be best delivered regionally. The Great Green Wall is a good example. It aims to build a vast belt of trees, vegetation, and fertile land across the entire Sahel. And by working together regionally and globally with sovereign wealth funds and pension funds, it is possible for the World Bank to be the catalyst for assembling huge funds that work at a regional level to flow money for investment in grassroots schemes that we know work, like renewable energy. The potential is enormous. sovereign wealth funds alone have almost $10 trillion under management, while pension funds committed to the Principles for Responsible Investment steward $120 trillion. They are both future partners for the Bank.
This takes us to the most important reform of all: the money. Bluntly put, the Bank cannot end extreme poverty, foster inclusive growth, and tackle climate change without new resources.
The aftershocks of Covid and the conflict in Ukraine mean developing countries are now juggling sky-high debt and soaring food and fuel prices. The pressure on prices may abate a little this year, but not much. Yet the total gross debt in developing countries is already 256 percent of GDP—the highest level for 50 years.
Everywhere, politicians are having to make appalling choices about how to balance budgets for food support, social security, health and education—while meeting new and higher interest bills on borrowing. And that is before we get to the new costs of climate change. All in all, our best guess is that some $2.5 trillion of additional financing is now needed every year until 2030, to reach the Paris climate goals, as well as the Sustainable Development Goals.
Yet, the World Bank could blaze a path of hope. Last year, the G20 produced a blueprint that shows how several hundred billion new dollars could be mobilized by making better use of balance sheets already held by the multilateral development banks. And this could be radically extended if richer countries were prepared to chip in a little more to ensure the World Bank is better capitalized.
This is the most efficient form of development finance on earth. The 189 shareholders in the Bank's main lending arm—the International Bank of Reconstruction and Development—have chipped in some $19.2 billion of contributions since 1944. But that has allowed the Bank to supply $750 billion of loans—a huge multiplier.
So, the new World Bank president must be able to work with richer countries to drive through these vital changes over the next 24 months, which is the speed the G20's advisory team says is possible.
Thanks to leaders like Barbados' Mia Mottley, who set out the Bridgetown Agenda for reform at the IMF-World Bank meetings last year, there is now huge kinetic energy behind transforming the global development finance system that has been with us since Bretton Woods in 1944. This is a second Bretton Woods moment. The next World Bank president must be its standard bearer in chief.
Liam Byrne is Labour MP for Birmingham Hodge Hill | Chair, Parliamentary Network on the World Bank & International Monetary Fund @ParlNet | Chair, All Party Parliamentary Group on Inclusive Growth www.inclusivegrowth.co.uk | Proud Patron @NACOAUK
The views expressed in this article are the writer's own.