Neymar's attempts to leave Paris Saint-Germain look to have hit a sizeable obstacle, due to the fee required to lure him away from the French capital.
The Brazilian soccer star's desire to leave the team he joined for a world=record $249 million two years ago has been well-publicized.
On Monday, Neymar did not report for training as expected and made it clear to PSG that he intended to force his way out of France this summer.
On Saturday, the Brazil forward posted a video of himself in a Barcelona shirt on his Instagram account, before conducting a Q&A in which he said his favorite memory as a soccer player was beating PSG while at Barcelona.
Neymar's hints have not exactly been subtle and, according to ESPN, PSG has reportedly accepted that the Brazilian will leave the Parc des Princes this summer. The broadcaster reported that the club's sporting director, Leonardo, spoke face-to-face with Neymar on Monday after holding a number of phone conversations with the striker over the course of the previous week.
The problem for Neymar and PSG is that only a handful of clubs in the world— Manchester United, Manchester City, Real Madrid and Barcelona—can afford him. The two Manchester clubs are unlikely to even consider him as an option, given they have different needs to address and the Premier League season is just over three weeks away.
Neymar fits the bill of high-profile signings Real Madrid is fond of, but the 13-time European Cup winners have already splashed over $340 million this summer, which would make a bid for Neymar prohibitive.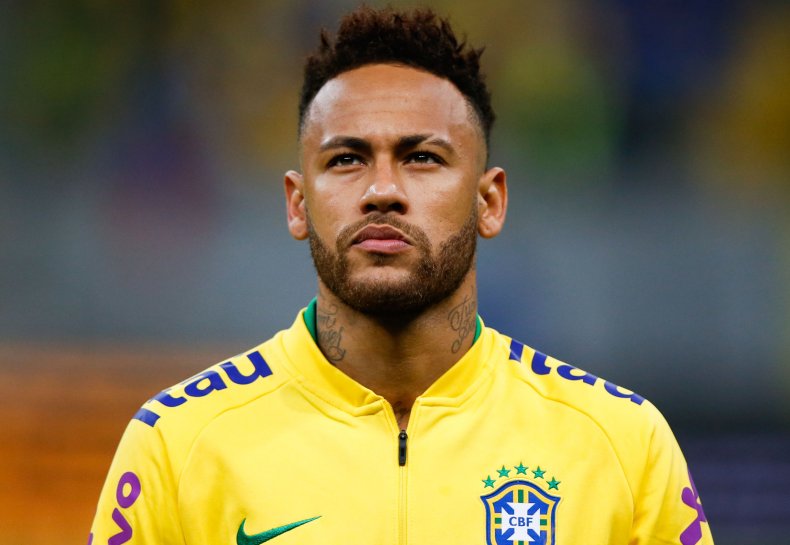 That leaves only Barcelona left. Conveniently, that is also the Brazilian's summer preferred destination but the Blaugrana could face similar financial restrictions to those of their arch-rivals.
The reigning Spanish champions have already spent $252 million this summer, almost half of which was spent on Antoine Griezmann last week.
With Neymar valued at around $200 million, Barcelona could end up spending a combined $450 million this summer.
However, according to Spanish newspaper Marca, Barcelona's spending cannot exceed its sales by over $110 million. That means the club would have to sell around $340 million worth of players between now and June 30 next year to balance the books if it were to sign Neymar.
So far this summer, Barcelona has sold Jesper Cillessen, Denis Suarez, Andre Gomes, Marc Cardona and Sergi Palencia. However, only the latter contributed to this year's figures.
Should they step up their pursuit of Neymar, the five-time European Cup winners have a number of players they could sell to raise funds, with Philippe Coutinho and Ousmane Dembele topping the list of candidates.
The former cost Barcelona $176 million in January last year but has struggled to settle in Catalonia and his chances of playing regularly have already been jeopardized by the arrival of Griezmann.
Dembele, meanwhile, moved to Barcelona for around $120 million as a replacement for Neymar but could be on the market if the Catalans opt to bring Neymar back.
Uncommon Knowledge
Newsweek is committed to challenging conventional wisdom and finding connections in the search for common ground.
Newsweek is committed to challenging conventional wisdom and finding connections in the search for common ground.
About the writer
Dan Cancian is currently a reporter for Newsweek based in London, England. Prior to joining Newsweek in January 2018, he was a news and business reporter at International Business Times UK. Dan has also written for The Guardian and The Observer.