Eight-five infants tested positive for COVID-19 in one Texas county as the state reported more than 10,000 new coronavirus cases for the fifth consecutive day on Saturday, according to local officials.
Annette Rodriguez, Director of Public Health in Nueces County—located on the state's Gulf Coast—said Friday that the infants were below the age of one, however, she did not disclose any further details, such as the condition of the children or how they became infected, the Associated Press reported.
Rodriguez announced the infant cases, revealed after a review of local health data, at a press conference in the county seat, Corpus Christi, during which she urged people to take action in order to slow the spread of the disease. Nueces County is experiencing one of the fastest-growing outbreaks in the state, recording a total of more than 7,800 cases.
"These babies have not even had their first birthday yet," Rodriguez said. "Residents must act now. We desperately need you to help lower the transmission of this virus. Stay home. Especially if you are sick, older and/or have medical conditions. If you are sick and do not need medical attention, do everything in your power to get well."
"Please help us to stop the spread of this disease. Stay social distanced from others, stay protected, wear a mask when in public and for everyone else, please do your best to stay home."
Last week health officials in Nueces County confirmed that a baby less than six months old had died from COVID-19 complications, the only death of a child under one from the disease in the country so far, CBS News reported.
At least 75 people have died from COVID-19 in Nueces County, with 12 of those deaths coming in the past week, Rodriguez said on Friday. Local public health official said that the county had tested 860 people over the course of the week, with 38 percent coming back positive.
"This rate must be lowered if we are going to be successful in lowering the number of hospitalizations and lowering the number of people that we're losing to the virus," she said. "The next two weeks are critical in slowing the spread of COVID-19."
County health officials are urging residents to avoid gatherings of more than 10 people and "family events" in particular.
"We're seeing a lot of transmission between family members," Rodriguez said. "Don't invite others into your home to get this illness."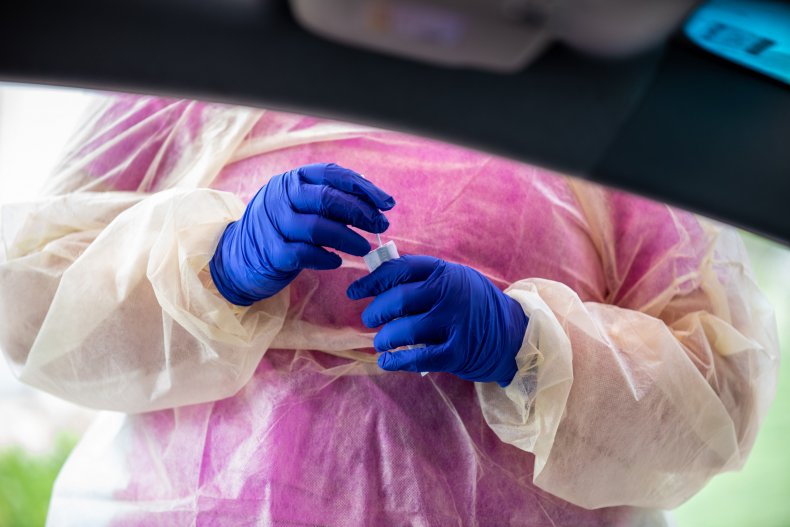 Nueces County is one of several areas in Texas where hospitals are coming under strain as a result of local outbreaks.
"We are at a tipping point, in our hospitals and in our ICU capacity," County Judge Barbara Canales said on Friday. "I believe we are at a breaking point with sufficient medical staff to maintain those beds and with medical supplies."
Currently, Texas is among the U.S. states being particularly hard-hit by the pandemic reporting more than 10,000 new cases for five days in a row. On Saturday, state health officials reported 130 new deaths due to the disease, according to the COVID Tracking Project.
In total, the state has confirmed more than 317,000 cases of the disease, although the true figure is likely to be significantly higher, and over 3,800 deaths.
About the writer
Aristos is a Newsweek science reporter with the London, U.K., bureau. He reports on science and health topics, including; animal, mental health, and psychology-related stories. Aristos joined Newsweek in 2018 from IBTimes UK and had previously worked at The World Weekly. He is a graduate of the University of Nottingham and City University, London. Languages: English. You can get in touch with Aristos by emailing a.georgiou@newsweek.com.