The NFC East has historically been one of the best divisions in the NFL with decades-old rivalries. This season, it's one of the historically worst the league has ever seen. Each team has played 10 games, and each team has won just three games. One of these teams will eventually win the division and host a playoff game.
The other three will have good draft picks next spring.
Philadelphia actually leads the division with a 3-6-1 record, thanks to a tie with the Cincinnati Bengals, who are just 2-7-1. The other three teams—Dallas Cowboys, New York Giants and Washington Football Team—are each 3-7.
The Philadelphia Eagles may have the toughest road ahead of them with their next three games being: vs Seattle (7-3), at Green Bay (7-3) and vs New Orleans (8-2), who are all leading their respective divisions and battling for the NFC's top spot, which means a bye week in the playoff's first round. The Eagles then travel to play a much-improved Arizona Cardinals team that is 6-4.
The Giants go to Cincinnati this weekend to play a team that will be using its backup quarterback after starter Joe Burrow got knocked out for the season, and then the Giants finish the season with games against the Seahawks, Cardinals, Browns, Ravens and Cowboys.
Washington still has games against the Pittsburgh Steelers, San Francisco 49ers, Seattle Seahawks and Carolina Panthers.
The Cowboys get to play three NFC East teams (Washington this Thursday and the Eagles and Giants to end the season), and they have the Ravens, Bengals and 49ers in between. They have perhaps the easiest path to win the division. Dallas could theoretically win half of their remaining games and clinch the division with a 6-10 record.
No team has lost 10 games and made the NFL playoffs. The Seahawks made the playoffs with nine losses in the 2010 season. But this is 2020.
Here are the teams with the worst records to make the NFL playoffs since 2002, when the current structure was implemented (division champions host at least one game):
2010 Seattle Seahawks (7-9)
Beat New Orleans in Wild Card Round, lost to Chicago in Divisional Round
2014 Carolina Panthers (7-8-1)
Beat Arizona in Wild Card Round, lost to Seattle in Divisional Round
2011 Denver Broncos (8-8)
Beat Pittsburgh in Wild Card Round, lost to New England in Divisional Round
2008 San Diego Chargers (8-8)
Beat Indianapolis in Wild Card Round, lost to Pittsburgh in Divisional Round
2013 Green Bay Packers (8-7-1)
Lost to San Francisco in Wild Card Round
2019 Philadelphia Eagles (9-7)
Lost to Seattle in Wild Card Round
2016 Houston Texans (9-7)
Beat Oakland in Wild Card Round, lost to New England in Divisional Round
2015 Washington Football Team (9-7)
Lost to Green Bay in Wild Card Round
2015 Houston Texans (9-7)
Lost to Kansas City in Wild Card Round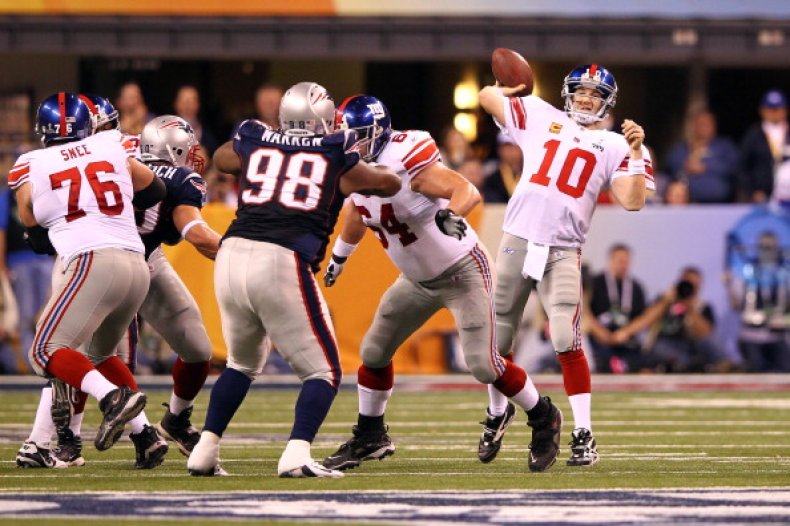 2011 New York Giants (9-7)
Beat Atlanta in Wild Card Round, beat Green Bay in Divisional Round, beat San Francisco in NFC Championship, beat New England in Super Bowl XLVI
2008 Arizona Cardinals (9-7)
Beat Atlanta in Wild Card Round, beat Carolina in Divisional Round, beat Philadelphia in NFC Championship, lost to Pittsburgh in Super Bowl XLIII
2007 Tampa Bay Buccaneers (9-7)
Lost to New York Giants in Wild Card Round
2006 Seattle Seahawks (9-7)
Beat Dallas in Wild Card Round, lost to Chicago in Divisional Round
2004 Seattle Seahawks (9-7)
Lost to St. Louis Rams in Wild Card Round
2002 New York Jets (9-7)
Beat Indianapolis in Wild Card Round, lost to Oakland in Divisional Round