2019 Monday Night Football Schedule: How to Watch Minnesota Vikings vs. Seattle Seahawks, TV Channel, Stream
The Seattle Seahawks can take control of the NFC West with a win over the Minnesota Vikings on Monday Night Football.
Seattle improved to 9-2 with a road win over Philadelphia in Week 12 and trails the San Francisco 49ers by one game, but could draw level with its divisional rivals with a win on Monday.
The Seahawks won in overtime in San Francisco when the two met in Week 10 and will host the 49ers in Week 17, a game that could effectively prove to be the NFC West title decider.
FiveThirtyEight's statistical projections give the Seahawks a 96 percent chance of making the playoffs and a 50 percent chance of winning the division, the same probability as San Francisco.
However, with the 49ers taking on the 10-3 Saints—who are the only team to have already qualified for the postseason—in New Orleans next week, wins against the Vikings and against the Rams in Los Angeles on Sunday night could leave the Seahawks top of the NFC with three weeks left.
Before looking that far ahead, however, Seattle has to take care of Minnesota, and Seahawks coach Pete Carroll is well aware of the threat posed by the Vikings.
Minnesota's offense has improved significantly this season, ranking eighth in total yards through the first 11 weeks of the week, nine spots higher than a year ago.
Kirk Cousins has thrown for 2,756 yards, 21 touchdowns and just three interceptions with a 70.6 percent completion rate and has eight touchdown passes in his last three games.
"They're really well-balanced, a real commitment to the running game shows up," Carroll told reporters in his press conference earlier this week, as per the Vikings official website.
"They have a style that we really appreciate because they do run the football and try to play ball-control football with their short passing game.
"It's a real nice attack in general, and we have a lot of respect for it."
If Cousins has steered the Vikings' offense towards new heights, Seattle's has also improved.
Expertly piloted by Russell Wilson, the Seahawks' offense ranks third in total yards per game, sixth in points per game and 10th in passing yards per game.
Wilson, who turned 31 on Friday, has put up 2,937 passing yards so far, with 24 touchdown passes—the joint-most in the league—and just three interceptions and a quarterback rating of 74.1—the third-best in the NFL.
The Vikings are 0-5 against Wilson in regular season or playoff matchups and Minnesota coach Mike Zimmer acknowledged slowing the Seahawks quarterback down was crucial to his team's chances of success on Monday.
"He moves really well,'' he said in his press conference. ''We can't just rush and stop and peek. We have to rush. We have to be disciplined in our rush lanes and be where we're supposed to be because he'll go up, he'll go back, he'll go out, he'll go left, he'll go right. He goes all different places."
A year ago, Wilson was kept to a career-low 72 passing yards when the Vikings traveled to Seattle.
However, with less than five minutes to go in the game he embarked on a 40-yard scramble that eventually sealed the game for his team—the Seahawks scored five plays later en route to a 21-8 win.
Minnesota will be hoping for a different ending on Monday night, in a game that could define its playoff chances.
The Vikings return from their bye with an 8-3 record and trail Green Bay by one game in the NFC North. With the Packers still to visit Minneapolis in Week 16, the Vikings could leapfrog their divisional rivals on December 23 if they avoid falling further behind over their next two games.
Here's all you need to know ahead of Monday night.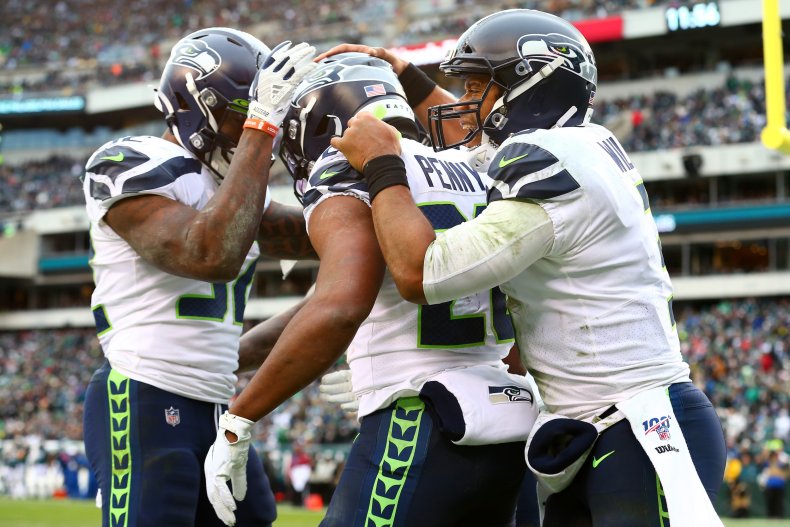 When and where is the game?
The Seattle Seahawks host the Minnesota Vikings at CenturyLink Field in Seattle, Washington, on Monday, December 2.
Kickoff is scheduled for 8:15 p.m. ET.
TV coverage
The game will be broadcast nationally by ESPN.
Live stream
A live stream will be available via ESPN's digital platforms, WatchESPN and the ESPN app.
Form
Seattle improved to 9-2 with a 17-9 win in Philadelphia over the Eagles last week, while the Vikings return from their bye with an 8-3 record.
Series record
Monday marks the 16th time the two franchises have met, with Seattle currently leading the all-time series 10-5.
The Seahawks have won the last four meetings against the Vikings, defeating Minnesota 21-8 at home last year.
Odds
According to BetOnline, Seattle is a 2.5-point favorite and is 17/20 to cover the spread, while Minnesota is a 13/10 underdog.
The over/under line in terms of total points scored is set at 49.5.