NFL Draft 2020: How Will It Work During the Coronavirus Lockdown?
The 2020 NFL draft is still over 24 hours away but has already gone down in history. What was supposed to be a three-day extravaganza in Las Vegas will instead be conducted remotely as the NFL complies with social distancing measures in place because of the coronavirus pandemic.
Out went players holding their new team's jersey next to league commissioner Roger Goodell in front of the Bellagio fountain; in came group conference calls and general managers sat in their living rooms surrounded by tablets and laptops.
Goodell will conduct the draft from the basement of his home in Westchester County, New York and the top 58 prospects will attend the draft virtually.
Here's everything you need to know about what could be a once-in-a-lifetime event.
How will the NFL Draft work?
Strictly speaking, the selection process remains unchanged. The draft spans over three days, with the first round beginning at 8 p.m. ET on Thursday, April 23 and the following two rounds getting underway at 7 p.m. ET the following day. The remaining four rounds begin at 12 p.m. ET on Saturday, April 25.
In the first round teams have 10 minutes to make each pick, but only seven in the second round. Teams get five minutes in the next three rounds and only four in the seventh and final round. The NFL will use a private Microsoft Teams channel for the submission of picks and to allow teams to communicate between each other.
Goodell will announce each pick on screen—a virtual montage of 15 fans of the team on the clock will be shown behind him—at which point one of the 58 prospects selected will appear on screen to exchange a few words with the league commissioner. The NFL has dispatched iPhones, cameras, lights and microphones to each player to ensure their reactions to being drafted will be broadcast on TV.
The virtual draft will be unusual, but the NFL insisted it was important to carry it out as scheduled, after coronavirus ground sports to a halt across the world.
"It's important to have normalcy," Goodell told NFL Network's Rich Eisen last week. "We're doing this in a way that demonstrates that you can continue to do what you need to do in this country and do it safely at home."
NFL's chief information officer Michelle McKenna said the league will be utilizing over "150 remote feeds at once" during the draft. For context, on a normal draft that number would be as low as 10.
Most teams will have approximately 10 people connected to the NFL Microsoft Team channel, but The Athletic indicated up to 50 members will be connected between each other remotely.
What is different for the TV broadcast?
Each year, TV plays a crucial role for the draft. However, social distancing measures mean ABC, ESPN, and NFL Network will only have a limited number of hosts in the studio, with experts and analysts contributing remotely. The broadcast will air from ESPN's offices in Bristol, Connecticut.
Normally, the three broadcasters will each present its own coverage, but due the current circumstances, ESPN and NFL Network will work together to offer the same broadcast across both networks.
"We recognize the challenging times we are living in, but we are looking forward to presenting the 2020 NFL Draft and providing some hope for football fans everywhere," said Seth Markman, vice president of production at ESPN.
ABC, meanwhile, will present its own telecasts for the first three rounds, before broadcasting the ESPN and NFL Network telecast of the last four rounds.
Trey Wingo will host all three days of ESPN's NFL Draft coverage and will be joined remotely by analysts Mel Kiper Jr., Louis Riddick and Booger McFarland. NFL Network host Rich Eisen, Draft analyst Daniel Jeremiah and Pro Football Hall of Famers Michael Irvin and Kurt Warner will also feature throughout the three days of the draft.
Rece Davis, Jesse Palmer and Maria Taylor will anchor ABC's broadcast and will be joined remotely by NFL Draft analyst Todd McShay and college football analysts Kirk Herbstreit, Desmond Howard and David Pollack.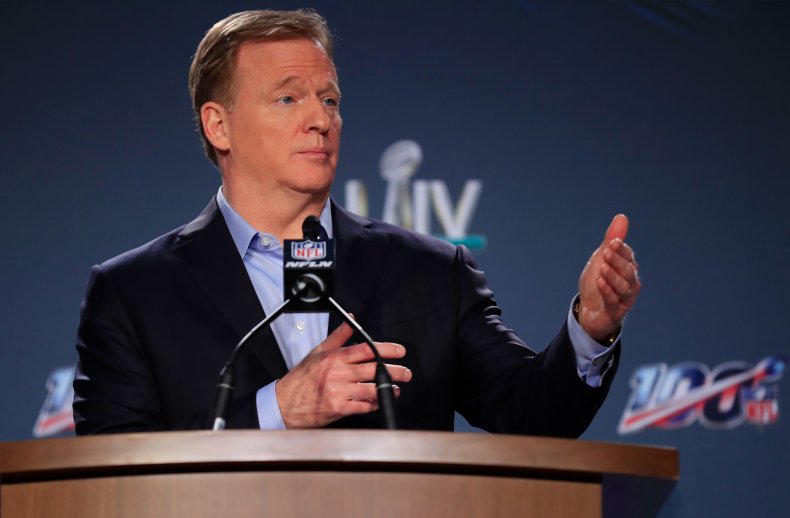 What could go wrong?
Take your pick, if you'll excuse the pun. The virtual draft will test broadband speed and internet connectivity around the country. Jokes of general managers warning kids off playing videogames online and instructing families to watch Netflix on draft night to preserve crucial bandwidth have abounded over the last couple of weeks and weird as it may sound to believe the decision of a multi-billion organisations may depend on teenagers playing online at the wrong time, teams have taken all possible precautions.
The Chicago Bears reported general manager Ryan Pace had to move his set-up from the basement to the dining room, as the Wi-Fi signal is stronger in the latter. His Indianapolis Colts colleague Chris Ballard, meanwhile, has installed a secondary wireless network to use as backup and most coaches and general managers have been told to instal two landlines if they didn't have any.
The league conducted a rehearsal run on Monday, which included a major hiccup as the Cincinnati Bengals experienced a delay of over two minutes while making the first pick.
To minimize issues, the NFL has told teams the clock will be stopped on their time to make picks in each round if technical issues occur.
Aside from connectivity and broadband speeds, the 32 franchises' IT teams have worked overtime to get general managers and scouts as up to speed as possible as far as the technicalities of a conference call are concerned.
The prospect of people not using the mute function while on a call or vice versa are very real and ESPN reported on Monday the rehearsal run included an issue with too many people on the call not using the mute function.
With most teams having up to 50 scouts, players personnel and decision makers remotely connected to each other, making decisions may also take longer than usual.
"It should be fine and go on without a glitch—I'm sure there will be a couple glitches, but for the first time I thought it went pretty well,'' Denver Broncos general manager John Elway was quoted as saying by ESPN.
The risks don't end there. Players or someone in their household could accidentally swear on camera and one of the 58 prospects attending the virtual draft could be spotted drinking a beverage that does not feature among the NFL's official sponsors.
What is the NFL's "Draft-A-Thon"?
Mindful of striking the right tone in the current climate, the NFL has also announced plans to hold a so-called "Draft-A-Thon" along with the draft.
The campaign is aimed a raising funds for COVID-19 relief efforts. Hosted by the NFL Network's Rich Eisen and Deion Sanders, the fundraiser will feature athletes, celebrities, and personalities and will be live streamed on NFL social and digital platforms and featured in live draft coverage on ABC, ESPN, NFL Network, and ESPN Deportes over the three days of the NFL Draft.