NFL Anthem Protesters Compared to 'Inmates' by Houston Texans Owner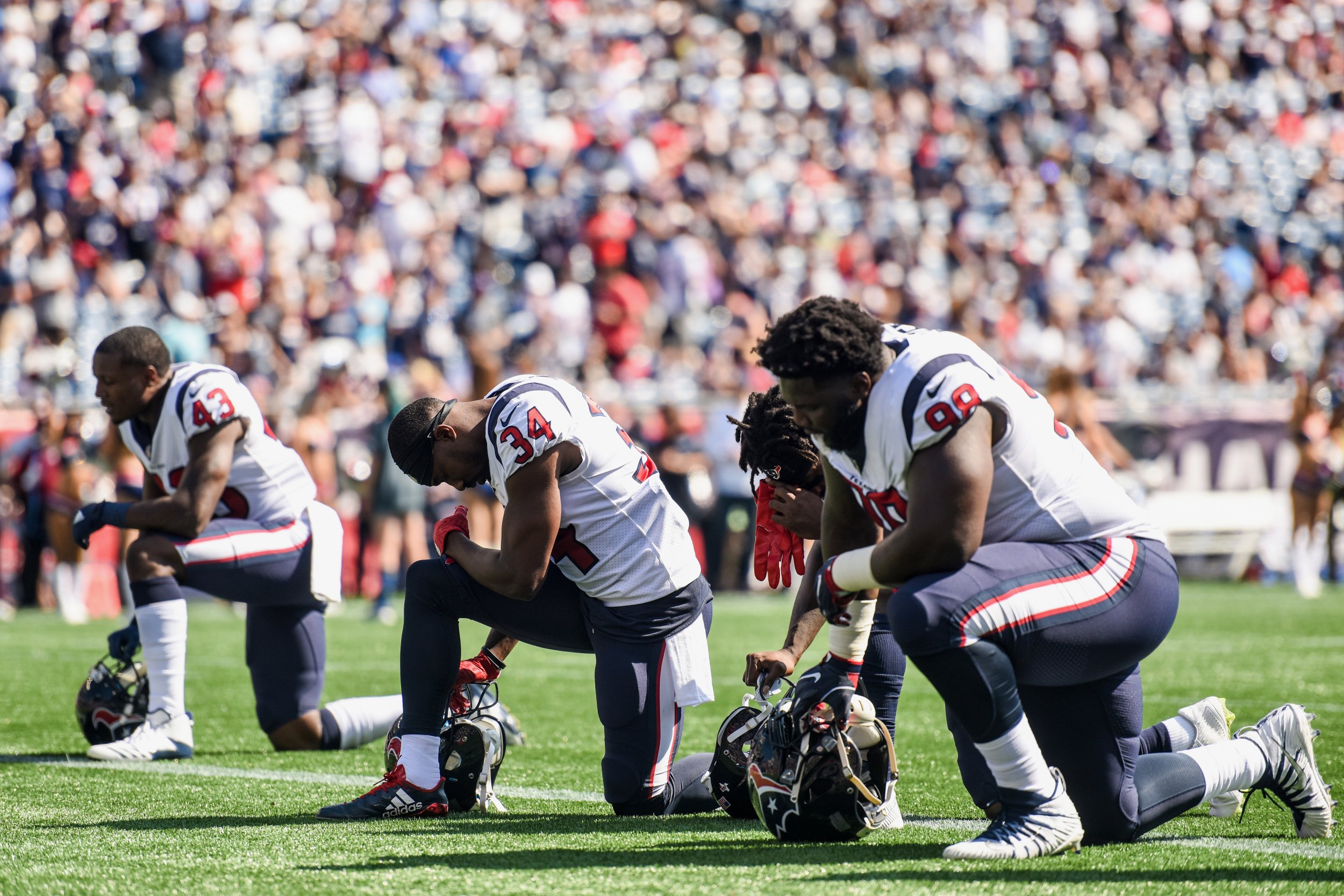 An NFL owner and prominent Trump donor referred to the league's "take a knee" protesters as "inmates" at a closed-door meeting of fellow team owners and league executives—and quickly apologized after the comment was reported.
"We can't have the inmates running the prison," Robert McNair, the owner of the Houston Texans, told fellow NFL owners at an October 17 meeting called to address the financial repercussions of NFL players silently kneeling to protest police brutality, and the subsequent criticism from President Donald Trump.
ESPN The Magazine first reported the comment by McNair, who was then pilloried on social media for the racially insensitive comment.
McNair issued a statement Friday, saying, "I regret that I used that expression. I never meant to offend anyone and I was not referring to our players. I used a figure of speech that was never intended to be taken literally. I would never characterize our players or our league that way and I apologize to anyone who was offended by it."
McNair is a multimillion-dollar Trump supporter, though in public he called Trump's comments against the NFL "divisive and counterproductive."
"We will continue to support our players to work together to promote the values of respect and unity," McNair said last month, before his Texans stood together with arms locked before a game against the New England Patriots.
But his private statement to the NFL owners, published in November issue of ESPN The Magazine, revealed how challenging NFL owners and players have found the issue amid a backlash fueled by Trump. The predominantly white and rich owners appear to recognize the optics of curtailing black players' free speech by demanding that they stand for the anthem.
At one point, Buffalo Bills co-owner Terry Pegula suggested that former NFL player Anquan Boldin serve as an NFL spokesman for social issues, noting, it couldn't be a "white owner but needs to be someone who's black." The players cringed in response to the tone-deaf remark, ESPN reported.
The "take a Knee" protests started when former San Francisco 49ers quarterback Colin Kaepernick began kneeling during the 2016 preseason to protest police brutality, which disproportionately affects African-Americans. The protests spread, as did a backlash. Kaepernick, a free agent, was not picked up by any team this season and is claiming league owners colluded against him.
This season, Trump began lashing out at the kneeling athletes, denouncing their silent protest as "very disrespectful to the flag," and called for "son of a bitch" protesters to be fired. Vice President Mike Pence flew across the country to attend an Indiana Colts game so that he could publicly storm out in protest after some players took a knee.
As Trump continued to criticize the black players, their teammates and coaches knelt and stood alongside them in solidarity. Stevie Wonder, John Legend and other artists have taken a knee during concerts to show solidarity with the players. Players in the NBA, NFL and even Major League Baseball joined the protests.