NFL Betting Odds: Super Bowl, Conference Winner Chances According to Vegas
If you don't know the favorite heading into the 2018-19 NFL season, it probably won't take you many guesses.
That's right—as of Tuesday, at least—the New England Patriots—as ever, led by quarterback Tom Brady and coach Bill Belichick—were considered the favorites to lift the Lombardi Trophy at the end of the season.
Last season the Patriots lost to the Philadelphia Eagles in the big game, marking the first-ever Super Bowl win for Philly. At 41 years old and with five Super Bowl rings to his name, Brady still hasn't shown many signs of wanting to hang it up.
"You know, I think you always have short-term goals and long-term goals and this year's the one I'm focused on and obviously I want to play for a long time so I've said that for a while," he said at a press conference this month. "Feel like I'm a broken record. You know, it's really this year is the focus and this team. This team needs a great quarterback and you know, hopefully I can go out and be that."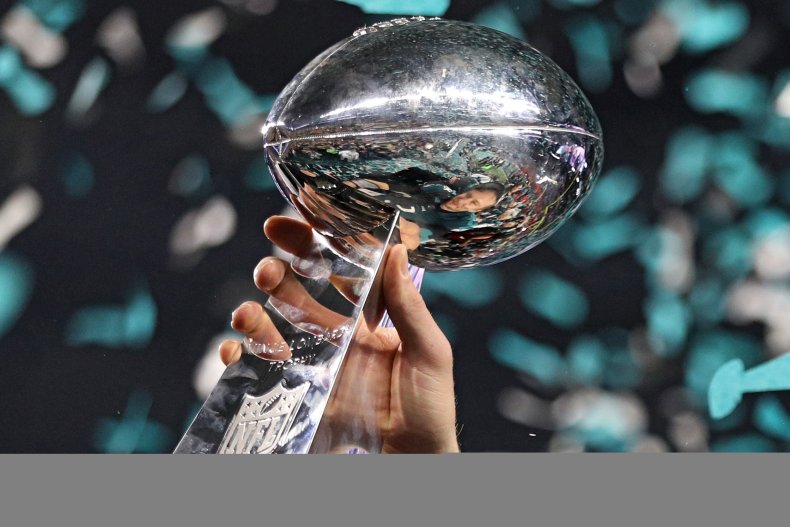 Other favorites to win it all include the Los Angeles Rams, Minnesota Vikings and last year's champion, the Philadelphia Eagles. They'll be without star quarterback Carson Wentz the first week of the season and will instead rely on back-up Nick Foles, who was able to lead the team to the Super Bowl victory after Wentz went down last year. Wentz's recovery from an ACL injury has gone well but it seems the franchise doesn't want to risk putting his long-term health in danger.
"In the best interest of everything about the football team and this decision, Nick Foles is the starter Week 1," Coach Doug Pederson told reporters.
The Buffalo Bills, Miami Dolphins and New York Jets all have the worst chance to win it all. But if you put some money on them and the unlikely happens, at least you stand to make a good chunk of money.
Via Vegas Insider, here are the latest odds to win the Super Bowl and each conference:
Super Bowl
-New England Patriots - 7/1
-Los Angeles Rams - 10/1
-Minnesota Vikings - 10/1
-Philadelphia Eagles - 10/1
-Pittsburgh Steelers - 12/1
-Green Bay Packers - 14/1
-New Orleans Saints - 16/1
-Atlanta Falcons - 20/1
-Jacksonville Jaguars - 20/1
-Los Angeles Chargers - 20/1
-Houston Texans - 25/1
-Dallas Cowboys - 33/1
-Kansas City Chiefs - 33/1
-San Francisco 49ers - 33/1
-Baltimore Ravens - 40/1
-Carolina Panthers - 40/1
-Denver Broncos - 40/1
-New York Giants - 40/1
-Oakland Raiders - 40/1
-Seattle Seahawks - 40/1
-Chicago Bears - 50/1
-Tennessee Titans - 50/1
-Detroit Lions - 66/1
-Indianapolis Colts - 66/1
-Washington Redskins66/1
-Cincinnati Bengals - 100/1
-Cleveland Browns - 100/1
-Tampa Bay Buccaneers - 100/1
-Arizona Cardinals - 125/1
-Buffalo Bills - 150/1
-Miami Dolphins - 150/1
-New York Jets - 150/1
NFC
-Los Angeles Rams - 6/1
-Philadelphia Eagles - 6/1
-Minnesota Vikings - 13/2
-Green Bay Packers - 9/1
-Atlanta Falcons - 10/1
-New Orleans Saints - 10/1
-Dallas Cowboys - 16/1
-San Francisco 49ers - 16/1
-Carolina Panthers - 20/1
-New York Giants - 20/1
-Seattle Seahawks - 20/1
-Chicago Bears - 25/1
-Detroit Lions - 33/1
-Washington Redskins - 33/1
-Tampa Bay Buccaneers - 50/1
-Arizona Cardinals - 66/1
AFC
-New England Patriots - 3/1
-Pittsburgh Steelers - 9/2
-Jacksonville Jaguars - 9/1
-Los Angeles Chargers - 9/1
-Houston Texans - 10/1
-Kansas City Chiefs - 14/1
-Baltimore Ravens - 20/1
-Denver Broncos - 20/1
-Oakland Raiders - 20/1
-Tennessee Titans - 25/1
-Indianapolis Colts - 33/1
-Cincinnati Bengals - 50/1
-Cleveland Browns - 50/1
-Buffalo Bills - 80/1
-Miami Dolphins - 80/1
-New York Jets - 80/1