NFL Coaches Fired: Five Black Coaches Gone After Coaching Carousel, Only Two Remain in League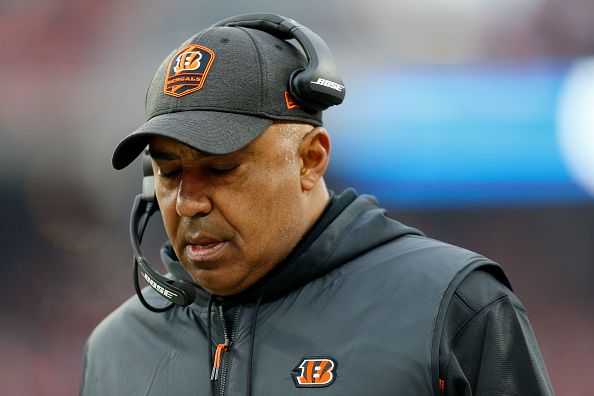 The day after the NFL season is a time where teams will be reevaluating their season and firing their head coaches, but many people are concerned that "Black Monday" has severely impacted some of the black coaches in the league.
There have been eight head coaches from different NFL teams that have been fired so far, but five of those coaches are black. Many fans and sports commentators took to Twitter on Monday to express their concern over the firing of some of the black NFL coaches.
"Black NFL head coaches are dropping like flies. There were seven at the beginning of the season. With Marvin Lewis' firing, only two remain: Mike Tomlin in Pittsburgh and Anthony Lynn with the LA Chargers," tweeted sports columnist Cedric Golden.
"The normal NFL coaching firings are always brutal but this year will be particularly bad. The number of black head coaches will drop precipitously," tweeted NFL columnist Mike Freeman. "The number of African-Americans in key front office positions will be practically nonexistent. This is a dire time for the sport."
Here is a list of some of the coaches that have been fired so far, according to Sports Illustrated:
Marvin Lewis: The Cincinnati Bengals coach told his staff that he had been fired, according to Sports Illustrated.
Vance Joseph: The Denver Broncos let go of their head coach on Monday after going 6-10 this season.
Steven Wilks: The Arizona Cardinals have fired coach Wilks after a rough season of going 3-13, Sports Illustrated reported.
Todd Bowles: New York Jets owner Woody Johnson will look for another coach after firing Bowles on Monday.
Hue Jackson: The former Cleveland Browns coach was fired in October, as well as offensive coordinator Todd Haley, the Dayton Daily News previously reported.
Other coaches that were fired include Tampa Bay Buccaneers coach Dirk Koetter, Miami Dolphins coach Adam Gase, and Green Bay Packers coach Mike McCarthy, Sports Illustrated reported.
Earlier this month, the NFL modified the 2003 Rooney Rule, which requires every professional team to interview one or more diverse candidates. The new enhancements to the rule included that clubs should recommend diverse candidates and maintain complete records of the potential candidate.
"Since the inception of the Rooney Rule, we have seen the rule adopted across business sectors and considered an industry best practice to increase diversity," NFL Commissioner Roger Goodell said in a statement on December 12. "The policy updates made today will bolster the current Rooney Rule requirements and are intended to create additional opportunities for diverse candidates to be identified, interviewed, and ultimately hired when a vacancy becomes available."